Nobody needs a vehicle like the 2021 Ram 1500 TRX. I mean, this is a 702-horsepower pickup truck, built in a world where we're all collectively supposed to be reducing our carbon footprint. But whether you like this thing or not, it's here to stay and, already selling like hotcakes. More importantly, it's finally the answer to the Ford F-150 Raptor. Correction. This thing swallows the Raptor in one gulp.
The King Of The Hill
Obviously if Ram was going to take on Ford in the offroad supertrucks race, it had to dominate it on every front. And while it's true that Ford is apparently cooking up a V8-powered R version powered by the Shelby GT500's supercharged Predator engine, the 2021 Ram 1500 TRX is currently the fastest, most powerful production pickup truck in the world.
That's because it's powered by a Hellcat engine, aka a 6.2-liter supercharged V8 mated to a ZF-sourced eight-speed automatic gearbox. Or if you prefer, the same drivetrain that powers the Dodge Charger Hellcat, Challenger Redeye and Jeep Grand Cherokee Trackhawk. Did you expect otherwise from this company?
But the TRX is a bit more than a Ram 1500 that pumps out supercar-levels of horsepower and torque (650 lb-ft). It's also considerably modified to adequately jump over dunes in the desert. Like a Raptor, it gets underbody skid plates, wider front and rear tracks and an upgraded suspension, comprised of Bilstein dampers that can withstanding up to one ton of pressure. One ton. Let that sink in for a bit.
Here's a glimpse of how massive this behemoth is: it's 3.3-inches taller, 5.9-inches wider and weighs 1,100 pounds more than conventional Ram 1500 Crew Cab. Its entire structure was reinforced at key areas and its body was widened to accommodate its wider stance, but also to provide cooling to its massive front brake rotors. From all angles, the TRX thing looks ready to swallow whatever is in front of it.
But while it was first and foremost designed for offroad shenanigans – with a claimed 0-100 km/h time set at a whopping 3.8 seconds – the 2021 Ram 1500 TRX can still tow up to 8,100 pounds. Four-wheel drive is the only way to go here, which is a bit of a letdown. It would have been nice to default back to rear-wheel drive for "better" fuel economy and, well, burnouts. As for pricing, all you need to know is that this is a $100,000 Ram. Any questions?
Pure Craziness
There's no denying how ridiculously awesome this rig is, especially when you're driving it through a tough Canadian winter blizzard. But what shocked me the most about the way the TRX performs, is how surprisingly compliant and smooth it is out there on the open road.
While it'll jump over broken down Fords and humiliate some sports cars at the drag strip, this is still very much a highly refined Ram 1500. It's quiet, well-mannered and docile when you ask it too. Those Bilstein dampers also do a fantastic job of keeping body motions in check, no matter the surface.
Unsurprisingly, fuel economy is non-existent. It's actually worse than what I had imagined due to the fact that this tthing is as heavy as a World War II tank and refused to disengage its all-wheel drive system. The best fuel rating I got was LMAO 20L/100 km. And that was on the freeway with cruise control on. If you drive it like in these pictures, meaning the way it was meant to be driven, you'll be flirting with 30L/100 km.
Punch the accelerator at any speed and in any drive mode, and the 2021 Ram 1500 TRX grabs a lower gear and halts forward like a freight train. The distinctive Hellcat wine quickly reminds you what you're driving, and the experience is intoxicating at best. But while it is immensely quick and loud, the TRX never feels scary to drive. Sure, there's some bobbing and weaving from the lifted ride height and soft suspension, but it's also very controllable at the limit.
Inside, the TRX gets its share of model-exclusive creature comforts, like smooth suede-like surfaces on the center console, door inserts and steering wheel. There's also red accents and stitching, with red TRX badging on the seats, as well as a metal plaque on the center console with the truck's specifications, serial number and location of assembly. In this case it's Auburn Hills, Michigan.
As with any good Hellcat product, the TRX gets the famed Performance Pages, which allow you to tailor the rig's engine performance, transmission and steering to your liking. Additionally, the driver can select between five preconfigured user settings; Auto, Sport, Tow, Snow, Custom, Mud/Sand, Rock and Baja. Each mode recalibrates the four-wheel drive system accordingly, and will even lock differentials or engage 4×4 low when required.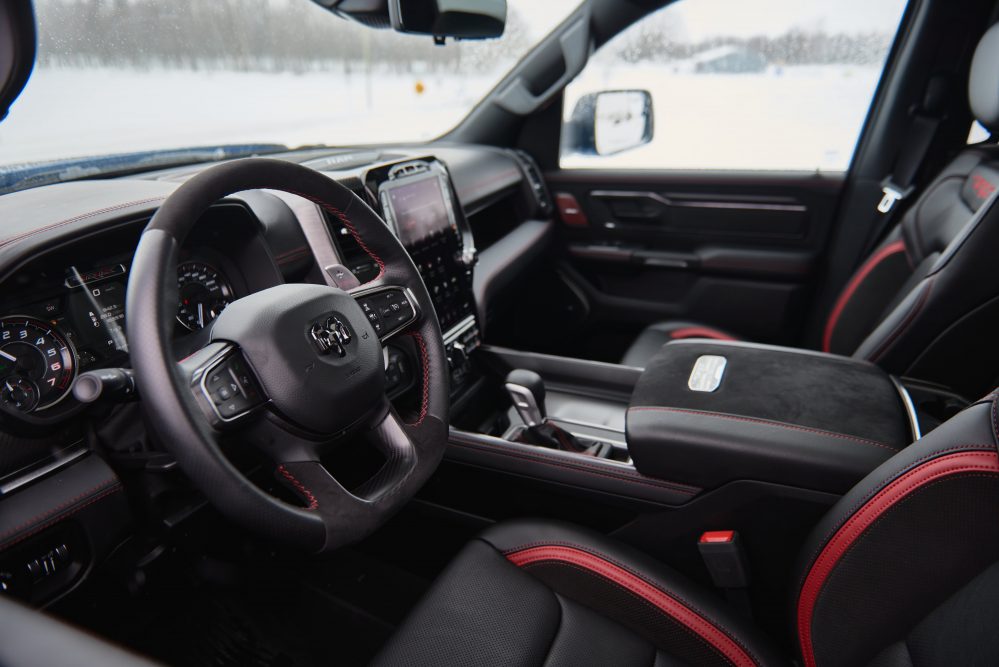 The TRX does get paddle shifters, but their odd design makes them difficult to grasp. I recommend just shoving the transmission in the D position and let it do its thing. You've probably also noticed that the knob dial from the standard Ram 1500 is now gone, and replaced by a good old fashion gear lever. The new Dodge Durango Hellcat, which I also can't wait to drive, is equipped this way as well.
While I had this truck in my possession, I pretty emptied an entire gas tank beating the shit out of it in an empty snow field. After all, that's precisely what it was built for. And yes, it's a hell of a lot of fun. the 2021 Ram 1500 TRX exists solely to ensure its dominance over all the other trucks currently on sale, and while its relevance in the industry is debated, I reckon it has just opened the door to a new supertruck war. We know that a Shelby powered Raptor R is on its way. And it's just a matter of time before General Motors joins the party.
Clavey's Verdict
Review of the 2021 Ram 1500 TRX by William Clavey
Supertrucks
A tornado of power
Well-mannered, all the time
Will take on pretty much anything you throw at it
Massive proportions
You're going to need your own gas station
Four-wheel drive is always on
Clavey's Corner is located in Montreal, Quebec, Canada. Prices and trim levels discussed in this article reflect the Canadian car market.
Special thanks:  Ram Canada
Photography: Guillaume Fournier
Contact the author: [email protected]