The 2022 Acura MDX is finally all new from the ground up after being unchanged for almost a decade. And that feels fantastic, because the MDX has always been one of my favorite midsize luxury SUVs. And I'm not the only one who likes it. It's currently one of the best-selling SUVs in its class, which explains why Acura played it safe with this overhaul.
Freshly Familiar
While it may not seem to have changed much at first glance, the 2022 Acura MDX evolves where it counts, all while keeping intact the qualities that have made it such a sales success. Remember, people buy the MDX because it's considerably less expensive than a German equivalent. It's as reliable as a rock, will tow up to 5,000 pounds (when fitted with the proper towing package) and will comfortably haul your kids to wherever stupid places they need to go.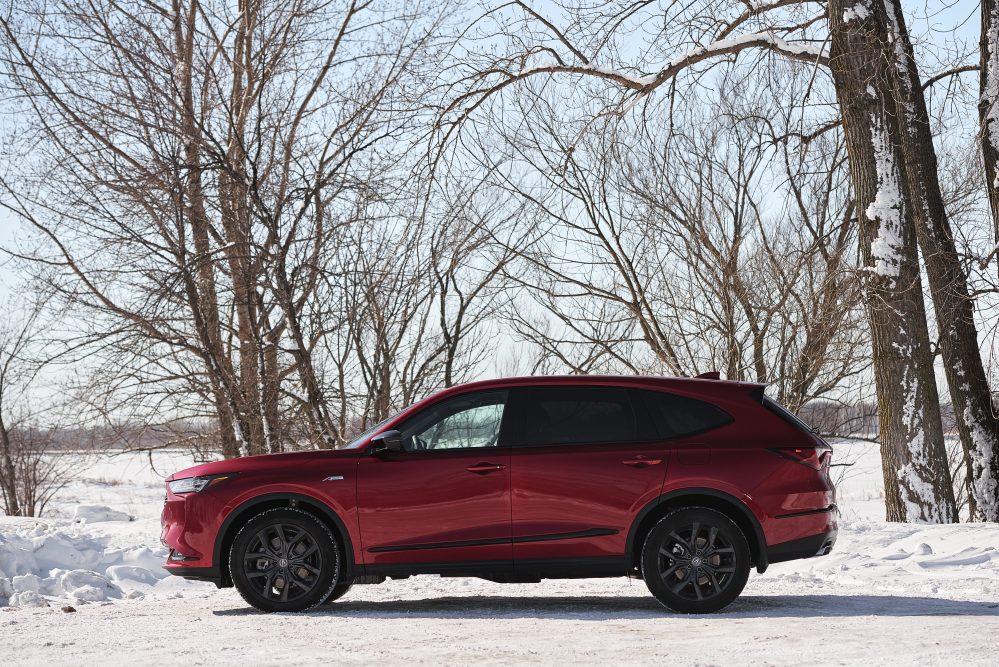 Except now, the segment has changed. Not only have the Germans released updated versions of the Audi Q7, BMW X5 and Mercedes-Benz GLE, Cadillac now sells a thing called the XT6 and Genesis now has the GV80. And that one, the Genesis, well it's a damn good car.
To take them all on, the MDX gets an all-new platform that was made exclusively for itself. That's right, it's no longer a rebadged Honda Pilot. Like the Acura TLX and RDX, its architecture was built using new stamping and bonding methods at Acura's Ohio plant. The result is a wheelbase that's 2.8-inches longer. It also gains some width as well.
Other significant changes are adaptive dampers as standard equipment. Those shocks are connected to the car via aluminum housings to reduce front unsprung weight. The MDX also gets a double wishbone front suspension setup like the TLX, while the excellent SH-AWD system is the default way to put the power down. Let me remind you that Acura is still one of the only carmakers to apply real mechanical torque vectoring. The MDX's system is also predictive, meaning it's always operational.
Power is where things remain unchanged, a good thing for reliability reasons. The Sport Hybrid is now gone, so there's no electrified variant in sight, or a turbocharged alternative to stay in tune with the times. But while it doesn't innovate, the tried and proven naturally aspirated V6 remains a peach, still pumping out a more than ample 290 horsepower and 267 lb-ft of torque. It's mated to Honda's own 10-speed automatic transmission.
A meaner Type S version is also coming later this year; a first for the MDX. That one will get an all-new turbocharged 3.0-liter V6 good for north of 350 horsepower. Until then, this is the only model to choose from, ranging between $58,595 and $69,595 for a top-flight Platinum Elite. My tester was the slick-looking A Spec model with its flashy colors, blacked out accent and wheels, and slightly sportier front fascia. It stickers for $65,595. The Performance Red Pearl paint job is a $500 option.
Cam Switchover Fun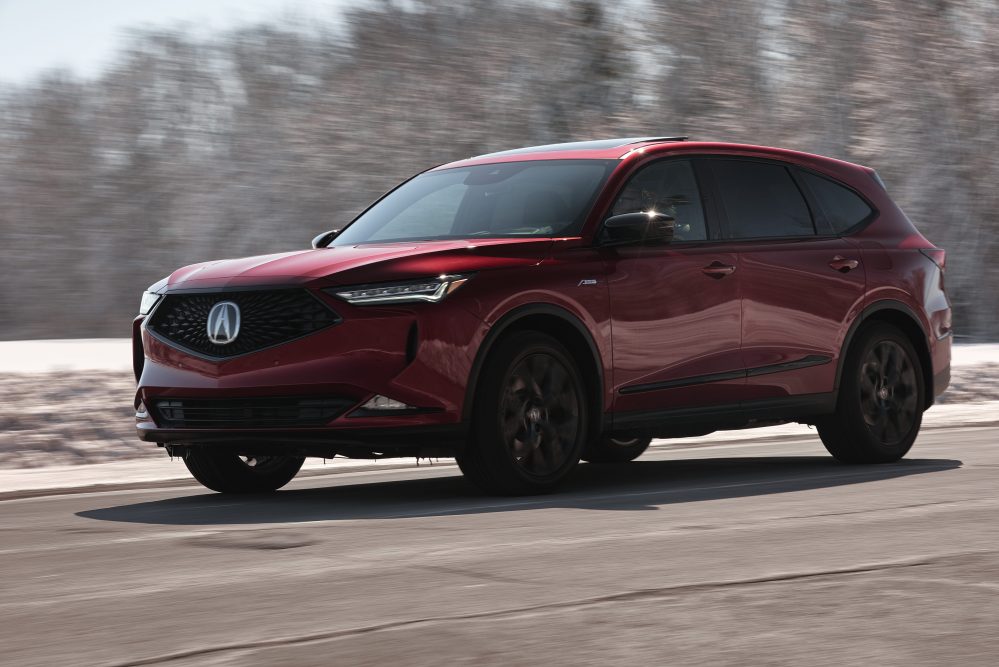 Maybe it's because I'm an old-school hooligan, but driving a naturally aspirated Honda engine in a world of turbocharging and hybrid powerplants feels fun and fresh. Sure, the MDX could have innovated by offering something a little greener under its hood, but the cold hard truth about this V6 is that it gets the job done. And that's precisely why this big guy will continue to sell well.
Stomp the throttle in the MDX, and the gearbox always knows which gear to hand you. Even with ten cogs, it acts quickly, putting you in the meat of the powerband so it can sing to its 7,000 redline. And zing it will because this is one of the last Honda engines to still be equipped with VTEC, a technology that allowed Honda and Acura to position themselves among the greats during the 1990s with the NSX, the Integra Type R and the S2000.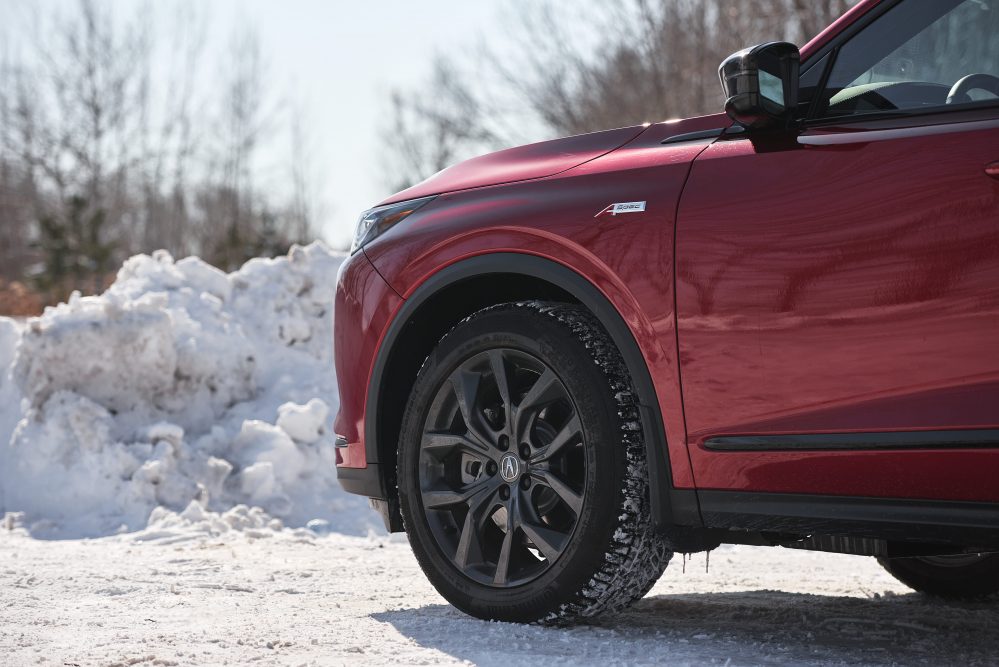 What I admire about the 2022 Acura MDX though, is that while its engine is as old as a planet, everything around it is new. And yet, it also feels very familiar. Like its predecessor, there's a nice blend of sportiness and maturity in the way it drives. With the new platform, that feeling is further accentuated. There's depth in the way it handles. Shuffle between drive modes, and you'll feel the dampers change their settings. And each one really has its own unique damping level. Whereas some vehicles with such systems don't manage to transcend what they're actually changing to the driver, the MDX makes it very clear when you've selected Sport, Normal or Comfort.
Turn in is sharp thanks to a quick-reacting and small-diameter steering. But it does remain vague and over assisted. Visibility is spot on due to a high seating position and A pillars that appear thin due to the way they're angled towards the driver. It's those kinds of ergonomic Easter eggs that allowed Acura to set the foundations of "precision crafted performance" three decades ago.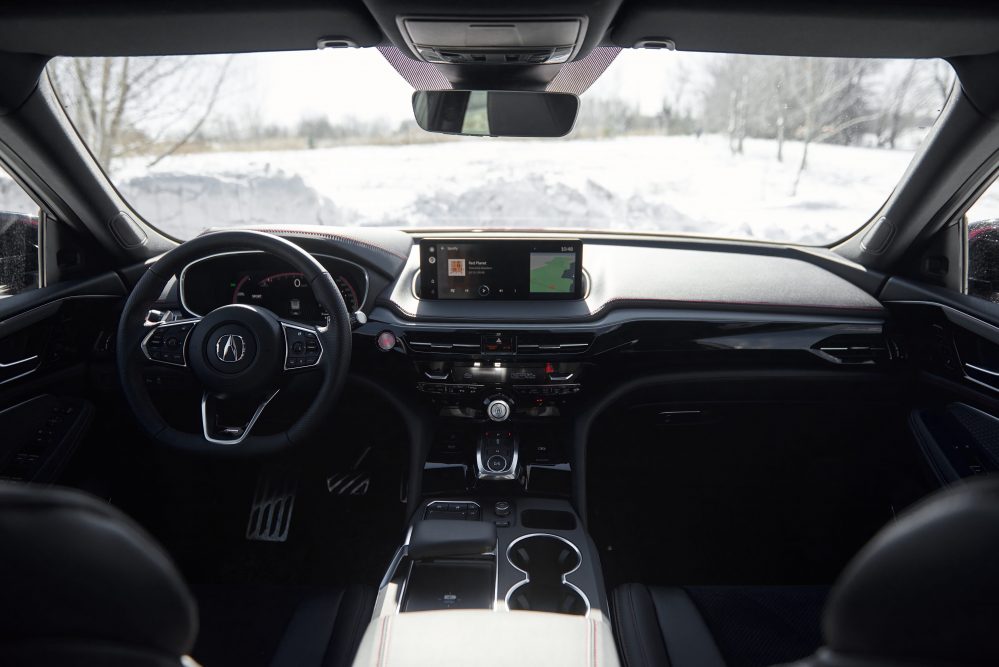 Inside, the MDX gets the now expected Acura treatment. There's an array of buttons, textures and intriguing design cues, although it does appear to be too much at times. Acura isn't giving up with its trackpad infotainment system. To its defense, I've now gotten used to it and it's frankly not bad. But the software itself remains loaded with layers. Performing simple tasks, like changing a radio stations or even answering your phone, can quickly become frustrating.
But the MDX remains a well thought out machine for everyday family use. That enormous center console allows you to throw your phone on the wireless charging tablet as it wirelessly connects to Android Auto or Apple CarPlay. Meanwhile, you'll be enjoying the clever little armrest Acura has fitted on top of it. Other neat engineering quirks are the seats in the second row.
Acura fixes the "captain chair or three row bench?" problem by blending them all in one. By default, the MDX has three passenger spots. The center seat can transform into a large console, or downright be removed to create real captain chairs. It's just brilliant.
But while access to the third row is reasonably easy, sitting back there might feel tight if you're an adult; an odd problem considering the vehicle is longer than before. That said, this MDX does gain some cargo space, from 2 574 to 2 690 liters, making it roomier than both an XT5 and a GV80.
The 2022 Acura MDX therefore updates itself where it counts while remaining somewhat conservative. But when you've got a winning formula, why change it? Acura understands precisely why its big seller is such a success and simply chose to continue offering consumers exactly what they need.
Clavey's Verdict
Review of the 2022 Acura MDX A Spec by William Clavey
Luxury Midsize SUVs
Fantastic V6
Solid handling and grip
Class-leading towing and cargo ratings
No electrified variant
Lukewarm fuel economy
Cramped third row
Clavey's Corner is located in Montreal, Quebec, Canada. Prices and trim levels discussed in this article reflect the Canadian car market.
Special thanks:  Acura Canada
Photography: Guillaume Fournier
Contact the author: [email protected]