The 2021 BMW X5 M will launch out of the hole to 100 km/h in just over 3.5 seconds, and carry on to a claimed quarter mile time of twelve seconds flat. Yet, it's not particularly impressive anymore because, well, a Jeep Grand Cherokee Trackhawk will bully it in a drag race. As you know, I have a tremendous amount of respect for anything with a BMW logo, especially the ones that have the letter M on their trunks. But this high-performance SUV trend is becoming a little silly, don't you find?
Staying True
Silly, yes, but still highly lucrative for carmakers. After all, it's not because the segment doesn't make sense that BMW should half ass it, which is why the 2021 BMW X5 M, as ridiculous as it seems, nails the high-performance SUV game. More importantly, as far as being a BMW M car goes, it hits all the right buttons. Well almost. I'll get back to that in a bit.
So yes, this is essentially the high-performance version of the current BMW X5 which arrived on our market in 2019. It's the one BMW enthusiasts like to call the G05 model, and it rides on BMW's excellent CLAR modular architecture, the one that also underpins the larger X7, but also the 3-Series compact sport sedan and even the Toyota Supra.
Very much like its little brother, the X3 M, the X5 M receives a slew of performance enhancing toys, like larger brakes, a retuned suspension, improved cooling and increased chassis rigidity. And like the BMW M8, it can disengage its front axle to become rear-wheel drive only. In many ways, this is a lifted BMW M5.
Power is also massively upgraded. It's provided from a retuned version of the twin-turbocharged 4.4-liter V8 that also powers the M550. Except, it's good here for a mind-blowing 600 horsepower and 553 lb-ft of torque. But then, in Competition trim, like the one you see here, which also adds more carbon fibre and other go-fast goodies, that power is bumped to 617 horsepower, because why not? All of it is mated to an excellent ZF-sourced 8-speed automatic gearbox.
As expected, these things are expensive, but you're still getting more for your dollar than a Porsche Cayenne Turbo. You need to pay $130,000 to enter X5 M territory. The car I was driving was, of course, loaded to the gills thanks to a (cough) $17,000 optional Ultimate package for a final price of $147,000. That's still reasonable considering the Jeep Trackhawk I drove stickered for 135 grand.
A Little Clumsy?
Of course, as you'd expect it in a 617-horsepower SUV, the 2021 BMW X5 M is ridiculously quick off the line, during a rolling start or even when you're already flying at highway speeds. There's power all the time, the gearbox downshifts within milliseconds and the experience is intense, but also super comfortable, luxurious and rock-solid, the way you'd expect a BMW to behave.
However, contrary to the X3 M, which really felt like a lifted M3, the X5 M proved a little clumsy in the bends, feeling high, choppy and not too at ease under heavy load. Body roll is very apparent and when you're really committing upon corner exit, it's size and weight is quickly felt. This was further obvious when I drove my friend's Audi RS Q8 (Audi doesn't lend me cars so I need to drive my friends' to compare), which felt considerably more dynamic than this X5 and, dare I say, carlike.
Perhaps BMW did this on purpose to give the X5 a proper truck-like feel. After all, this is technically qualified as a "Sport Activity Vehicle" – whatever that means – so I'm sure it's also really good at doing sports activity things like driving in a beaten off-road path. Although I didn't dare to try it, because I didn't want to ruin the super expensive and very good-looking wheels of my tester.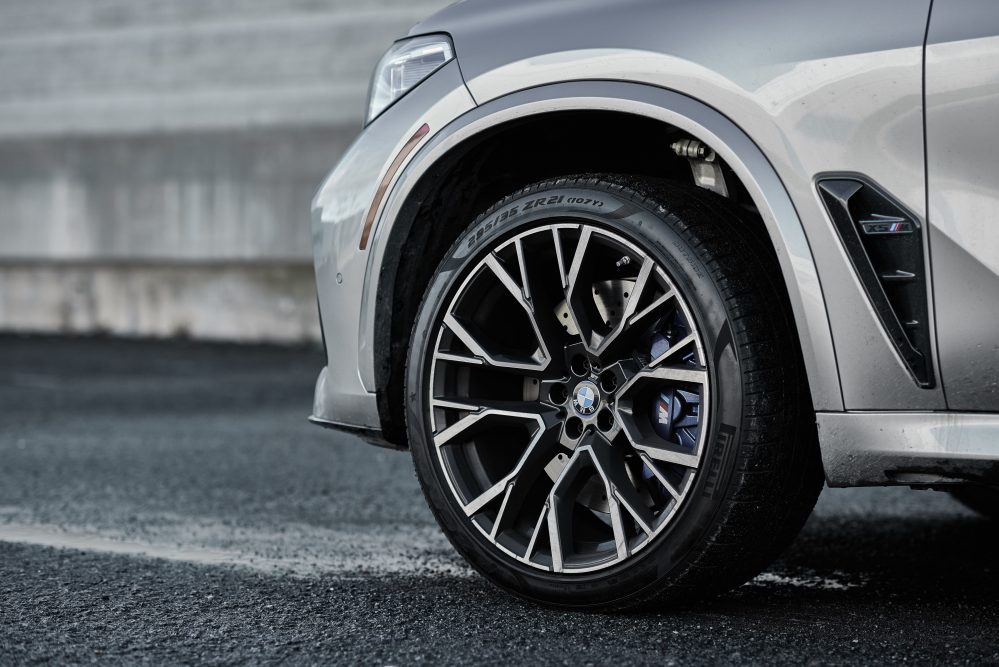 Where the X5 M didn't disappoint was in the quality and feel of its seats, let alone how absolutely wicked they look in Sakhir Orange Full Merino Leather. These thrones hold you firmly in place as you throw this big guy hard into a corner and will even glow a cute little X5 M logo at night when you approach the car.
And like all modern BMWs, the dashboard design is spartan but highly effective, with a fully digital experience that can be customized to your liking. The large center console houses the expected drive modes, which go a step further thanks to the possibility of customizing two preferred M settings by way of tiny little red M buttons located on the steering wheel.
Meanwhile, the customizable gauge cluster can be a little overwhelming as it adds an extra level of complexity by way of an "M Mode" menu, which gives off the illusion that it's giving the car even more performance, but lets you down when you realize it's just another useless gimmick.
It basically allows you to adjust the kind of gauge cluster you prefer depending on the drive mode you're in. The most extreme mode, Track, shuts off the infotainment system, Like BMW's questionable hand gesture controls, then, I recommend you simply ignore these features. The iDrive infotainment system, on the other hand, remains among the best ones I have ever laid my hands upon.
As a midsize SUV, the X5 is a damn good vehicle in the sense that its rear seats are spacious and immensely comfortable for long trips. Its cargo space is also class-leading. When that rear seat is folded flat, the X5 M will accommodate up to 2,047 liters of your gear, which is tad better than a Mercedes-Benz GLE (2,011 liters) and an Audi Q7 (2,027 liters).
The only area where this performance SUV disappoints, is in its towing rating, which is comically limited to 1,653 pounds, a massive joke when you compare it to its non-M counterpart, which will haul up to 6,601 lb. That said, this presumably has to do with BMW Canada not "recommending" to tow with this vehicle, because over in Europe, the X5 M has the same towing rating as its non-M variant. If you know the right answer, please correct me in the comments.
But then, with 617 horsepower on tap and performance that matches some supercars, do you even care that the 2021 BMW X5 M can't tow much? Perhaps not, because this vehicle is nothing more than a large flex from BMW. As stupid as this segment may seem, BMW makes sure to hold the "Ultimate Driving Machine" fort. It's not as precise as other M cars, and an Audi may have a bit more athleticism, but it sure as hell does a good job of showing the competition it has joined the party. It's a performance SUV only BMW could have conceived.
Clavey's Verdict
Review of the 2021 BMW X5 M Competition by William Clavey
High-Performance SUVs
Blistering acceleration
Well packaged
Roomy, comfortable and well put together cabin
Not as precise as other M SUVs
Amusing towing rating
Not cheap
Clavey's Corner is located in Montreal, Quebec, Canada. Prices and trim levels discussed in this article reflect the Canadian car market.
Special thanks: BMW Canada
Photography: Guillaume Fournier
Contact the author: [email protected]