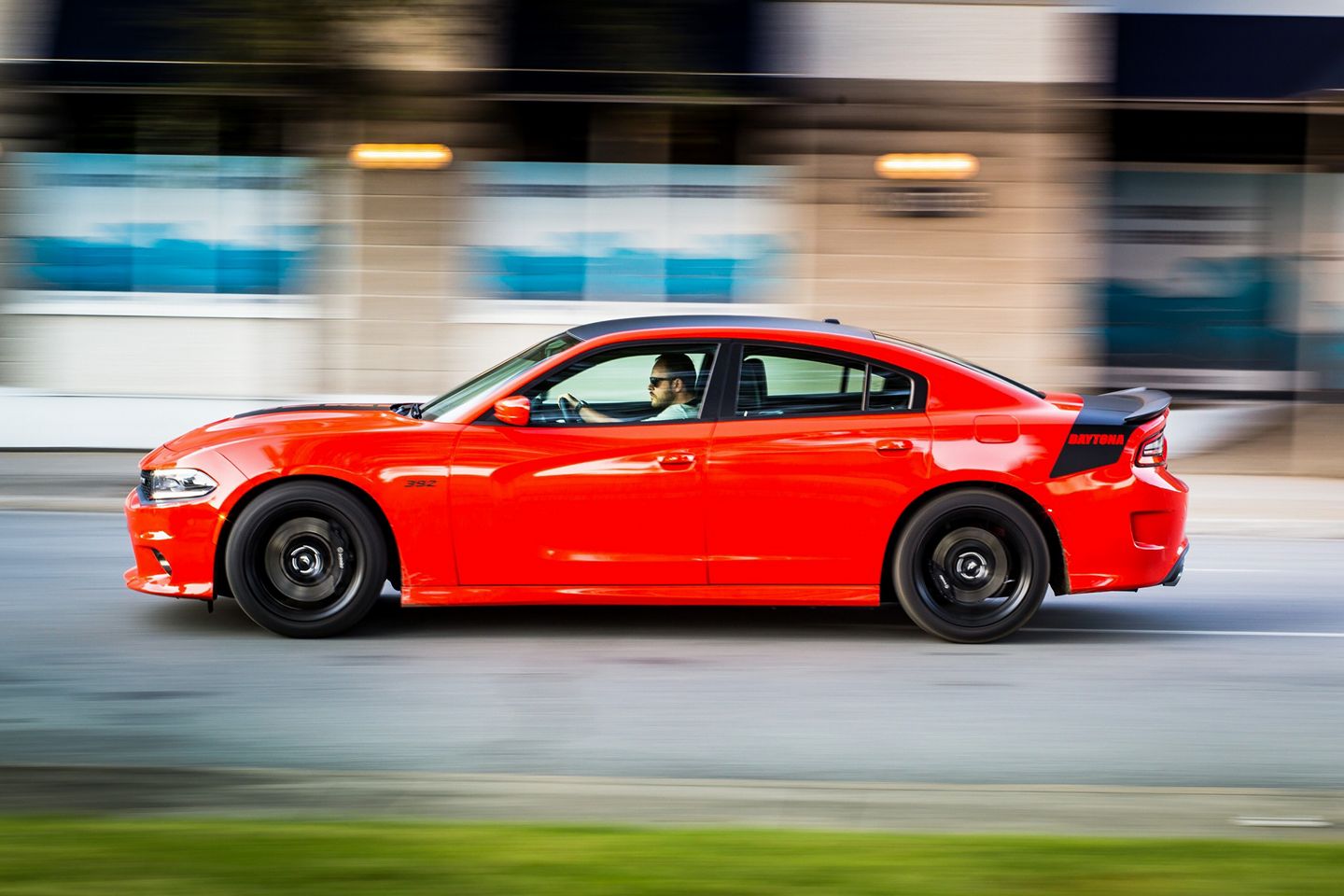 Writing a review on a Dodge Charger feels like writing a recipe for shepherd's pie. Who needs information on these things? They're all over the internet. Like the pie, which consists of three basic ingredients stacked up in an easy to remember steak, corn, and potato order, Chrysler's LX cars, the 300, Charger and Challenger, have long become a familiar dish. Yet somehow, they still get the job done.
FCA understands the popularity of its large sedan. In an average year, Dodge sells more Chargers than Nissan sells Maximas. And while the American-Italian carmaker has been promising us an Alfa Romeo-based replacement for ages, it's still dishing out new versions of the old cars. Hey, whatever works to make an extra buck, right?
Truth is, as with shepherd's pie, no matter how many times I drive these cars, I discover newfound flavors that I can't help myself from enjoying.
Go Mango!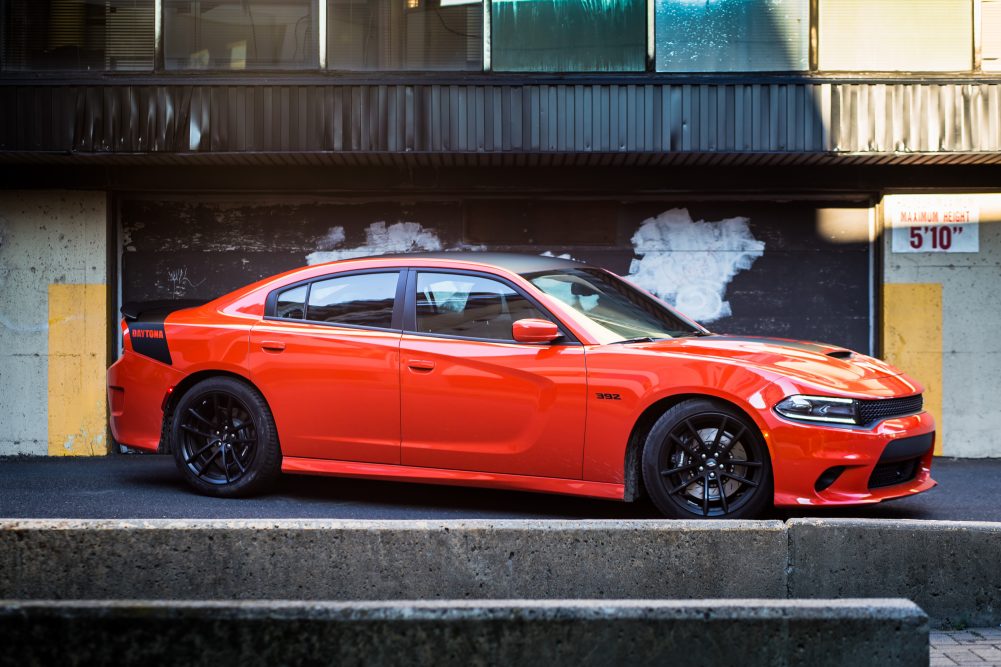 Very much like the Challenger T/A 392 I reviewed for Jalopnik about a month ago, the Charger Daytona is a special edition package that pays homage to Dodge's racing heritage. While the Challenger T/A symbolized Dodge's implication in Trans Am racing, the Daytona takes its inspiration from the big-winged Charger Daytona coupe that Dodge built in 1969 for NASCAR.
Vibrant colors, like this punchy Go Mango orange, blacked out, Hellcat-inspired wheels and bumpers, hood-mounted HEMI lettering and stripes, the Daytona stripe on the trunk, along with a black roof and spoiler help differentiate the Daytona from standard Charger models.
As for the rest, well it's the standard Dodge Charger recipe, isn't it? Revised for the 2015 model year with the new LED headlights as well as new front and rear bumpers that give the car a tighter, sportier look overall, the Charger somehow manage to remain fresh, even if the original design was penned more than twelve years ago.
More Displacement Is Always A Good Thing
Dodge offers the Daytona trim on both the 5.7 and 6.4-liter HEMI V8's. My tester was the latter, or the 392 as Dodge likes to call it. Horsepower remains identical to a Charger SRT at 485 horsepower and 475 lb-ft of torque. The only mechanical changes the Daytona brings to the table are a conical cold air intake system and a burblier exhaust note, as well as stiffer dampers.
These mods are all mostly for looks and attitude. But trust me, they work!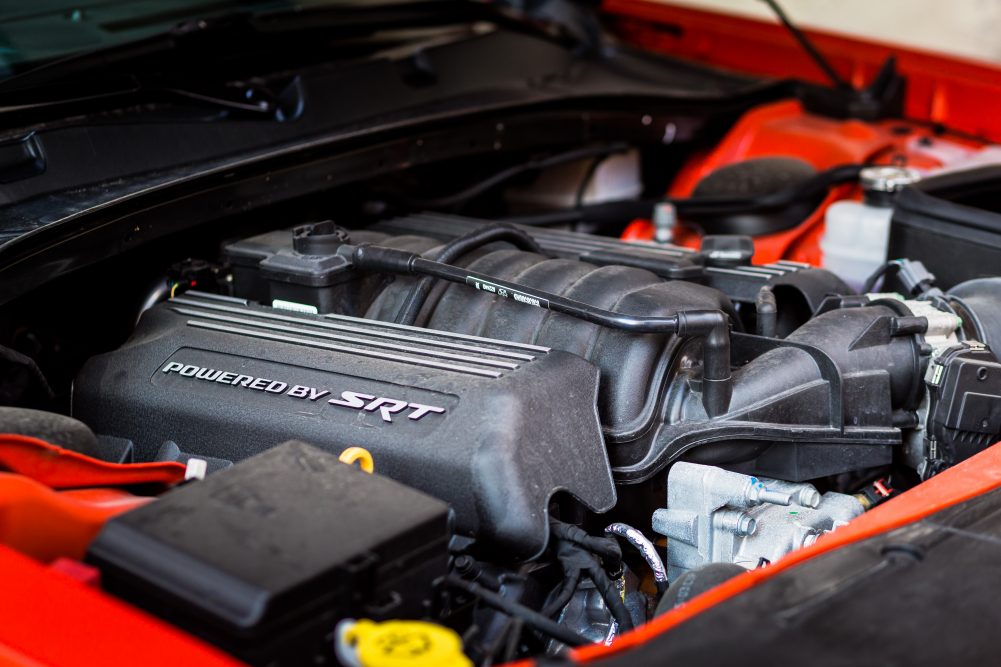 Unlike the Challenger, which can be had with a stick and three pedals, the Charger makes do with FCA'S ubiquitous ZF-sourced eight-speed automatic. Rear-wheel-drive is of course standard. Dodge claims a 0-100 km/h acceleration time of roughly 4.3 seconds.
That transmission remains an anomaly in the industry. Kind of like the plague, it has spread everywhere, from BMW's to Jaguars. Even a Honda Pilot uses one now (in 9-speed form). And from one brand to the next, different kinds of programming either make this gearbox the best opus of our current automotive industry, or an absolutely laggy, and frankly useless setup.
When I sampled it in the Chrysler 300S with the 5.7-liter, I had lamented about how polarizing the system was, often fumbling a gear when commanded to downshift, with longer than average wait times. But after sampling the thing in some European offerings lately (BMW 440i, Jaguar XE), I will say this: FCA's programming is by far the best version so far.
I don't know if it has to do with the fact that it copes better with larger displacement engines, but in this car, the transmission proved to somehow shift quickly, blip the throttle eagerly upon downshifts and never really preventied me from exploiting this big guy's massive torque curve. If anything, in this configuration, the Charger was more enjoyable to drive than the manual-equipped Challenger, and I must say, this HEMI loves to scream, adding to the lovable character of these brutes.
Big Drama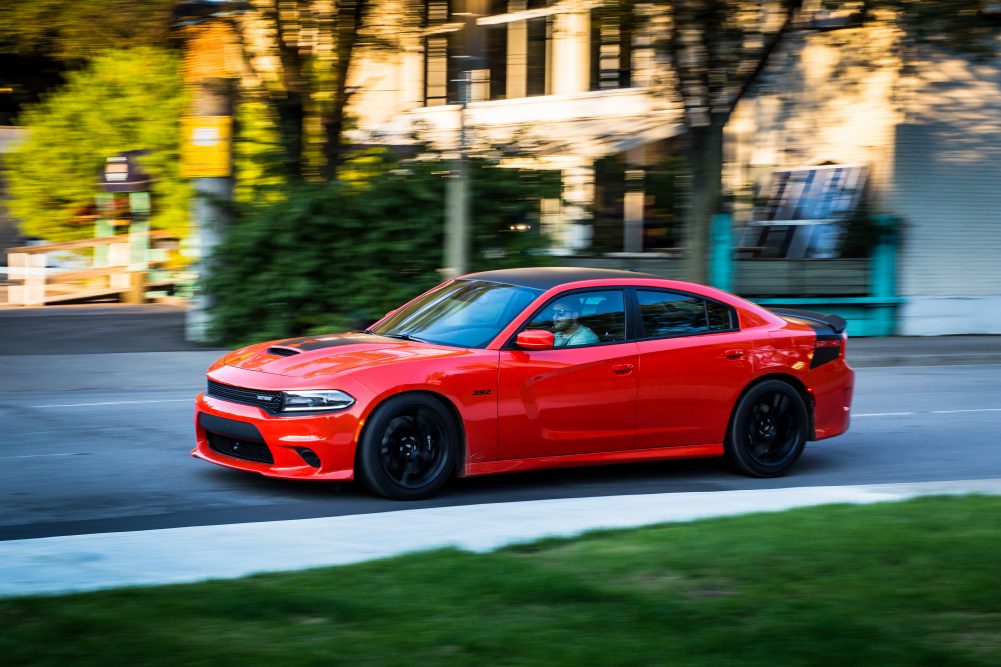 If attention is your thing, than you'll appreciate this very loud, popping and crackling HEMI. Even if it's become more common than a Mc Donald's cheeseburger, the Charger remains a lovable machine. The 6.4-liter not only sings a glorious naturally aspirated Mopar melody, but has no issues revving to its redline, and while all the hype is around the Hellcat and the 840-horsepower Demon these days, I will admit that the 392 is by far my favorite of the Dodge V8's.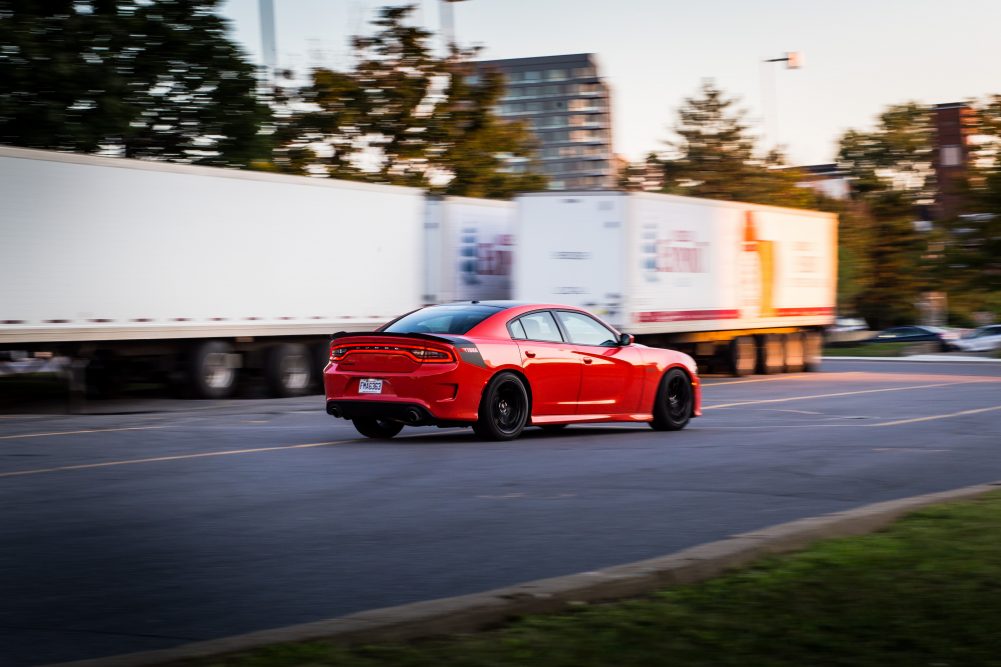 In this form, the Charger is fast, like BMW M5-chasing fast, but not so much as to scare you like in the 707-horsepower Hellcat. Even with traction control off, this heavy sedan won't kill you, but simply slide its big butt slightly sideways, quickly grabbing traction, and lurking forward like an American footballer storming towards touchdown.
But the area where the Charger remains impressive, is in the bends. Each time I first attack a corner with a high-performance version of one, I'm always a bit scared. You feel the weight, the car kind of wallows about, and you get a feeling that the 20-year old Mercedes-Benz platform that underpins the thing will break and half. But it doesn't.
Truth is, once you've peeled off the first layer of boat-like body motions, the Charger is in reality a rather agile machine. At least, as far as 4,000-pound American sedans go it is. By the end of my drive with the thing, I was attacking corners as quickly, if not quicker than in a Mustang GT, and the entire car just squatted down and took in the hits.
I guess fitting fat tires and a stiffer suspension to an old Mercedes-Benz S Class can go a long way.
The Quintessential American Sedan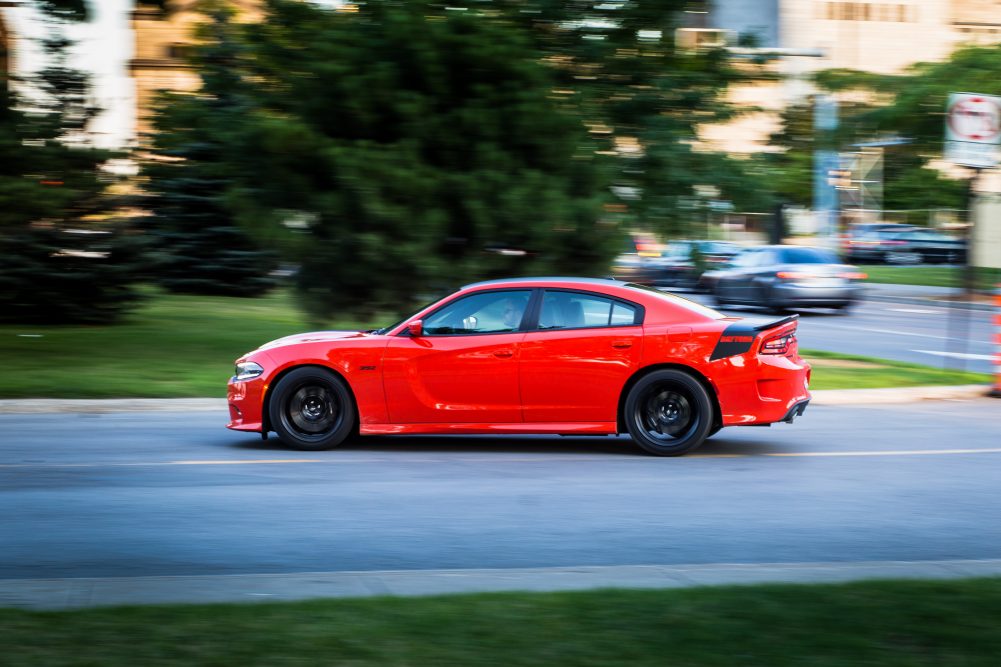 Fundamentally, what this Dodge does best is casually trot around town, doing normal sedan things. On the highway, the massive V8 turns off half its cylinders, quiets down and pulls a 10L/100 km consumption average. There's a decent sized trunk back there, and rear occupants will never complain about the amount of leg or head clearance that the rear bench offers.
And that UConnect infotainment system remains one of the simplest interfaces in the business. As rudimentary as the Charger may seem, it continues to make sense in the areas that matter.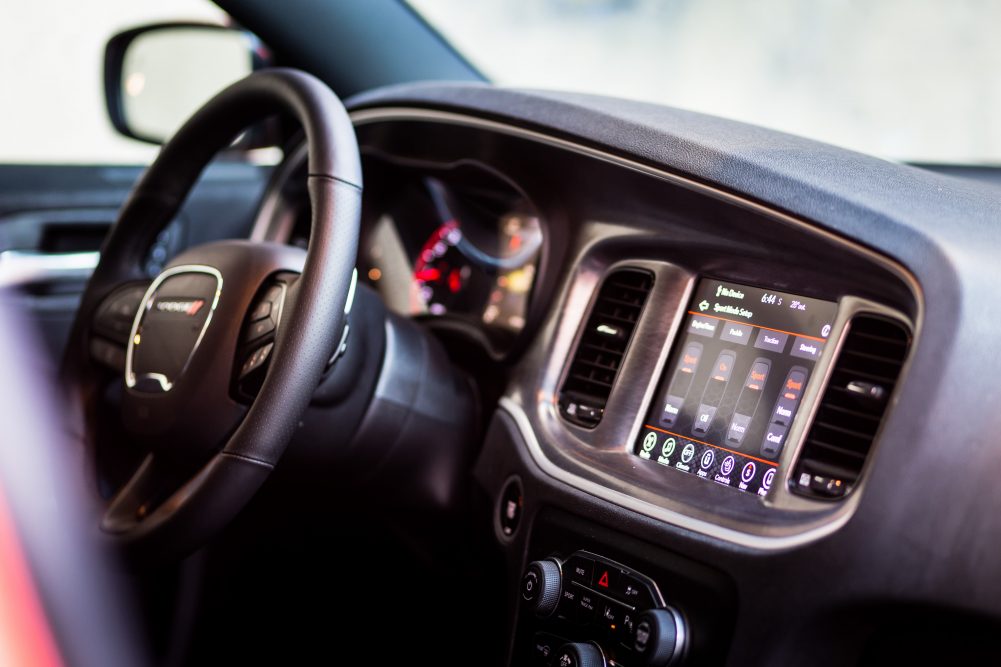 Yet, although I continue to adore the Charger for its stupid genius, it does come with its share of shortcomings. Calling the dashboard dated would be an understatement. Material and build quality are a decade behind today's offerings. The front seats remain hard chairs that quickly kill your spine, and I'm sorry, but the yellow Daytona decals sewed onto them are bit too douchebag-ish for my tastes. Finally, ergonomic issues such as odd audio controls mounted directly on the steering wheel paddle shifters are the most idiotic decision I've seen applied to a car.
The 2017 Dodge Charger Daytona 392 sells for $51,195 and slots right between a standard SRT 392 and a Hellcat. 5.7-liter Daytonas go for $46,695, right smack between an R/T and R/T 392.
All Daytonas come as one unique package with very little options available. But buyers can still opt for the $995 Beats audio group, which adds Beats by Dr. Dre sound – you'll want that one. An equally priced Convenience Group which adds heated mirrors, blind spot monitoring and parking assist may also be added to the car.
The 2017 Dodge Charger Daytona 392 may feel like a different mix of a familiar sauce, but the added aesthetic modifications, the pissed off sounds that come out of its performance exhaust, and the significantly improved driving dynamics over a standard V8 Charger are just what this aging muscle car needs to remain relevant in a world where the gasoline engine is on the verge of extinction.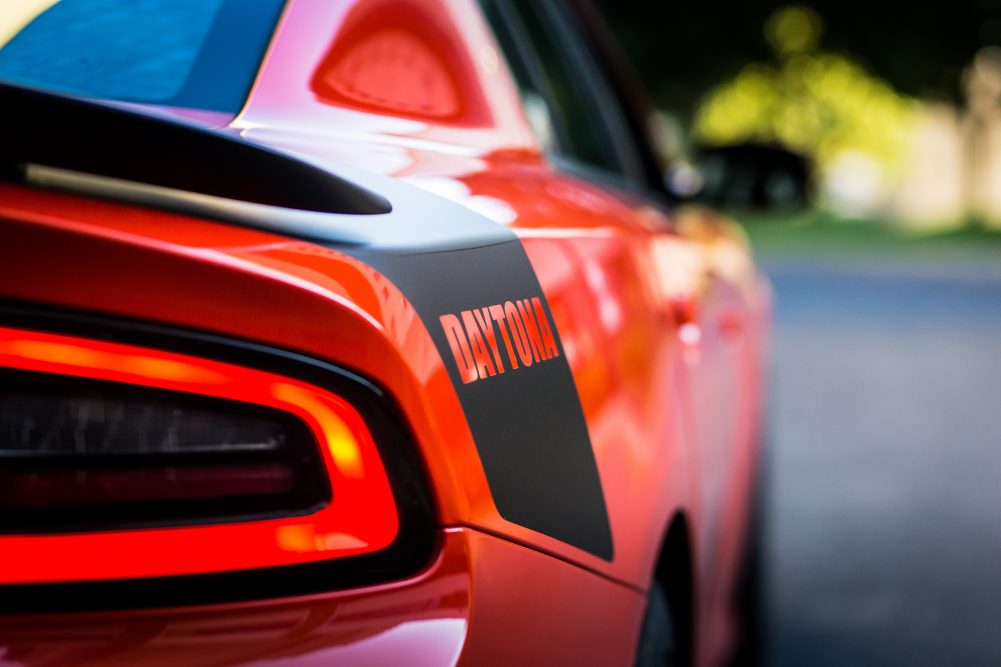 While many will argue that releasing such machines in this day and age is immature and pointless, Dodge understands that as long as demand is strong, there's no reason to stop selling them. If anything, FCA is simply reminding us what we're about to lose, and capitalizing on the trend until the last drop. And to be totally honest, I have absolutely no problem with that.
Clavey's Verdict
Review of the 2017 Dodge Charger Daytona 392 by William Clavey
Full-size Sedans
Fast and fun.
Wonderful engine and transmission combination.
Sounds and looks totally badass.
Dated interior.
Not the most comfortable seats.
Questionable ergonomics.
Clavey's Corner is located in Montreal, Quebec, Canada. Prices and trim levels discussed in this article reflect the Canadian car market.
Special thanks: Dodge Canada
Photography: Appearance
Join the Tribe
Contact the author: [email protected]