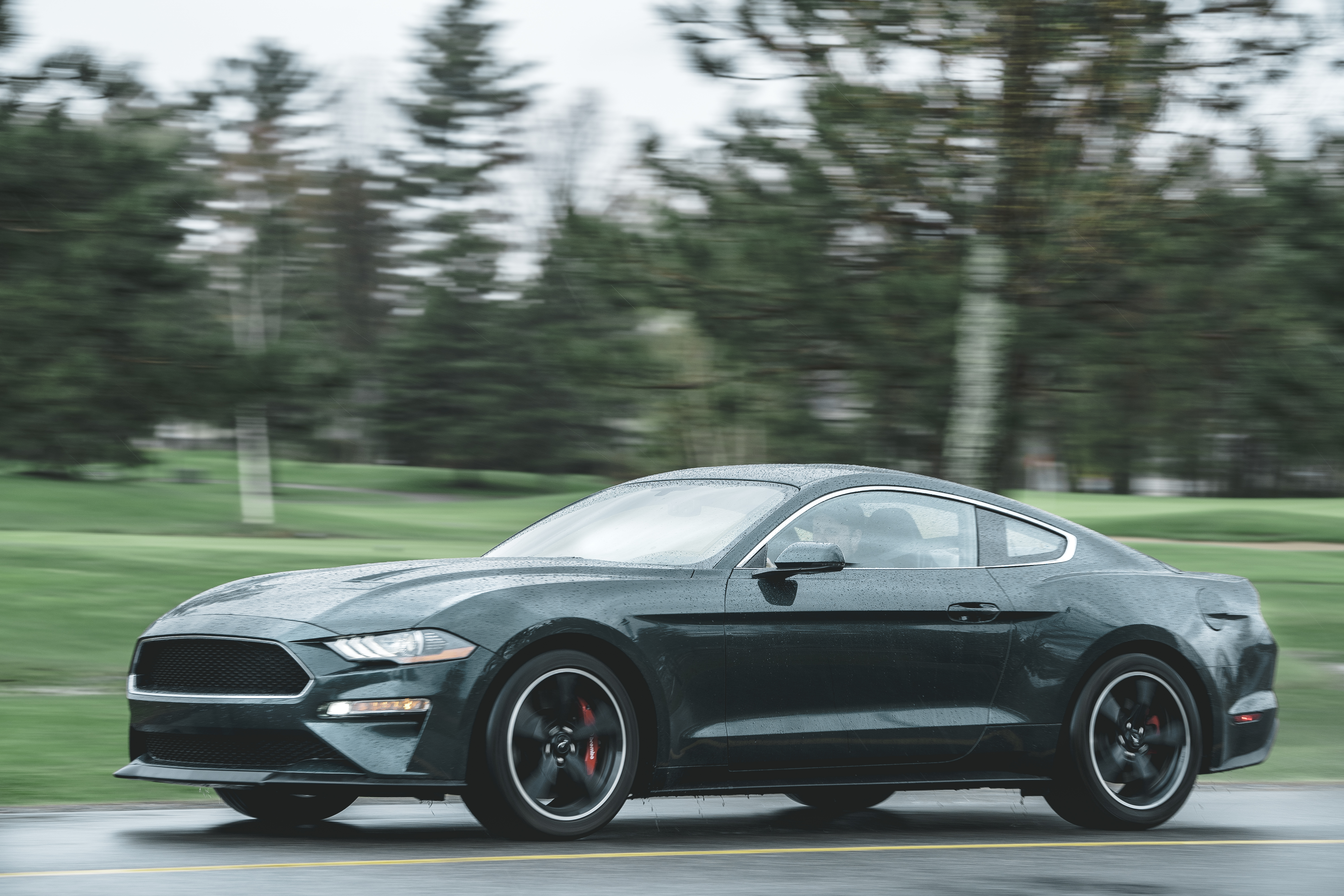 My job has its moments. While I was busy trying out the updated Shelby GT350 at the track, a 2019 Ford Mustang Bullitt was waiting for me at the airport. Call it irony, I don't know, but this pleasant turn of events allowed me to properly assess which is the better Mustang. While the GT350 is without argument an incredibly effective track tool, I'd still get a Bullitt over it for its street-friendly ease of operation. Yes, the inflated price tag over a GT is worth a shot.
All The Nostalgia
I'm not going to waste internet ink explaining what Bullitt means, you can Google it. For those not aware, it harkens back to a movie from the 1968 which features, even today, one of the best car chases captured on camera. The movie's hero, played by Steve McQueen, drives a green Ford Mustang during the chase.
2018 marked the 50th anniversary of that movie, so Ford took that opportunity to put together a third-generation of the Mustang Bullitt variant. It's a very limited production run which will end next year, so you'd better hurry if you want one.
The car is essentially a Ford Mustang GT on which several components were grafted to create the Bullitt package. Evidently, the only available drivetrain is Ford's 5,0-litre Coyote V8, except it sees a power increase, from 460 to 480 horsepower. That's thanks to a higher flowing intake manifold with longer runners, and a six percent increase in the throttle body, as well as an open air filter. Torque remains the same at 420 lb-ft.
Only one gearbox is available; a thank-you-Jesus six-speed manual unit fitted with a rev-matching feature. All Bullitts come standard with the Mustang GT's Performance Package which includes a Torsen rear limited-slip differential, a MagnaRide adjustable suspension, upgraded Brembo brakes, and a set of Michelin Pilot Sport 4S rubber, which are, in my opinion, the best compromise for performance and street driving.
The Bullitt's exhaust also got some interesting tweaks. Unlike the GT, it's not fitted with a sound tube which pipes intake noise into the cabin. Instead, it relies on a downright recalibrated exhaust. So it's (almost) all organic. I say almost, because there's still a hint of sound filled in from the car's speakers. It sounds epic though, but I'll get back on that later.
Of course, a Bullitt wouldn't be a Bullitt without the classic Dark Highland Green paint job. You can also get yours black if you'd like, but I wouldn't recommend it if you're looking for a collector's item. The car kicks off at $53,475. In Canada, the Bullitt has only one option; the $1,800 Recaro seats my tester had.
Shivers Down Your Spine
I'll admit, I'm a Mustang fan. Ever since the current-generation model came out in 2015 with the independent rear suspension, whether it be a GT convertible, an EcoBoost four cylinder or a Shelby, I continue to believe it's one of the best sports car values currently available. For the record, I also like the Camaro quite a lot, but it's a very hard car to live with every day, which is where this Mustang triumphs.
That's also where the Bullitt wins over the entire Mustang lineup. Yes, a Shelby GT350 is faster, louder and feels a bit more special, but unless you spend your weekends on racetracks, you're going to hate it on public roads. The Bullitt, on the hand, has just the right amount of softness in its suspension, just the right of grip from its tires, and just the right amount of charisma to be a daily driver.
Plus, compared to a standard GT, it gets a hell of a lot more attention. While significantly more subtle (which is what I love), people know what it is, ask questions, take pictures and downright want to take it on at a street light. But don't do that though.
How fast is this car? Fast, but not blatantly ridiculous fast like, say, a BMW M850i. Acceleration from 0 to 100 km/h is rated at roughly 4.5 seconds. But it's the way it delivers that power and the sensations felt behind the wheel that are utterly impossible to explain in writing.
Don't expect the Five-O to be a torque monster in the same way a Dodge Charger 391 delivers its low-end twist. While acceptable in low rpm, the 5,0-litre is more at home up high in the rev counter, where it starts making real power around 5,000 rpm, all while emitting one of the most satisfying crescendo of intake and exhaust decibels. And it won't stop pulling until it hits its 7,400-rpm redline.
Set the variable exhaust in Track mode, and no matter how fast that V8 is spinning, it chortles out an unmistakable muscle car soundtrack. The Bullitt sounds mean, but also purposeful, mechanical and, dare I say, almost industrial. While I'm a total fan of the melody orchestrated by the Shelby GT350's flat-plane crank V8, the Bullitt's unique soundtrack is simply more emotional, sending inimitable shivers through your nervous system.
But don't worry, you can still be friends with your neighbors. Just set your Bullitt's exhaust to Quiet mode; an ideal feature for sneaking out of the house at night for a drive, and it'll sound like a V8-powered SUV.
The Ideal Street Tune
While I'd personally opt out of the optional Recaro seats for their spine bending ergonomics (this applies to all Ford Recaro's), the Bullitt is a fantastic boulevard cruiser. Its formidable suspension tuning takes in the hits, not your skeleton, and that gearbox is linked to one of the most satisfying cue-ball shifters in the business.
Like all V8-powered Mustangs, the clutch is buoyant and absent of any form of bite. On a track, this could prove a bit of a letdown, but out there in the urban wild, it's exactly what you need. I'm not saying the 2019 Ford Mustang Bullitt could not be a capable track machine, because it'll happily trade punches with Camaros and Caymans no sweat during a Sunday cup. But that's not its promise.
Like the movie in which McQueen chased the bad guys through the streets of San Francisco, the Bullitt was designed for street-tuned performance that flies under the radar. While many will argue you could have as much fun behind the wheel of a Mustang GT, the fact of the matter is the Bullitt captures more thrills, sensations and nostalgia than any other pony car within the Mustang lineup.
Clavey's Verdict
Review of the 2019 Ford Mustang Bullitt by William Clavey
Sports Cars
Undeniable presence and character
A lot of performance for the price
Easy to live with every day
Significantly more expensive than a Mustang GT
Hard on gas
Cramped rear seat
Clavey's Corner is located in Montreal, Quebec, Canada. Prices and trim levels discussed in this article reflect the Canadian car market.
Special thanks: Ford Canada
Photography: Caleb Gingras
Contact the author: [email protected]