No, the 2021 Ford Bronco Sport isn't the real Bronco. I lost count of how many times I had to explain to people what this thing is. Marketing genius? Perhaps, but also a bit frustrating if you're expecting the real deal. I'm still kind of digesting the entire Bronco naming scheme. But what I learned from driving this not-a-real-Bronco during a full week, is that car-based SUVs have become exceedingly capable.
History Repeats Itself
Mind you, it's not the first time Ford releases two flavors of the Ford Bronco. Remember the Bronco II that was sold alongside the larger, more capable Bronco during the 1980s?  Well it's pretty much the same story here, except now, it's the big Bronco that's based on the Ranger. This one, the 2021 Ford Bronco Sport, is actually based on the Ford Escape.
At this point you're probably wondering why I'm so late to the party reviewing this thing when reviews of the real Bronco are now being released. The first reason is that both Broncos have been very hard to obtain due to the COVID-19 pandemic, plant closures and chip shortages. The second reason is that this vehicle is in such high demand, that Ford first prioritized dealers, but also because journalists have been rushing to obtain the press units. I figured I'd wait a bit and let the dust settle before driving one. I'm driving the larger Bronco in about two weeks, so I'll be able to share my impressions.
So yes, this is based on an Escape, which means it's essentially a car with a lifted suspension and some trick electronics to help it get out of a tricky situation. But that's not necessarily a bad thing considering even a Land Rover Defender is now configured this way. What Ford is trying to do with the Bronco Sport is capitalize on the off-road and overlanding trend that's going on at the moment while offering consumers a more affordable, urban-oriented adventure machine. Remember, Ford only sells trucks and SUVs now (and a Mustang), so it needs to come up with creative ways of diversifying its lineup.
The Bronco Sport comes in a wide variety of fun configurations, each of them offering unique levels of equipment and named according to places you might want to bring your rig. The one you see here is the Badlands model, essentially the most expensive and most hardcore version available.
It gets an enhanced all-wheel-drive system (mostly thanks to electronic aids), a lifted suspension and upgraded dampers. All Bronco Sports are all-wheel drive, and come standard with a front skid plate and steel rockers. The Badlands model is also the only one of the lineup to come fitted with 17-inch wheels instead of 18-inch units, but Ford will install steelies for an extra $1,000. Towing ratings are however low for a Bronco Sport. While the Escape will haul up to 3,500 pounds, this one only pulls 2,200 pounds.
Power comes from a choice of two available engines: base models come with a turbocharged 1.5-liter three-cylinder – yes three – rated at 181 horsepower and 190 lb-ft of torque, while higher trim levels, like the one you see here, get a more interesting turbocharged 2.0-liter four. It's good for a stout 250 horsepower and 280 lb-ft of torque. Both engines are mated to an eight-speed automatic gearbox. Base price for a 2021 Ford Bronco Sport is 34 099 $. My tester stickered at a range-topping 42 199 $.
A Bit Of Mud, A Lot Of Utility
I had a chance to bring the Bronco Sport out in a medium-grade muddy trail, and its ground clearance, approach and departure angles (30.4 and 33.1 degrees respectively), and traction management systems really impressed me. I'd say this is just as if not more capable than a Jeep Cherokee Trailhawk, or even the all-new Subaru Outback Wilderness. Heck, I'd reckon a body on frame pickup truck like an ordinary Toyota Tacoma would break a sweat trying to follow this little guy in the wild.
It's also rather good at being a car, which makes it a wonderful daily driver when you're not busy taking on rough patches of road. While riding a bit rougher than the Escape it's based on due to its lifted suspension and tougher dampers, the Bronco Sport exhibits fabulous road composure, will attack a corner without flipping on its roof and even accelerate rather well when punching the accelerator pedal. Although there's a lot of hesitation from the laggy transmission.
Where the Bronco Sport really shines, is in its ability to adapt to pretty much any sort of outdoor adventure. It's packed with clever storage solutions that make your life a heck of a lot easier when you're out there camping, mountain biking or just enjoying an evening stargazing.
I totally dig how the rear hatch opens in two sections, similar to – ahem – a 1992 Honda Civic hatchback. There's a neat shelf back there that can be pulled out and used as a little table. Smart lighting solutions were also integrated in the cargo area for night-time adventures, and the entire trunk's floor, as well as the rear seatbacks, are covered in a rugged plastic material to ensure they don't get scratched when fitting a mountain bike out the rear.
Speaking of mountain bikes, Ford will sell you an interior bike rack that allows you to stow a fully assembled bicycle as long as its front wheel is removed. Cargo space is also massive, yielding up to 1,840 liters of total room when the rear seats are folded flat, which comes close to larger, more family oriented compact crossovers like a Nissan Rogue.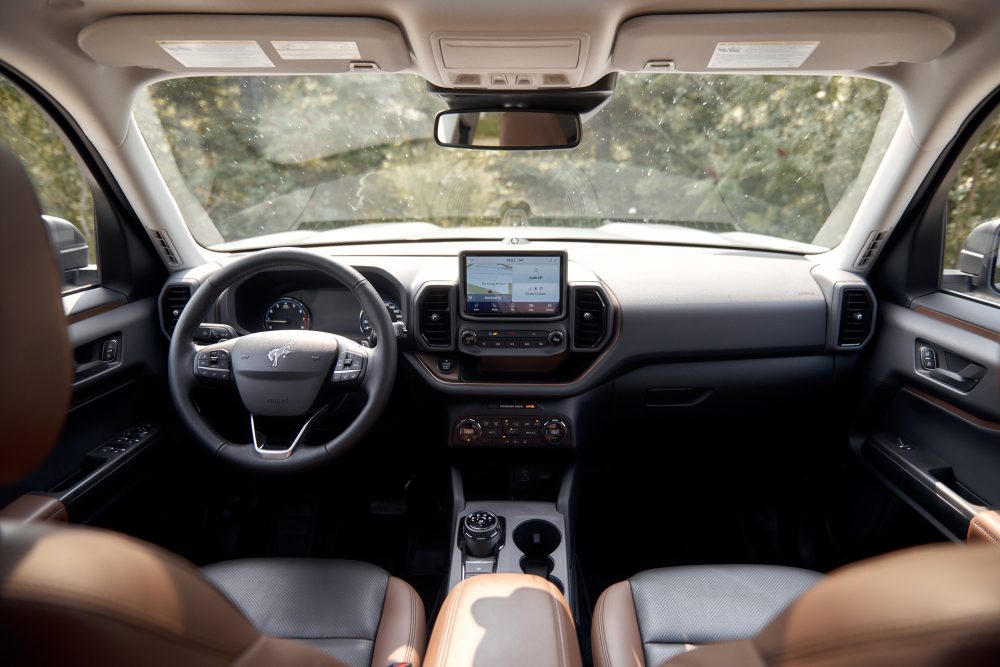 Inside, the Bronco Sport carries on the outdoorsy vibe with rugged materials, more clever storage solutions, like a massive compartment located underneath the infotainment system. There's even some rather fancy technology like Ford's tried and tested Sync 3 interface displayed through an eight-inch screen, as well as some cool graphics when you cycle between drive modes, similar to a Lincoln Aviator. I'm also immensely impressed by the build quality of this thing and the materials used. Check out the seats.
I was however disappointed by the available leg room back there and the rather hard seatbacks. While headroom is never an issue due to the way the Bronco Sport is designed, tall people might end up with their knees kissing the front seats if a tall person is sitting in the front. The seating position is also weird back there. That said, look at this: a secret storage compartment integrated directly in the seat!
The 2021 Ford Bronco Sport may not have the striking presence of its big brother nor its hardcore rock-climbing capability, but it brings a lot of off-road gear to a segment that has morphed into road-surfing lifted station wagons. Plus, it looks rather unique out there on the road, to the point where it'll confuse several people into thinking it's the actual Bronco.
If you don't mind having to explain to everyone why you didn't buy the real Bronco, you're definitely going to get a lot of SUV for your money with a Bronco Sport. For individuals who store their mountain bike in their dining room and prefer spending their evenings at the summit of a mountain, Ford's Bronco "lite" should suit their fancy.
Clavey's Verdict
Review of the 2021 Ford Bronco Sport by William Clavey
Compact Crossovers
Impressive off-road capability (Badlands model)
Composed and spirited handling
Witty storage solutions
Somewhat cramped rear seat
Mediocre towing rating
Laggy transmission
Clavey's Corner is located in Montreal, Quebec, Canada. Prices and trim levels discussed in this article reflect the Canadian car market.
Special thanks: Ford Canada
Contact the author: [email protected]