The 2021 Lexus LS500 is Lexus' largest sedan, but also one of the most luxurious executive limousines currently on sale. It also tries really hard to take on Germany's super expensive full-sizers, things like the Audi A8, BMW 7 Series and Mercedes-Benz S Class. Does it succeed? Sort of. It certainly makes a bold statement, but it doesn't hit the segment hard enough.
Ridin' Japanese Style
It's not like the Lexus LS is a new car within Lexus' lineup. This was the company's first automobile when it was launched as its own bespoke luxury brand during the late eighties. The model you see here is the fifth-generation introduced for the 2018 model year, and it's absolutely gorgeous. It has a distinctively Japanese design.
The car received an update for 2021. Changes are subtle, but substantial. There's a new headlight design and the taillights have new trim surrounds. Lexus also threw in new interior trim options as well as new paint colors. The most important interior change is the revised infotainment setup that now uses a 12.3-inch touchscreen rather than only relying on the stupid touchpad Lexus puts in all its cars.
Lexus also says it has reprogrammed the transmission's mapping. Engine mounts were redesigned for reduced vibrations, and sound deadening was improved. The LS500's engine also gets an updated piston design to lower emissions and reduce NVH when the engine is cold.
Power for a 2021 Lexus LS500 comes from a twin-turbocharged 3.5-liter V6, an engine that has never been used in other Toyota or Lexus vehicles before. This will however be the go to base engine for the upcoming Toyota Tundra. Power is rated at 416 horsepower and 442 lb-ft of torque and it's mated to a ten-speed automatic gearbox. All Lexus LS' sold in Canada, including the hybrid LS 500h, are all-wheel drive.
Pricing is, as expected, really high, but the LS is still quite the bargain compared to a German equivalent. The car kicks off at $104,750. My tester was fitted with the – cough – $34,600 (!!) Executive package, which includes virtually all the options Lexus has to offer, including a reclining rear seat with a leg rest and TVs behind the front seats. Final price for the car you see here is $141,570. Equip a Mercedes S Class or a BMW 7 Series this way and you're well over the $170,000 mark.
Where's The V12 Option?
Perhaps the most obvious realization when comparing the 2021 Lexus LS500 to a Mercedes S Class or BMW 7 Series is how limited the options list actually is. Contrary to those cars, the LS can't be had with a longer wheelbase, a fire-breathing V12 engine or even more exclusive variants such as Alpina or Maybach.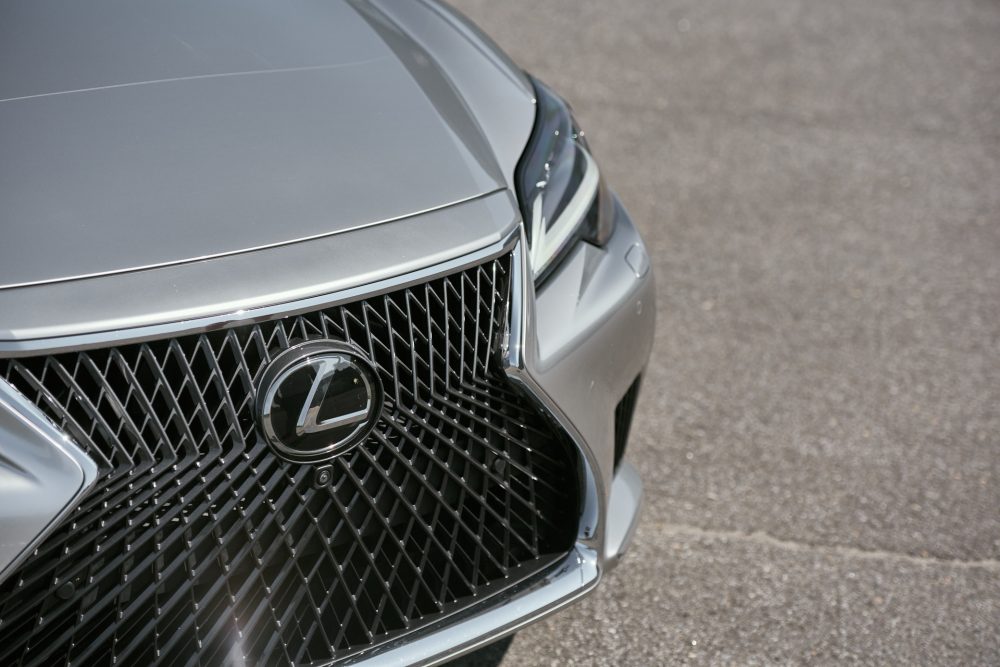 This means that although that turbocharged V6 is fine from a performance standpoint, the LS would get completely obliterated by its European competition in a drag race. Why does this matter? You see, the buyers of these cars typically prefer being driven around than driving themselves. They tend to be very busy people with very loaded schedules. And sometimes, getting away from cameras needs to be done in a jiffy. Power, speed and agility are everything in this segment.
So no, the LS500 isn't particularly quick, nor does it handle very well. While its rear-biased architecture is shared with the exquisite LC500 sports coupe, the LS's driving dynamics lean more towards a serene passenger experience than sport sedan agility. That being said, it does provide one hell of a smooth drive. Power delivery is constant and comes on low in the rev range. And that ten-speed transmission is butter smooth, although it does exhibit a bit of lag when you're shifting on your own.
What you quickly realize when driving the LS500 is that any attempt at being spirited with it will simply be punished bywaves of utmost refinement and laziness. Once you realize it will never slap a smile on your face from the way it tackles on a corner, you'll take the time to admire the car's build quality and design quirks. And boy are they impressive.
Every texture, panel or button in an LS feels like an exquisite piece of jewelry. Build quality is obviously second to none, with tight panel gaps and doors that close with a confident thump. Then there's the artwork that was integrated inside the car's door cards. There's real glass, actual aluminum and a folded material that mimics Japanese origami.
The seats aren't seats, they're leather thrones, complete with venting, heating and full-body massaging features. And yes, that infotainment system solves most of Lexus' past issues thanks to touch controls, but also a physical volume knob that doubles as a tuning knob. This, by the way, solves most of the modern automobile's ergonomic flaws. Every detail in an LS is worth admiring, even the gauge pod.
And then, of course, there's the back seat. It's not exactly as spacious as in a BMW 7 Series or S Class, but it does hold its own in terms of overall comfort and amenities. Rear occupants have access to a full plethora of features like vented and massaging seats. Everything can be operated via a center-mounted tablet.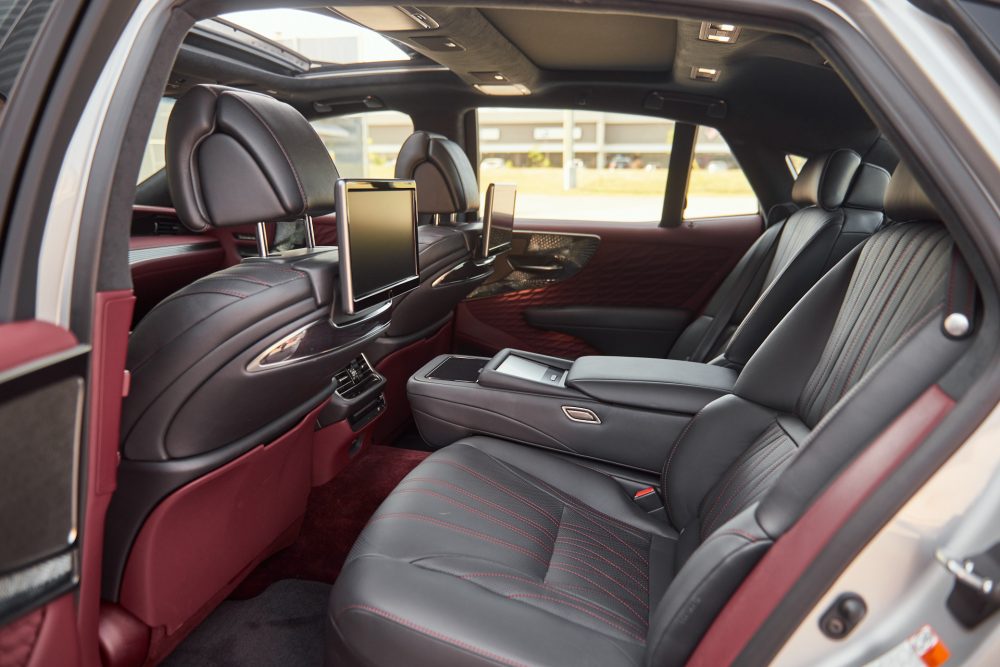 Shaders, climate control settings and audio controls can all be manipulated through there. And at the touch of a button, one can move the front passenger seat out of the way and turn it into a footrest.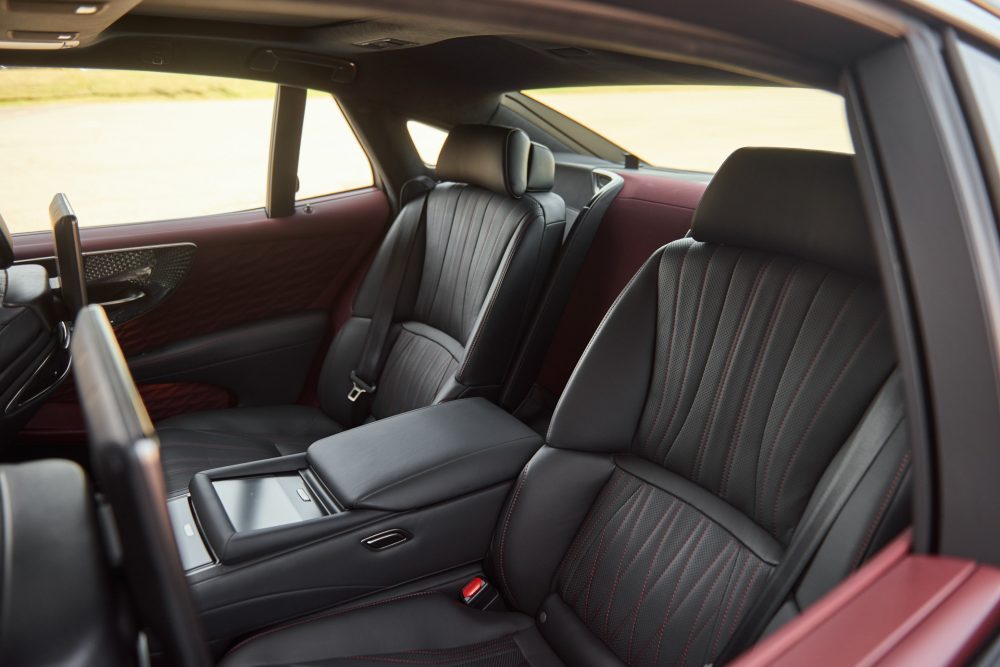 There are also plenty of entertainment possibilities by way of two independent screens, each HDMI or Bluetooth compatible with dedicated headphone jacks.
The 2021 Lexus LS500 touches ground on all the basics and the level of exclusivity and craftsmanship allows it to leap frog other up and coming contenders like the Genesis G90. But it also misses the mark on expected features from this segment, things like a scented cabin, fully customizable interior lighting, gesture controls and an in-car fridge for champagne bottles, just to name a few. It's a good car, that's lacking that something extra to really shine. It sure as hell is a reliable machine though, one that'll cost significantly less in maintenance, but does the target buyer even care about that? I'm afraid not.
Clavey's Verdict
Review of the 2021 Lexus LS500 by William Clavey
Full-Size Executive Sedans
Insane build quality and attention to detail
Supremely smooth and comfortable
Striking road presence, guaranteed exclusivity
Needs a more powerful engine option
Lacks the equipment list of some rivals
No long wheelbase option
Clavey's Corner is located in Montreal, Quebec, Canada. Prices and trim levels discussed in this article reflect the Canadian car market.
Special thanks: Lexus Canada
Contact the author: [email protected]