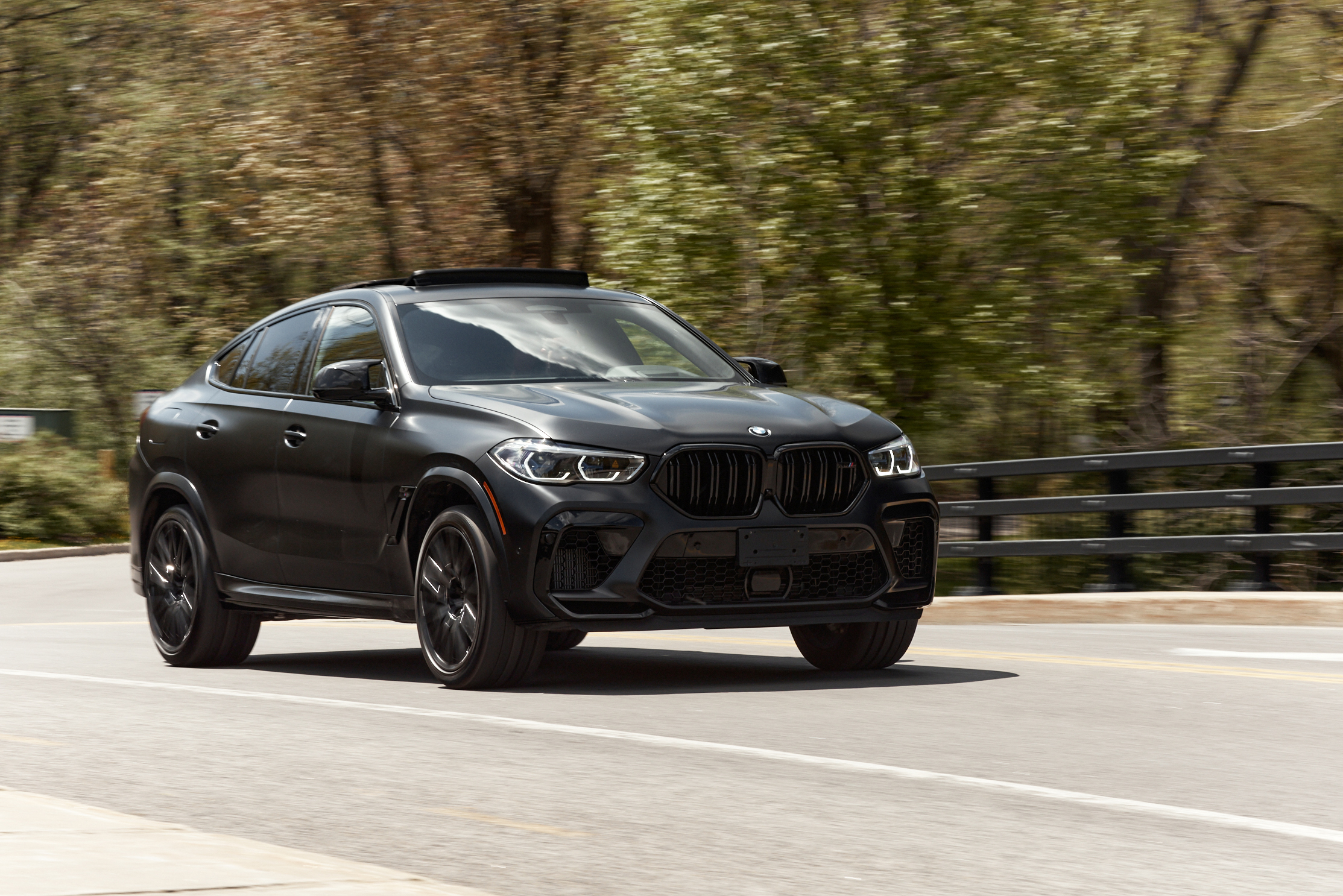 The 2021 BMW X6 M is obviously just coupe version of the already insane X5 M. But for some reason, it's considerably more menacing than its twin. Maybe it has something to do with the batshit crazy matte black paint (actually called Frozen Black) my tester was covered in, or the equally sinister black wheels. Wait, I think I know what it is. What about the freaking 617 horsepower V8 sitting underneath its enormous hood?
The More "Stylish" One
As you all know, I've never been of fan of the entire coupe SUV trend. I explained this in my video review of the Infiniti QX55. Yet, carmakers keep building them, and consumers keep asking for them. Or are they? I ask, because when you look at X6 sales in the US and Canada versus the X5, the X6 isn't exactly doing well. For reference, BMW sold just over 55,000 X5s in 2020 alone, but only managed to ship about 9,000 X6s.
At least the upside of such poor sales is that if you like the way the X6 looks, you'll be one of the only ones on the road with one, because not many people are buying these things. And I will say that with this matte paint, in M form and with those wheels, the 2021 BMW X6 M looks properly badass, but I do still find it looks a little weird. I mean, if Darth Vader drove a car, it would probably be this.
So, yes, this is basically an X5 but with a slopping roof and a stubby rear end. BMW will tell you that everything from the B pillar rearward is unique to the X6, and it's true. But underneath the sheetmetal lies the same modular CLAR architecture as the X5, the 3-Series, the X7, or hell, even the Toyota Supra.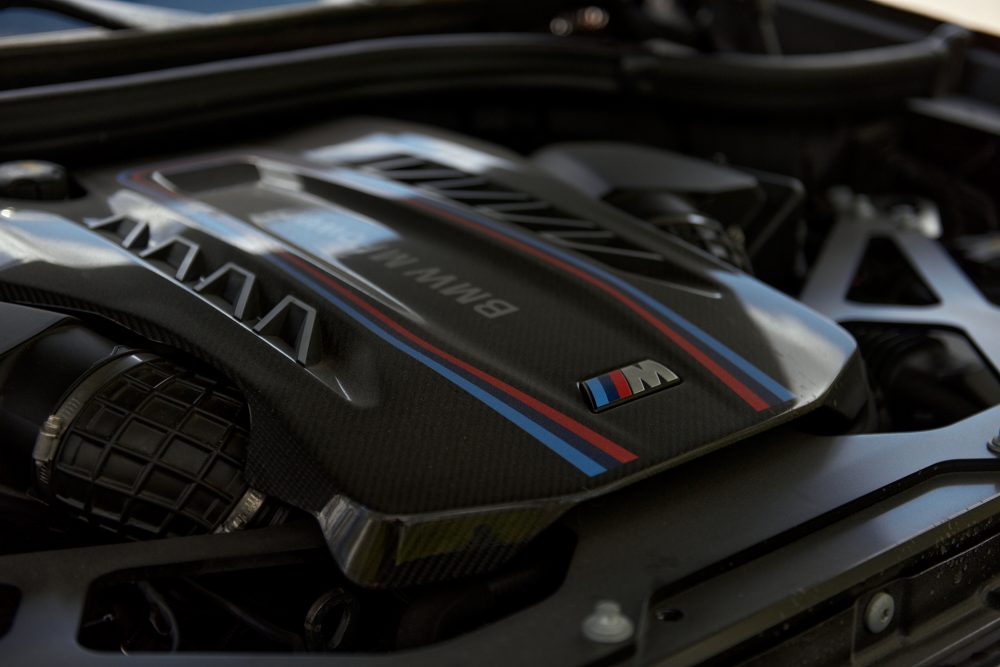 In M form the X6 also gets the same twin-turbocharged 4.4-liter V8 as its brother. It's good for monstrous 600 horsepower and 553 lb-ft of torque. But in Competition trim, that number cranks up to 617 horsepower, while torque remains unchanged. The package also grants you a strut-tower brace, a deeper-voiced sport exhaust system, a special track-driving mode, and 22-inch wheels. Everything is then mated to a ZF-sourced eight-speed automatic transmission as well as BMW's xDrive all-wheel drive system, except it can't disengage the front axle like in a BMW M5.
Pricing for a 2021 BMW X6 M Competition is just as ostentatious as the vehicle itself. It kicks off at an already steep $133,000. Then there are the insane packages with ridiculous prices like the – ahem – $17,800 Ultimate Package my tester had. Just that Frozen Black sells for $4,900 for Christ's sake.
Intimidate…Everything
I'm going to try to explain with words how violent the 2021 BMW X6 Competition's performance is. When you remove its traction control system and activate it's most insane M settings (everything is entirely customizable), it'll hit 100 km/h from a standstill in about 3.7 seconds. You may be telling yourself "cool, but my Nissan GT-R is quicker than that". And you'd be right. But acceleration times don't tell the X6 M's full story. Also, we are talking about 5,400-pound SUV here. Your GT-R may be quicker off the line, but that ginormous BMW schnoz won't be far in your rearview mirror.
But once the X6 M starts picking up speed, it'll hit the quarter mile twelve seconds flat, and keep pushing all the way to a 284 km/h top speed. And when the twisties will arrive, don't think for one second that you'll be able to run away from it in your shiny new sports car, because the X6 M glues to the road as if it was a slot car. This thing is absolutely relentless, and you'll never know you're driving a vehicle of such girth until bystanders will look at you like you're insane. Going fast in a vehicle of this stature could attract a few negative eyeballs, so beware. Also, don't drive fast on the road. Find a track.
The X6 M also sounds properly mean, but never too loud. I've heard much more immature BMW M vehicles in my career. Instead, the X6 M rumbles and growls its authoritative melody. Yet, even when running full boil, this engine remains surprisingly tame. It's also immensely smooth, providing power and torque all the time. Its reaction times, along with the gearbox, are also phenomenal. Gun the throttle in any mode, at any speed and in any gear, and the X6 M just picks up and scoots forward like a bullet train.
In typical BMW fashion, the adaptive suspension sadly always remains stiff, even in its most comfortable settings. The X6 M is also not the fuel-efficient vehicle out there. I specify this, because most of BMW's high-performance machines still manage to return decent fuel consumption ratings when you baby them. But not the X6 M. You'll be lucky to hand underneath the 13L/100 km mark.
Inside, the X6 M is pretty much a carbon copy of an X5 but with model-exclusive color combinations and materials. My tester had an absolutely gorgeous red leather interior that contrasted beautifully with its vadered out skin. The M bucket seats are of utmost support and comfort, but I continue to find the seating position of BMW's M vehicles a little weird. You sit high in the X6 M's cabin and the seat itself is very aggressively bolstered. Maybe it's because I'm becoming fat and need to shed off a few pounds.
Like all modern BMWs, overall ergonomics and the placement of controls and functions are all intelligently executed. BMW's iDrive infotainment system is still hands down one of the best in the industry due to its wonderful mixture of touch and physical controls and fast response times. It also lets a passenger connect your phone while you're driving which is a handy feature. Sadly though, the M division ruins everything with its overly complicated drive modes.
Don't get me wrong, I love the fact that you can fully customize the vehicle to your liking, and to be fair, the German brands are still the kings of this. But in the X6 M's case, one needs to dig deep into the car's menus to fully grasp all of the available settings.
And to make things even harder to comprehend, BMW also gives you the possibility of independently changing the gauge cluster layout and heads up display. To do that, one needs to press a button called "M Mode". But hitting M Mode won't actually put you in M Mode. It'll just change your gauge cluster into M gauges. The real M modes are located on the tiny red buttons on the steering wheel. But if you don't program them beforehand, they'll do nothing when you'll press on them. Confused? Me too.
But once you'll have figured it all out and your tiny little buttons will have been tailored to your liking, the 2021 BMW X6 M surely won't disappoint. If you're looking for a high-performance midsize SUV, but also want something with a bit of an eccentric look, then there's no doubt this should suit your fancy, even if cargo space is down a bit from an X5. Between me and you, there's something very appealing about a matte black utility vehicle that'll comfortably seat five people while also intimidating a Chevy Corvette.
Clavey's Verdict
Review of the 2021 BMW X6 M Competition by William Clavey
High-Performance Luxury Coupe SUVs
Insane performance
Undeniable road presence
Surprisingly roomy and practical
Looks a little weird
Complicated drive modes
Not cheap
Clavey's Corner is located in Montreal, Quebec, Canada. Prices and trim levels discussed in this article reflect the Canadian car market.
Special thanks: BMW Canada
Photography: Guillaume Fournier
Contact the author: [email protected]