When equipped with the right tires and fueled by the right type of gas, the 2020 BMW X7 M50i will sprint from 0 to 100 km/h in less than 4.5 seconds, numbers that are comparable to the current Ford Mustang GT powered by a 5.0-liter V8. Yet, the X7 will still carry seven passengers in utmost comfort and class, and tow up to 7,500 pounds. This is essentially the big bully that beats up sports cars in exchange for their lunch money.
Ametrine Nostrils
I know the 2020 BMW X7 on these pictures looks like some sort of crossbreed between a BMW 7-Series and eggplant, but the color is actually called Ametrine, a reference to the quartz crystal of the same name and color. It's one of the many additional options one can pile onto an X7. The paint alone costs $1,000.
The X7 is BMW's first effort into the three-row fullsize SUV segment. Its main job is to take the Mercedes-Benz GLS straight on, but also allow BMW X5 owners to stay within the BMW hierarchy if they happen to need more room. The X7 rides on the same modular CLAR architecture that also underpins virtually everything at BMW now, ranging from an X5 all the way down to a 3-Series. The X7, much like the 7-Series, is a flagship vehicle for BMW in which it injects all its technological know-how. The idea behind it is to reproduce everything a 7-Series has to offer, but in a more practical SUV package.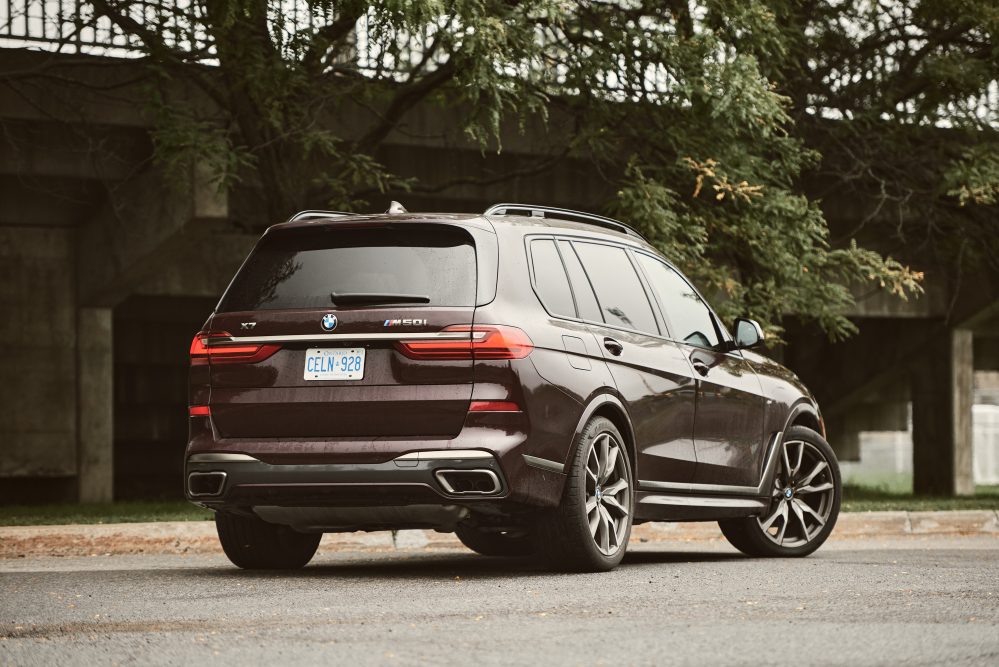 This also means that the 2020 BMW X7 wears the new controversial chrome schnoz. If you're still complaining about BMW's large grilles, you'd better get used to it, pal, because BMW says they're here to stay. I know, it looks ugly as hell.
But there are a total of three different X7 variations. At the bottom of the lineup, there's the xDrive40i, powered by the single turbo B58 3.0-liter straight six good for 335 horsepower and 330 lb-ft of torque. Next year, that engine will receive mild hybrid technology.
The M50i you see here sports the much more interesting twin-turbocharged 4.4-liter V8 that cranks out 523 horsepower and 553 lb-ft of torque. An even mightier Alpina version brings things up to a mountain-topping 612 horsepower. No matter which X7 you choose though, it'll be paired to an eight-speed automatic gearbox and xDrive all-wheel drive.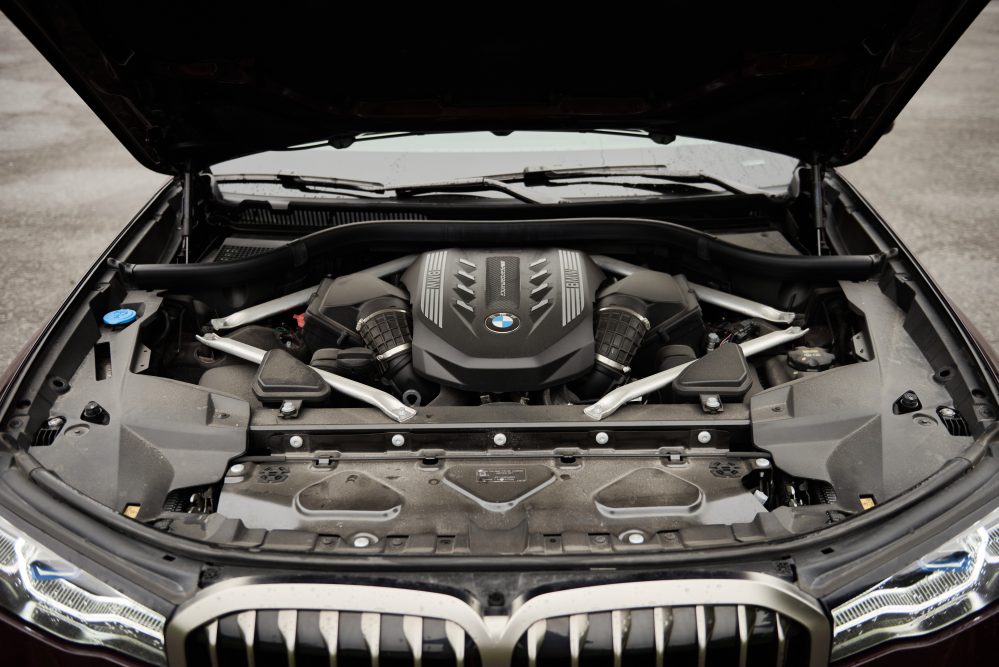 Pricing kicks off at $96,998 for an xDrive 40i, and tops out well over $170,000 for an Alpina XB7 with optional packages grafted on. The M50i I was driving in these slick photos stickered for a staggering $134,700.
Why Is This Thing So Fast?
Before I begin writing about the 2020 BMW X7's comfort and interior space – or lack thereof -, I'd like to underline how quick and surprisingly athletic this 5,742-pound behemoth actually is. Because I couldn't quite fathom how quickly this thing picks up speed, how it'll launch itself out of a hole faster than many sports cars, or how nimble it feels given its girth.
Yes, there's expected body roll and a general sense that you're maneuvering a well-sized machine, but the X7 is also immensely fun to drive and, in typical BMW fashion, feels as though people interested in driving were in charge of its tuning. The X7 feels rock solid on uneven roads. It's steering is well-weighted and precise, creating the illusion of shrinking the entire vehicle around you. And it responds tremendously well to good old fashion hooning.
Set the 2020 BMW X7 M50i in Sport+ mode, which you activate by holding down the Sport button, and remove the traction control system, and you'll unlock this friendly giant's launch control feature. This will grant you and your family near roller-coaster thrills during hard launches. The X7's massive Pirelli P Zero PZ4 Run Flats – 275/40R-22 front, 315/35R-22 rear -, allow this big guy to claw its way around a corner as effectively as a Volkswagen Golf R, while the supersized vented brakes make sure to grab this linebacker by the scruff of the neck when things become too hot.
In Sport+ mode, the M50i farts glorious V8 thumps as the ZF-sourced transmission effortlessly shuffles through the gears in utmost efficiency. Gun the throttle while exiting a corner and the X7 will wiggle its fat ass, but will still remain nice and planted as the xDrive system figures out the best possible way to obtain grip. There's depth in the way the X7 M50i drives, but very much like the M8 I drove this summer, the experience is always easy and soothing, even if you're plowing down the highway at double the speed limit.
Of course, I don't recommend you do that, as you'd look rather foolish in front of your kids as the police tow your 2020 BMW X7 due to extreme speeding. Stay within the speed limits, however, and the X7 guarantees to indulge you and your family in presidential levels of luxury and comfort.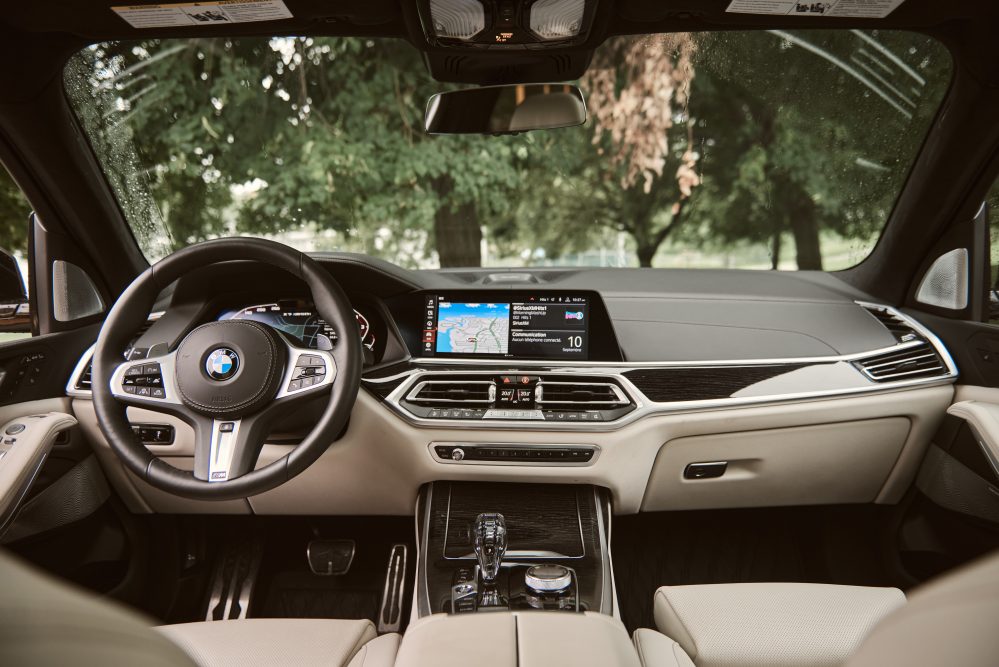 The X7 not only feels like a tank on the road, it's also built like one, with vault-like panel gap tolerances, impressive sound insulation and above-average material quality. Doors shut with hefty clunks, while the integrated scented and ionized ventilation system keeps the experience fresh inside.
As in all BMWs, the dashboard design remains on the spartan side of things, but it's the shear sense of quality and class-leading ergonomics that allow this large SUV to distinguish itself from its main rival from Mercedes-Benz. Seats are thick and plush, and all of them, including the rear ones, will make you feel like first class in a Lufthansa flight. That said, I'm not sure I'd get my X7 interior in white. Looks cool in photos, but imagine mixing this with the kids and the dog? Yeah, that's not happening.
But the list of comfort-inducing amenities in an X7 is long, and every button, handle or screen feels of utmost top quality. BMW's fully digital gauges do take some time getting used to due to the vast amount of configurable menus and widgets you can throw at it. And the X7's five available drive modes can at times prove confusing.
There's also a trick hydraulic suspension that either slams this large SUV down to the ground in an M5-mimicking stance, or jacks it up high enough to overpower a freshly plowed snowbank. Meanwhile, the iDrive interface is still among the best automotive interfaces currently on sale due to its shear common sense, quick reaction times and a downright perfect human to machine synergy.
Where the X7 disappoints is in its available passenger and cargo capacity. While it is technically a three-row SUV, rear passengers might find accessing and sitting in the third row a bit difficult. And once back there, I sadly didn't feel much more at ease as in say, a Kia Sorento.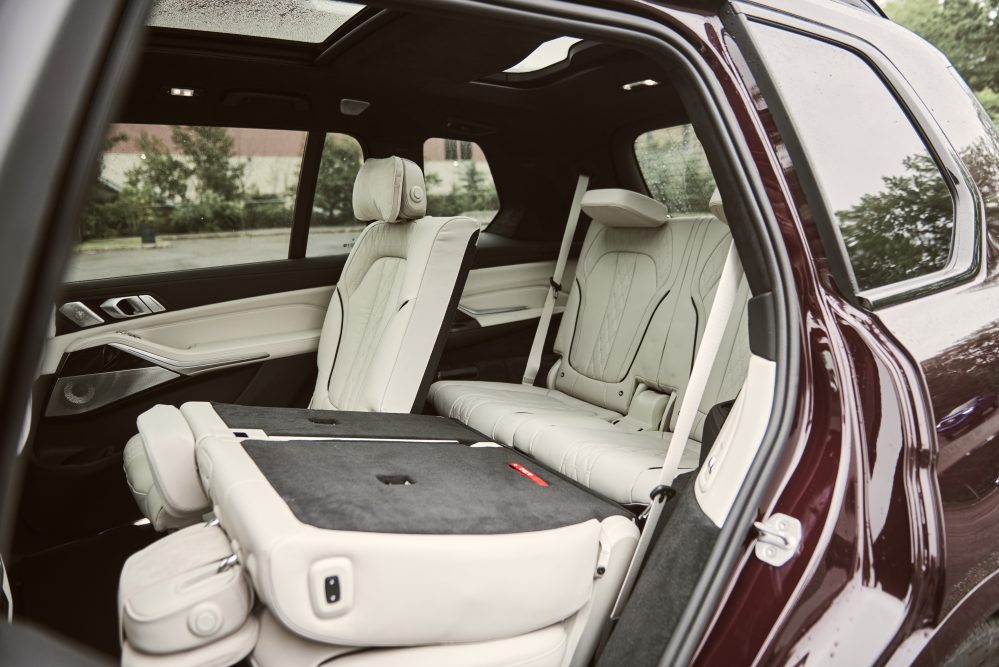 The X7 receives the same dual tailgate design as in the X5, or a – ahem- 1992 Honda Civic hatchback. But it's a handy feature for quickly throwing some junk out the rear, or using your $130,000 X7 during a tailgate party. Sadly, when it'll be time for you to pack up that party, the X7's cargo space might be a tad disappointing.
At 2,559 liter of maximum cargo space, the X7 is considerably more spacious than a GLS (2,400 liters), but it significantly lags behind a GMC Yukon Denali (3,480 liters), and barely outguns a Kia Telluride (2,463 liters).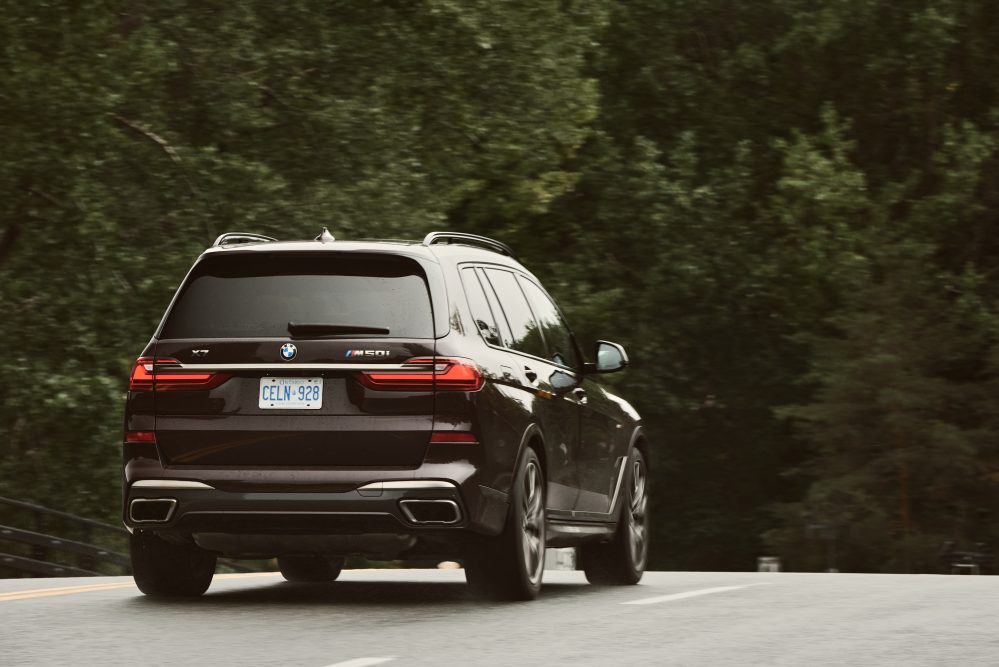 But of course, it's unfair to compare this 2020 BMW X7 M50i to a Kia, because it clearly indicates you where your 130 grand has gone the minute you fire up its V8 engine. The X7 M50i may look stupid with its fat nostrils, but it really is the 7-Series of SUVs; a highly luxurious, well-built and butter-smooth stealth missile that's both family friendly and a blast to drive.
Clavey's Verdict
Review of the 2020 BMW X7 M50i by William Clavey
Fullsize Luxury SUVs
Immensely quick
Surprisingly agile
Smooth, quiet and very comfortable
A face only a mother could love
Tight third row
Cargo space is on the low side
Clavey's Corner is located in Montreal, Quebec, Canada. Prices and trim levels discussed in this article reflect the Canadian car market.
Special thanks: BMW Canada
Photography: Guillaume Fournier
Contact the author: [email protected]