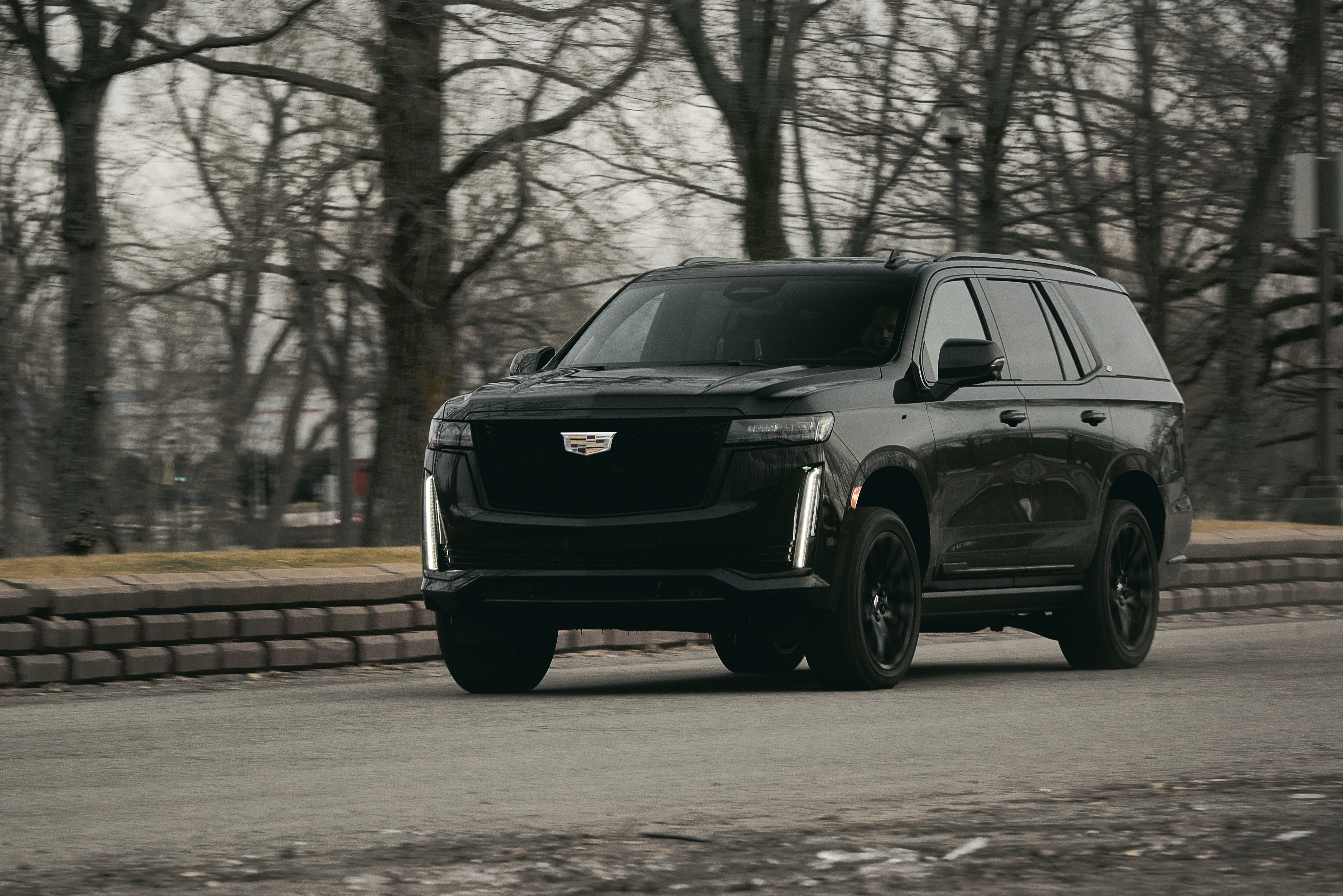 If you're looking for the largest, most opulent sport utility vehicle currently on sale, then the 2021 Cadillac Escalade should suit your fancy. Yes, like its predecessors, it's essentially a Chevy pickup truck with a luxurious body wrapped around it, but it remains among one of General Motors' best-selling vehicles. When combined, the General's full-size SUVs, meaning this Escalade, the Chevrolet Tahoe/Suburban and GMC Yukon, are currently the best-selling body on frame utility vehicles in the world, totaling more than 300,000 units sold each year. And for 2021, they've been completely overhauled to ensure their dominance.
Rapper Approved
I must say, the all black 2021 Cadillac Escalade Sport Platinum I was driving ranks among one of the most badass SUVs I have driven this year. It also fits its reputation of being purchased by professional rappers and drug dealers rather well. In case you're wondering, no, the Escalade doesn't only come in black or in white. These things do come in other colors, but owners seem to want to stick with the first two options.
What you need to know is that this big guy is entirely new from the ground up and sits at the very top of the GM SUV food chain. It rides on the same T1 architecture as the Yukon and Tahoe, as well as the GMC Sierra and Chevrolet Silverado. Except this finally gets an independent rear suspension like – ahem – the Lincoln Navigator. It's also a modified version of this platform that will eventually underpin the upcoming GMC Hummer EV. So yes, expect this Escalade to eventually become electric as well.
But until we get there, the standard engine is the tried and proven, if not a little old, 6.2-liter pushrod V8. It's now good for 420 horsepower and 460 lb-ft torque, and mated to an all-new ten-speed automatic transmission. Cadillac will also sell you a 3.0-liter Duramax turbodiesel straight six that pumps out 277 horsepower and 460 lb-ft of torque.
Like the Tahoe and Yukon on which it's based, the Escalade comes with an engageable four-wheel drive system, except it's now standard on all trucks sold in Canada and doesn't get a 4×4 Low feature. Will Escalade owners even care? Perhaps not. Max towing is also rated at 500 pounds less than on a Yukon Denali, but the Escalade will still haul up to 7,500 pounds.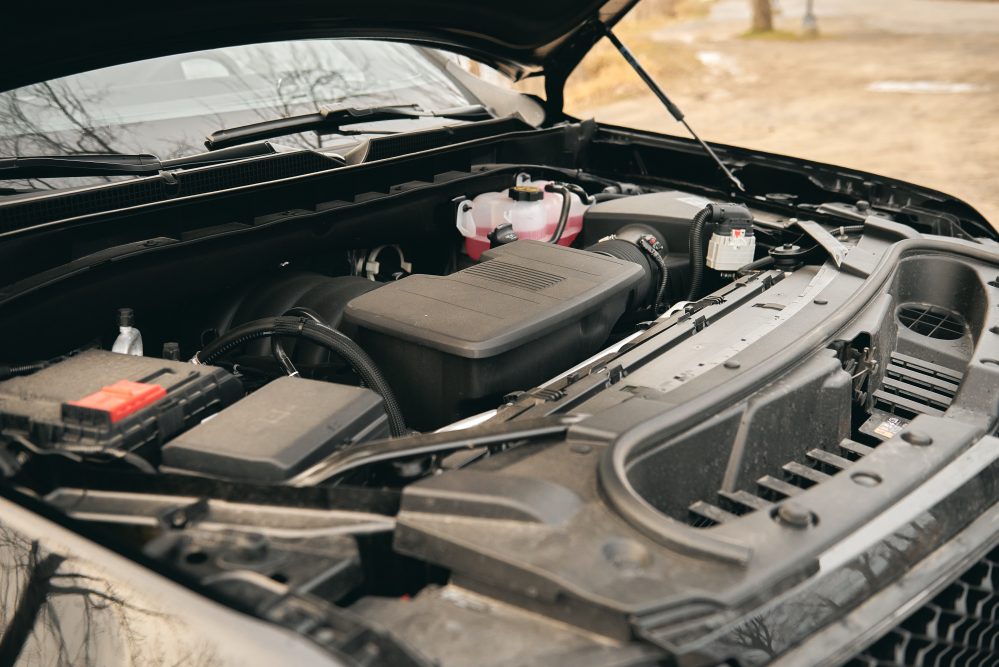 Other new elements include GM's magnetic ride adaptive dampers as well as an auto-levelling Air Ride setup. And like its predecessor, the Escalade is available in two wheelbase options. The one I was driving had the standard 211.9 inch (5,382 mm) setup, while the Escalade ESV extends to 226.8 inches (5,761 mm).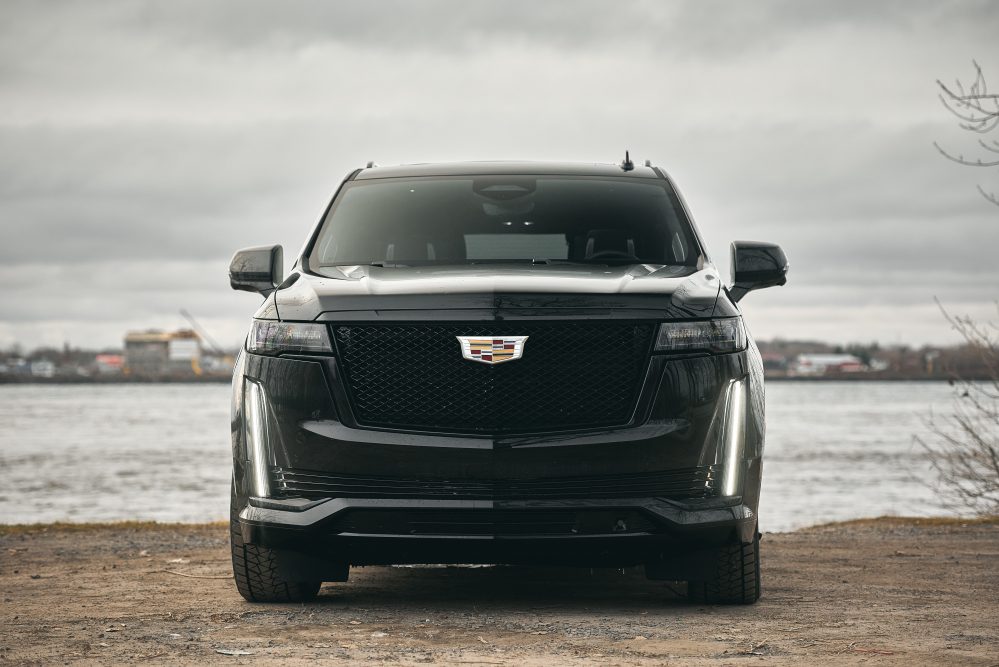 Pricing is unsurprisingly ridiculously high. A "base" Escalade, also known as the Luxury trim, kicks off at $92,248. The one you see here is a Sport Platinum, which sits at the top of the lineup at $120,248. My fully equipped test unit had a final sticker price of $125,068. This puts it in the same ballpark as a BMW X7 M50i or a Mercedes-Benz GLS in terms of price.
Oh So Smooth
But unlike a German alternative, the 2021 Cadillac Escalade is an actual truck, which means it can haul heavy objects for years on end without ripping in half, all while driving through tougher situations without breaking a sweat. But although it still rides on a body on frame architecture, you never sense this from behind the wheel. That's all thanks to GM's frankly impressive Magnetic ride suspension which adapts to the terrain as you're driving. Meanwhile, the Air Ride system changes the truck's ride height on the go, which is why it looks properly slammed in the static photos, but jacked up in the rolling ones.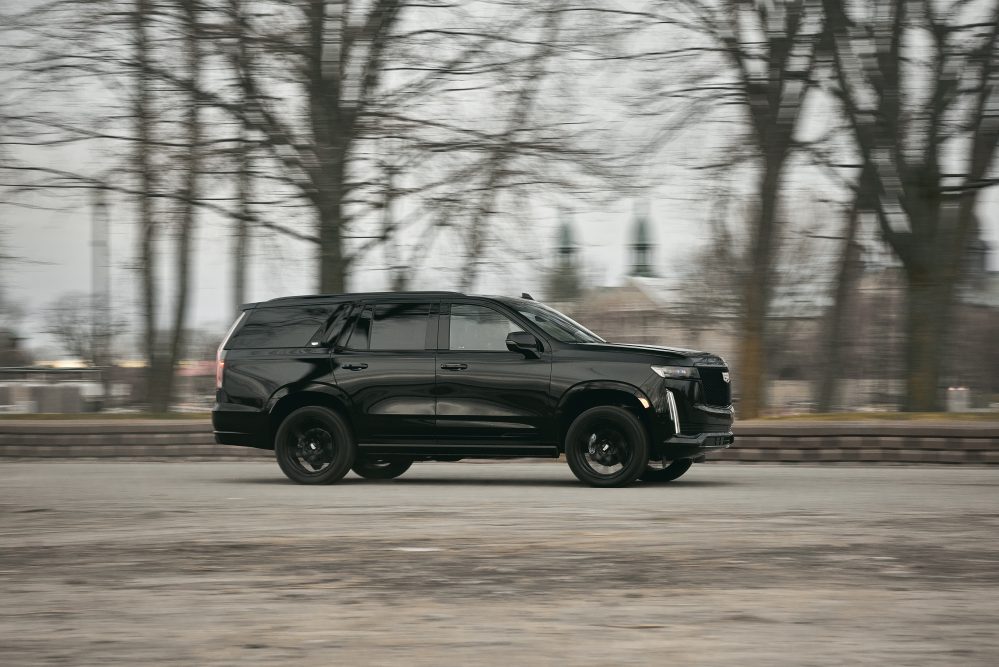 And it's the same story for the naturally aspirated V8. While, sure, the ten-speed gearbox takes a while to react, similar to a Cadillac XT6, but once it knows what it wants, it allows that old lump of Detroit Iron to sing glorious Corvette sounds all the way to its redline. The Escalade is a respectfully quick behemoth given its size, with a 0-100 km/h time rated at six seconds flat. That's Golf GTI territory.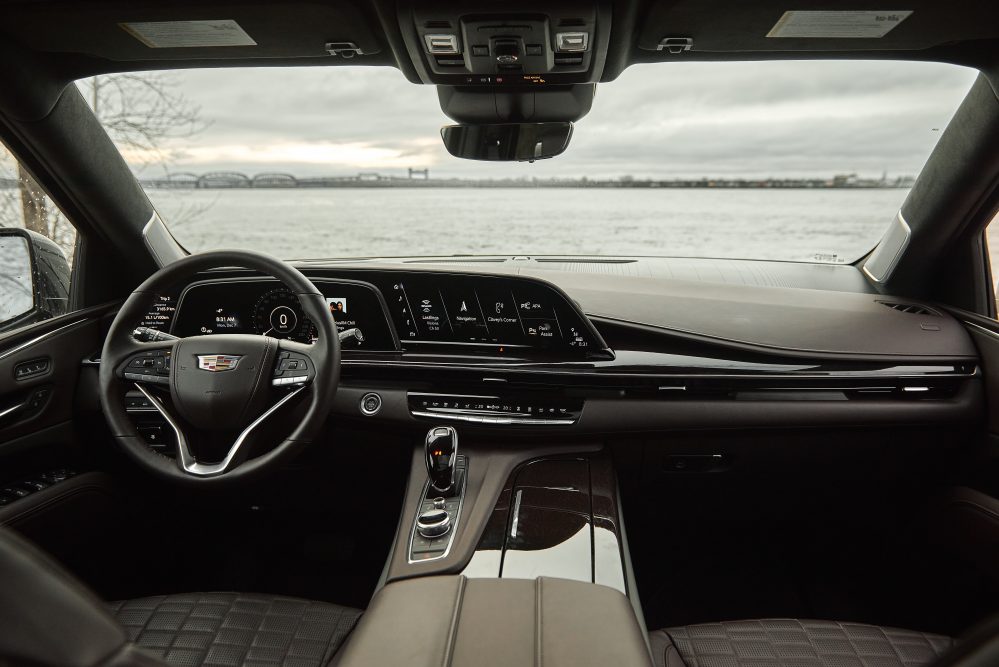 But driving quickly in a 2021 Cadillac Escalade isn't the purpose of its existence. Where it shines, is in the way it'll wrap seven passengers in utmost comfort, luxury and technology. And when I say seven passengers, I really mean seven human beings. Because while many three-row SUVs claim to do the same, none of them offer this truck's roominess in the third row. This, of course, is one of the many benefits of the new platform and the addition of an independent rear suspension.
This new Escalade has so many toys, that I don't even know where to begin. Perhaps the most noteworthy feature is the 38-inch – yes, 38! – that spans the entire dashboard from left to right. It's not only the largest screen to have ever been fitted to an automobile, it's also the first ever OLED curved display used for a car. And it houses a full battalion of innovative technology that'll give its rivals a run for their money.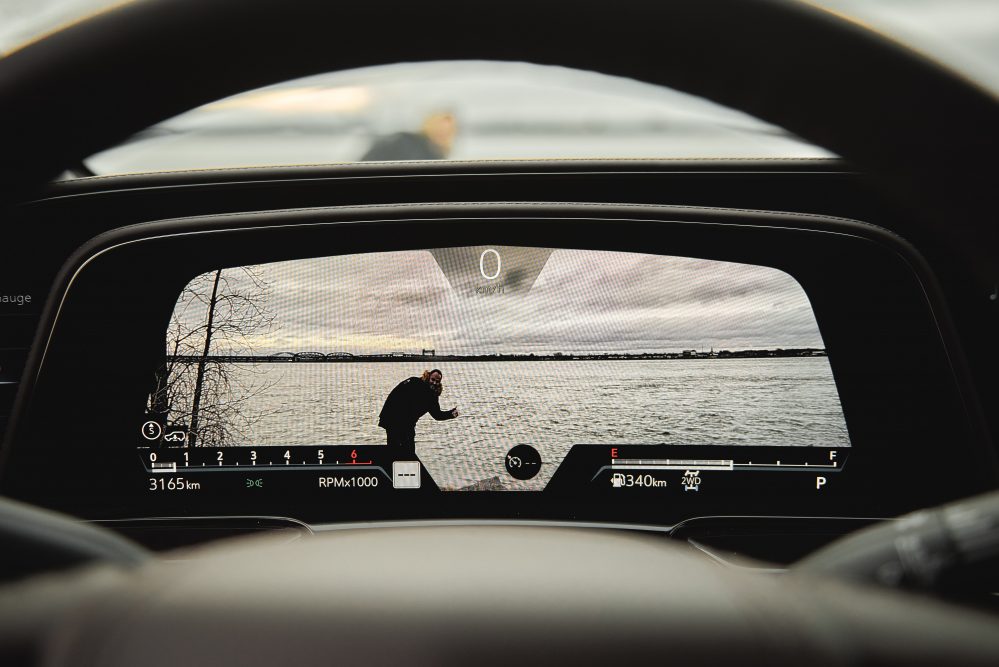 For instance, the main gauge pod can be customized to a variety of different displays, going from a standard digital speedometer, to the navigation map, or an augmented reality camera that not only sees below the windshield to make sure you don't run over children or pets in your bus-sized Caddy, but also displays useful navigation information when you've programmed a destination.
Then there's the night vision system which detects, using a heat-sensing camera, pedestrians or animals that are further than the vehicle's headlights or your field of vision. That's a useful gimmick if you drive often in a deer-infested area at night like I do. The Escalade then gets an extra heads up display in the windshield, where you can, once again, customize the information that's blasted through your retinas.
The main, central screen houses the vehicle's infotainment interface where another lump of witty apps await you. GM basically crammed this thing with everything it has in stock, from NFC one-touch phone connectivity to a 360 and overhead camera, as well as a comprehensive trailering app to make hauling your precious jet boat up to the cottage a breeze.
And I still haven't gotten to the other two screens that are located behind the immensely comfortable front leather seats. Those, by the way, house both a massaging feature and a some headrest-mounted speakers for the exquisite AKG premium sound system.
As for the screens back there, they allow rear passengers to independently connect their phones or other toys like a gaming console or a Blu-ray DVD player.
Since the truck comes with a WiFi hotspot (subscription required), each passenger can grab some bandwidth and stream their favorite shows or music. It's also possible to operate the car's climate control settings from there and even send a navigation destination to your chauffeur, to which he/she can then decide to accept or ignore.
If I were to list all the features this 2021 Cadillac Escalade has to offer, you'd be reading about it until tomorrow morning. I'll cut it short by saying that it's the most SUV of any SUV currently on sale. It also wonderfully fulfills its mission of being the equivalent of "I don't give two shits" on wheels. That said, you should also know that a GMC Yukon Denali, which looks just as badass and houses similar technology as this Escalade, sells for almost $30,000 less. Let that sink in for a bit.
Clavey's Verdict
Review of the 2021 Cadillac Escalade by William Clavey
Full-size Luxury SUVs
Smooth and well sorted out suspension
Loaded with class-leading technology
Actual room and comfort for seven
Dated engine
Still no electrified variant
A GMC Yukon Denali is still a better value
Clavey's Corner is located in Montreal, Quebec, Canada. Prices and trim levels discussed in this article reflect the Canadian car market.
Special thanks: Cadillac Canada
Photography: Guillaume Fournier
Contact the author: [email protected]