The 2021 Dodge Durango R/T is the only midsize SUV from a non luxury brand to offer a V8 engine. Why does this matter? Because some parents are still automotive enthusiasts. They need room for the kids and their gear, and a machine that can tow a trailer, a boat or camper, but they also want something with a bit of performance. In R/T form, the Durango presses all these buttons.
F8 Green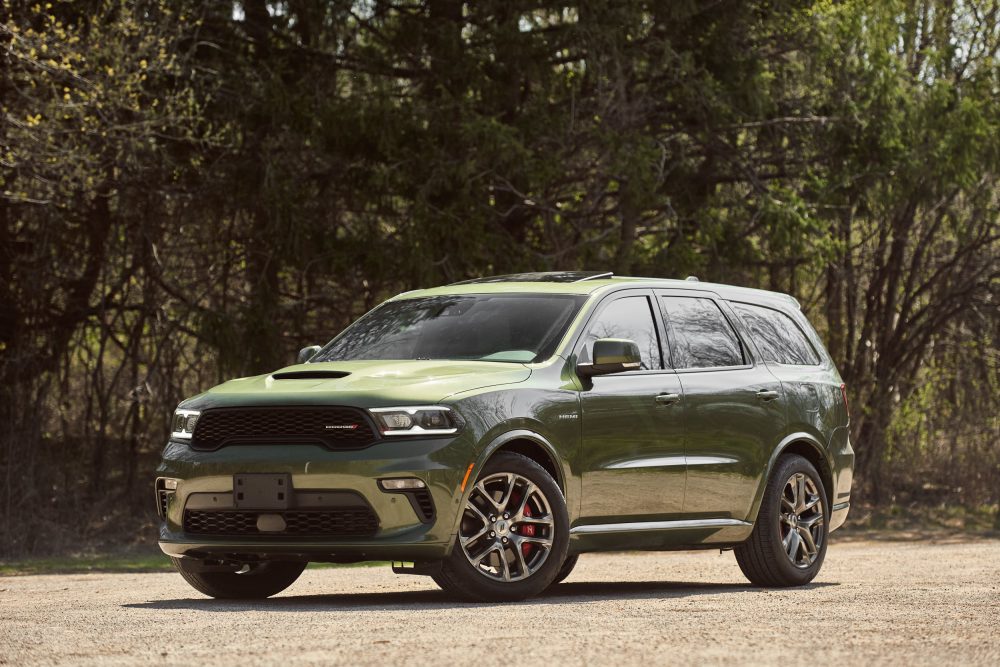 That's the name of paintjob for the example you see here. It's part of a slew of updates that were applied to the Durango nameplate for the 2021 model year. There are new LED headlights, a new front bumper, a slightly revised rear end and new wheels. Dodge also reshuffled the available trim levels, and considerably updated the SUV's interior, which I'll get back to in a bit.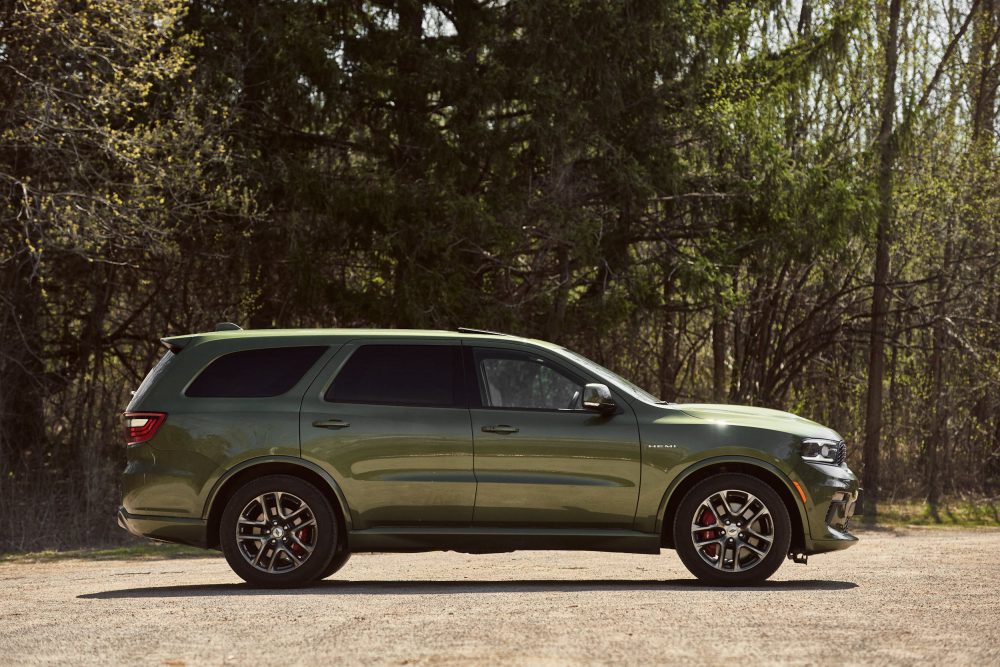 The 2021 Dodge Durango is old, and at times rudimentary in the sense that it doesn't offer a smaller displacement four-cylinder engine, nor a hybrid variant, but it's still astonishingly competitive in the areas that matter. Even in its most basic form, when powered by the 3.6-liter Pentastar V6, it'll tow up to 6,200 pounds, which eclipses all vehicles of this class. We're talking about fresh new offerings too, things like the Kia Telluride, Ford Explorer and even older stuff like the Chevrolet Traverse and Nissan Pathfinder.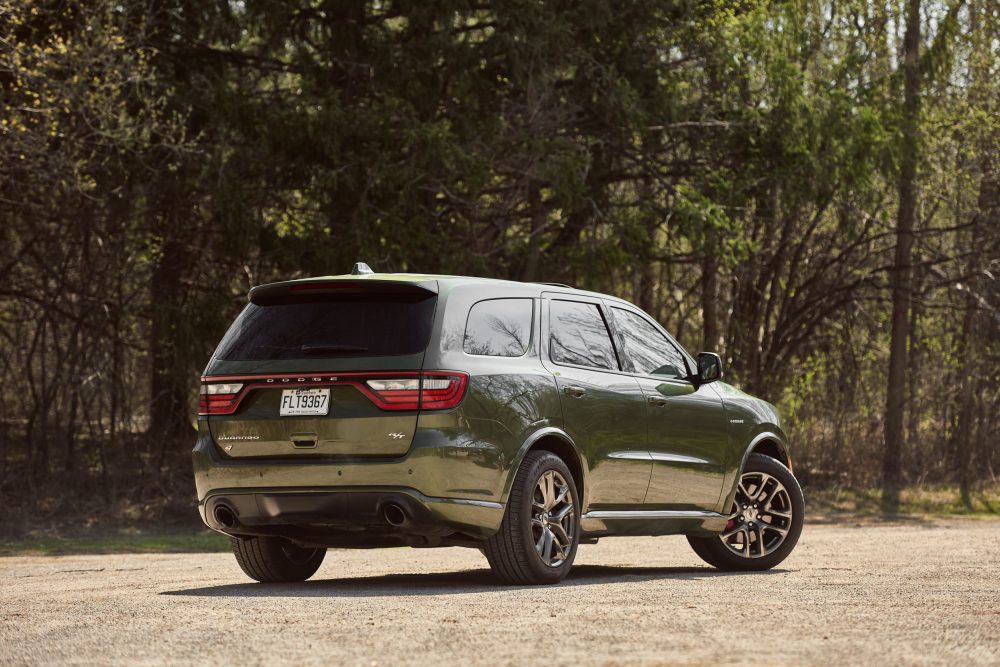 And then there are the V8 options. Dodge doesn't offer you one, but three flavors of HEMI, ranging from this R/T – which cranks the towing rating up to 7,400 pounds – all the way to the 710-horsepower supercharged Hellcat engine, or essentially the same unit that powers a Dodge Charger Hellcat. And sitting right smack in between is the 392, a 6.4-liter HEMI V8 good for 475 horsepower and that can tow up to 8,700 pounds. That's the engine that powers the Challenger Scat Pack I reviewed last fall, by the way.
When comparing it to its big brothers, it would be fair to call the 2021 Dodge Durango R/T a cute little V8 with its meagre 5.7 liters of displacement. But when you consider that none of its competitors even offer eight-cylinders in the first place, the R/T package suddenly becomes very appealing. Power is rated at a respectable 360 horsepower and 390 lb-ft of torque. It's all mated to an eight-speed automatic transmission provided by ZF. And of course, all Durangos sold here in Canada come standard with all-wheel drive.
All this V8 sweetness, however, comes at a price. Although it sits in the middle of the model range, the R/T still kicks off at a rather steep $56.279. And it doesn't end there, because the available packages will cost you an arm and a leg. For instance, the one I was driving was equipped with the optional Tow N Go package.
To its defense, it comes with some neat features, like an adaptive sport suspension, a retuned steering, a sweet-sounding performance exhaust and wider 295-section all-season tires. But it sells for $5,495 for crying out loud. Final sticker price for the truck I was driving was $81,780. I mean, I know they're not in the same category, but that's knocking at the door of a BMW X3 M.
A Soundtrack Crammed With Attitude
Driving around in the 2021 Dodge Durango R/T is always an event. I mean, what other mainstream SUV comes standard with the rumbling soundtrack of a naturally aspirated V8? And with the performance exhaust Dodge had grafted onto my tester, people really got a heads up that I was coming down the road.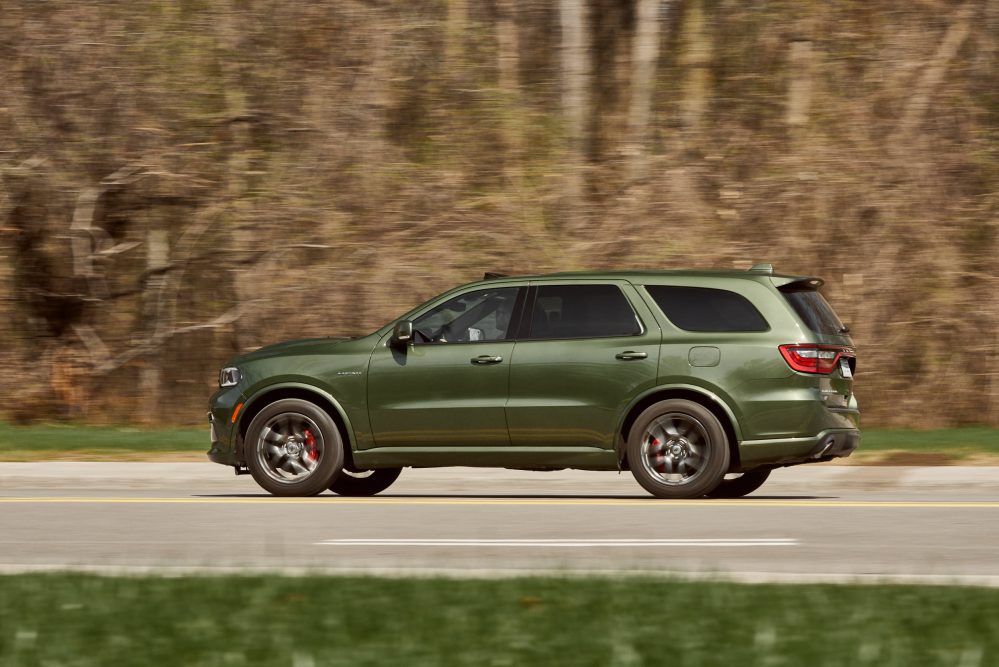 Aside from a kickass soundtrack, the Durango's baby V8 engine also gives it a healthy dose of forward thrust, without ever being too over the top. This engine is a peach in the sense that it's butter smooth, loves to rev and evenly churns out its torque throughout the powerband. There's also an enormous amount of grip from its fat tires and all-wheel drive, especially during launches. And the adaptive Bilstein dampers really change this big guy's handling characteristics according to the drive mode you select.
But the chassis itself is showing age. Drive over road imperfections, train tracks or potholes, and the Durango flexes, bobs and weaves, revealing a platform that dates back from another decade. For those wondering about fuel economy, I could barely keep it under the 13L/100 km mark. That's the price to pay to drive a HEMI.
What doesn't disappoint, however, is the updated interior. Dodge, or should I say Stellantis, made sure to spice up the old Durango's cabin with good quality materials, impeccable fit and finish and considerably more technology, which allows it to keep up with current industry standards. Dodge also slightly changed the digital sections of the gauge cluster with a new design, but the overall presentation is a little confusing at times.
The facelift also brings Stellantis' latest Uconnect 5 infotainment interface and 10.1-inch flush mount screen. It cleans up the dashboard's center stack, but also significantly updates what was already a well-sorted out system. Icons are clearly marked, the software responds quickly and it's always easy and intuitive to get things done. This is also one of the simplest ways to connect wirelessly to Android Auto. I'm assuming Apple CarPlay integration is just as seamless.
Another area where this 'Rango proves it's still relevant is in its available passenger and cargo space. Even if it feels dated in some areas, it still properly competes due to its massive interior, spacious rear seats and class-leading cargo space. To put things into perspective, when all its rear seats are folded flat, the Durango will swallow up 2,409 liters of your gear. Only a Kia Telluride (2,463 liters) and a Volkswagen Atlas (2,741 liters) can do better.
The 2021 Dodge Durango R/T  may come through as an old-school hooligan, but it proves that a three-row SUV can both be practical and capable while still offering its owner a bit of a performance edge. Yes, it's an expensive SUV, especially when you start piling on options. No Dodge needs to cost this much. You'll also be paying a cylinder tax if you live an area that has those. So think twice before ticking off the V8 options. But don't HEMI and mid-size SUV just sound cool as hell? Yes they do. If you're in the market for a family shuttle with a bit of character and muscle baked into it, know that Dodge's Durango is still astonishingly competitive.
Clavey's Verdict
Review of the 2021 Dodge Durango R/T by William Clavey
Midsize Three-Row SUVs
Class-leading towing rating
Massive cargo hold
The only one to offer HEMI power
Dated platform
Hard on gas
Not cheap
Clavey's Corner is located in Montreal, Quebec, Canada. Prices and trim levels discussed in this article reflect the Canadian car market.
Special thanks: Dodge Canada
Photography: Guillaume Fournier
Contact the author: [email protected]