The 2019 Ford Mustang convertible, especially when fitted with a four-cylinder engine and automatic transmission, is arguably the most laid-back of the available pony cars. Granted, this baby Mustang is nowhere near a Mustang Bullitt or Shelby GT350 in terms of performance, but it's still a charming sports car in every respect. It's a machine you take out on a breezy, sunny day simply to enjoy the freedoms of its top-less self, which is precisely what I did.
California Dreamin'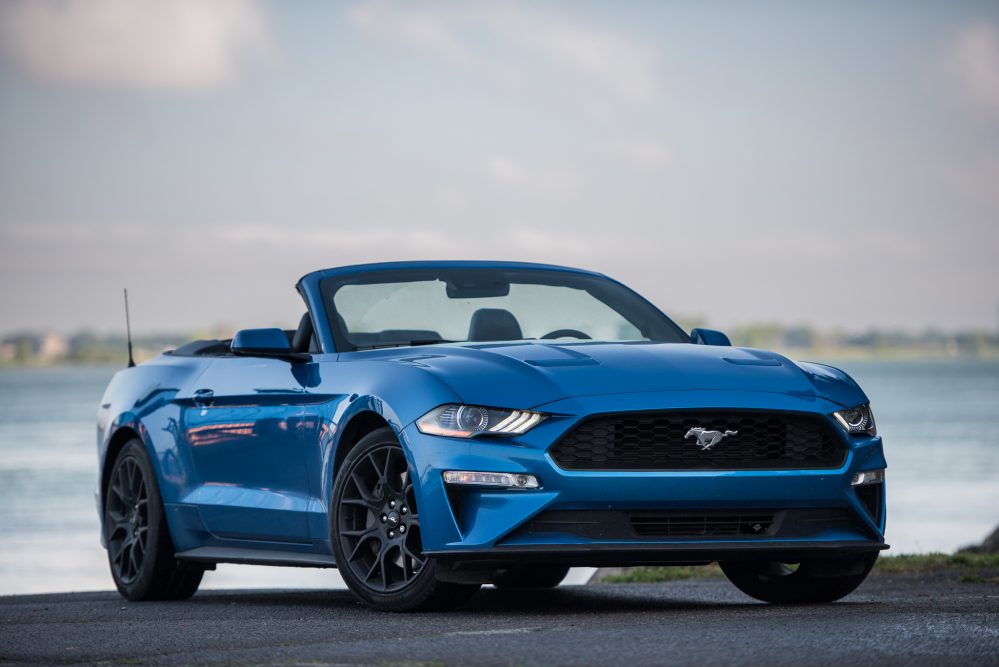 Just like the Chevrolet Camaro I drove a few weeks back, this Mustang is not powered by a V8 engine. But that doesn't prevent it from remaining an interesting sports car. These latest four-cylinder applications are turning out to being affordable, lightweight and plenty capable.
The convertible variant is obviously the heaviest one, adding a good 110 pounds on an EcoBoost Mustang coupe. Still, even with its mechanical soft top, this roof-less Mustang weighs 183 pounds less than its V8 counterpart.
Power comes courtesy of a turbocharged 2.3-liter EcoBoost four-cylinder, an engine Ford uses in a variety of applications like the current Ford Ranger and the now defunct Ford Focus RS. It's good here for a healthy 310 horsepower and 350 lb-ft of torque, numbers that are substantially higher than the Camaro 1LE Turbo. A six-speed manual gearbox is of course available. My tester was fitted with the ten-speed automatic unit.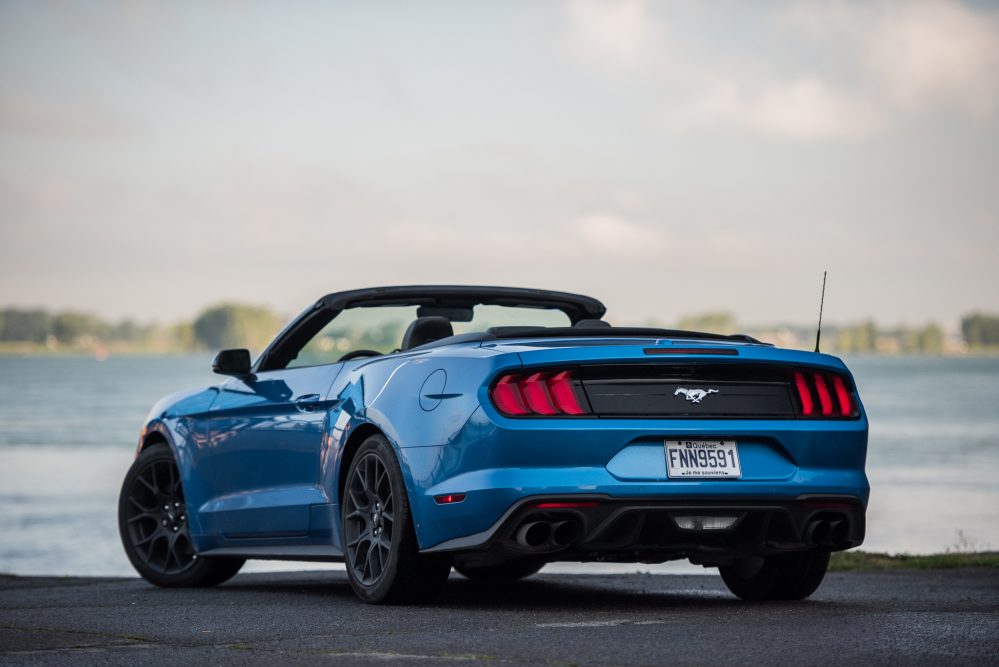 The Kona Blue example you see here is fitted with Ford's available EcoBoost Performance Package. It's a $3,000 option which adds a full battalion of performance-enhancing goodies such as a 3.55 Torsen limited-slip rear axle, 19-inch blacked out wheels, larger brake rotors with four-piston calipers, a revised suspension through stiffer springs, a larger radiator and a beefed up rear sway bar.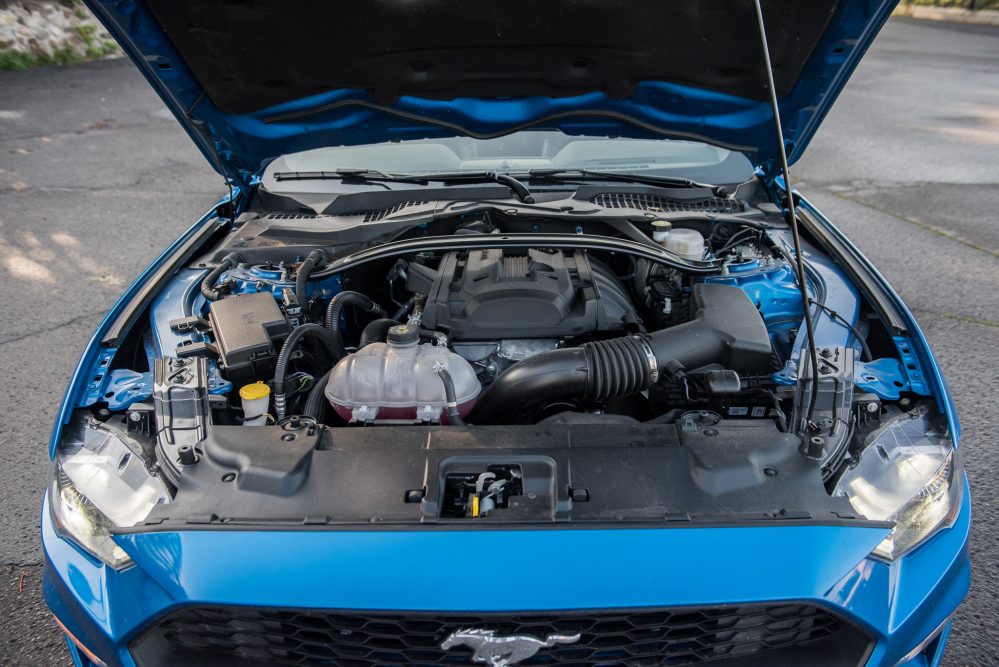 A base-model 2019 Ford Mustang convertible typically kicks off a $33,981. Mine was a Premium trim packed to the gills with a variety of options like the $1,500 Ford Safe & Smart package, which includes a full suite of semi-autonomous safety tech. It stickers for a not-so-cheap $54,499.
Moans And Whistles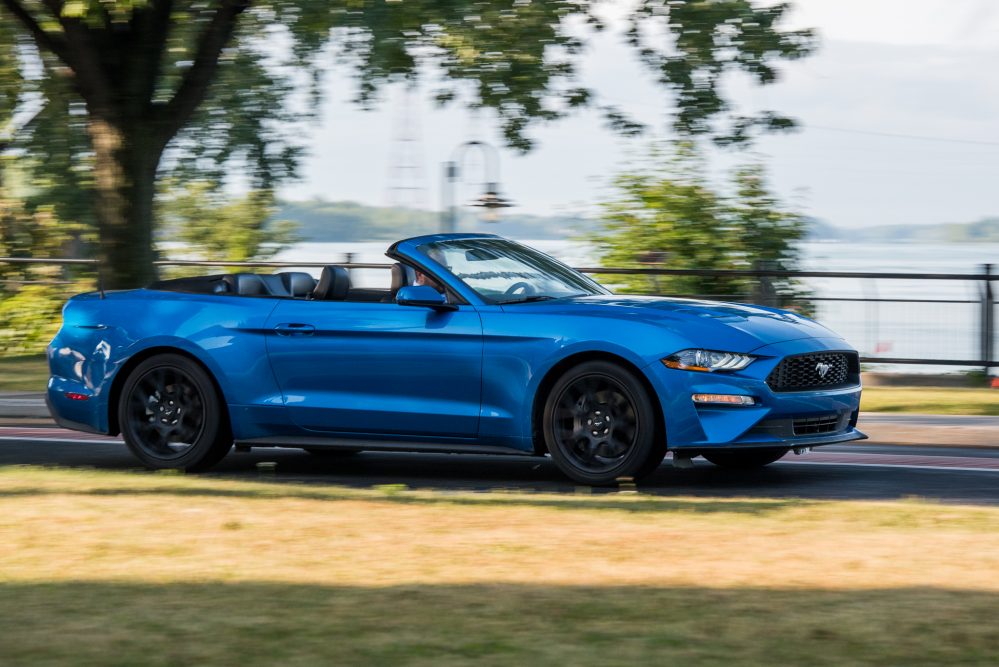 Still, it could be worst. The last four-passenger convertible I drove on these pages was a BMW 440i, which sold for well over $80,000. While the two cars have absolutely nothing in common in terms of refinement and performance, they share the same relaxed vibe, and a desire to drive far  stress  free  under  the  sun.
So, on paper, this Mustang has all the right numbers to be a quick American coupe; Ford claims it'll sprint from a standstill to 100 km/h in roughly six seconds flat. While still a little slower than that baby Camaro I drove, there's enough performance here to put a big fat smile on your face, all at an affordable price – as long as you don't tick off too many options. I'm sorry, but at the price my tester was listed at, there are much more entertaining convertibles I think of. I'm looking at you Mazda MX-5.
At least, this one is a hell of a lot more spacious than Mazda's two-seat roadster, with ample leg and shoulder room, thick leather seats and a rear bench that can actually accommodate two tall adults, even with the top down. There's even a usable trunk back there.
But while the EcoBoost Mustang is a quick and relatively athletic performer, it's hard to get around the furiously irritating moaning and whistling sounds emitted from the powerplant. Like it typically does in a lot of its modern vehicles, Ford engineered a sound-enhancement system for its baby Mustang called a Sound Symposer.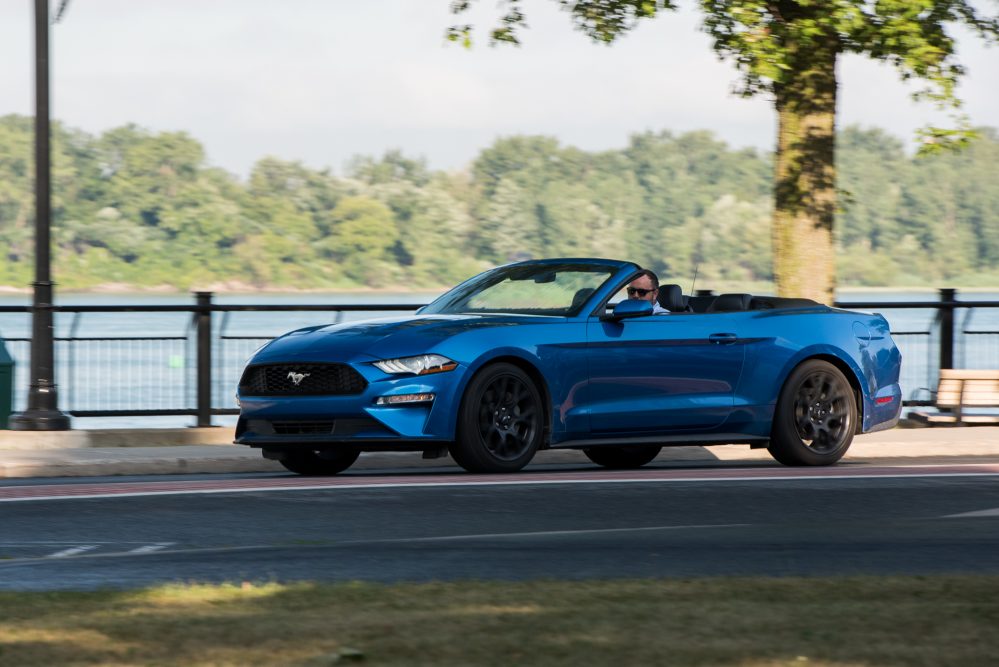 The technology sounds alright in vehicles like the 2020 Ford Explorer, the four-cylinder applications aren't so great. While the Chevrolet Camaro 1LE Turbo sounded like nothing was happening under the hood, the EcoBoost Mustang moans and laments itself through the vehicles sound system. It's annoying, ridiculous and frankly, not all that well thought-out.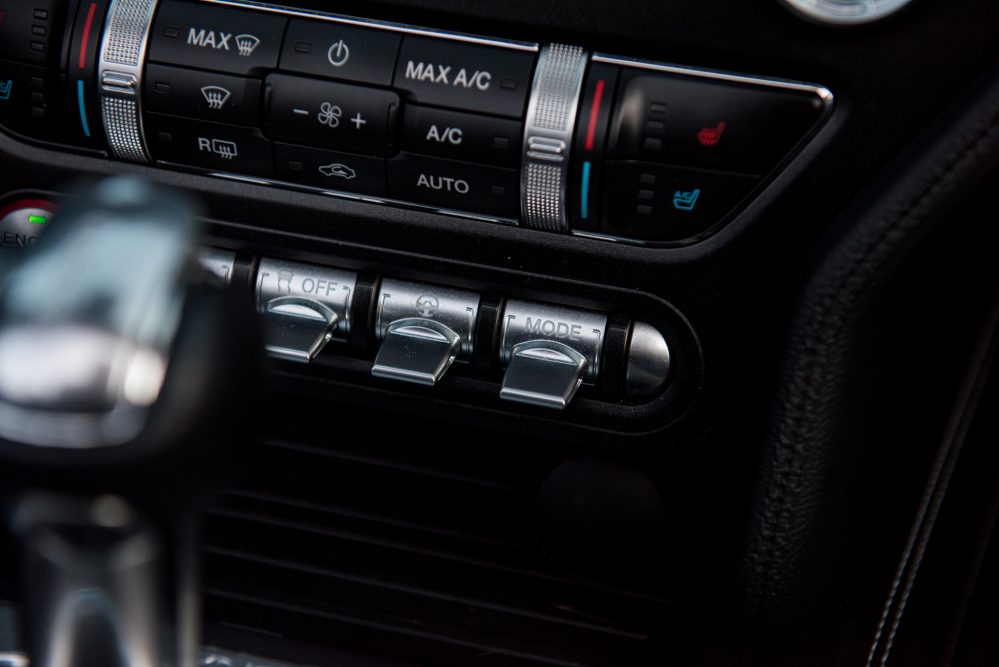 Luckily, all of it can be turned off. Like the V8 version, the baby Mustang can alternate between drive modes to alter steering feel, throttle response and the automatic transmission's shift points and overall character. Everything can also be customized, so you can choose to have a quiet drop-top "Stang" in Track mode, or a full-on loud one in Eco mode, if that's your fancy. When the fake noises are turned off, the EcoBoost discreetly whistles and chirps. I personally prefer it this way.
Boost'n Covers
How does it pull? Surprisingly linear, actually, with minimal turbo lag and beefy dose of low-end torque. I have nothing to say about the EcoBoost's power potential, both stock and modded. It's also impressively frugal. I hung in the high eights while I had it, even with the top down.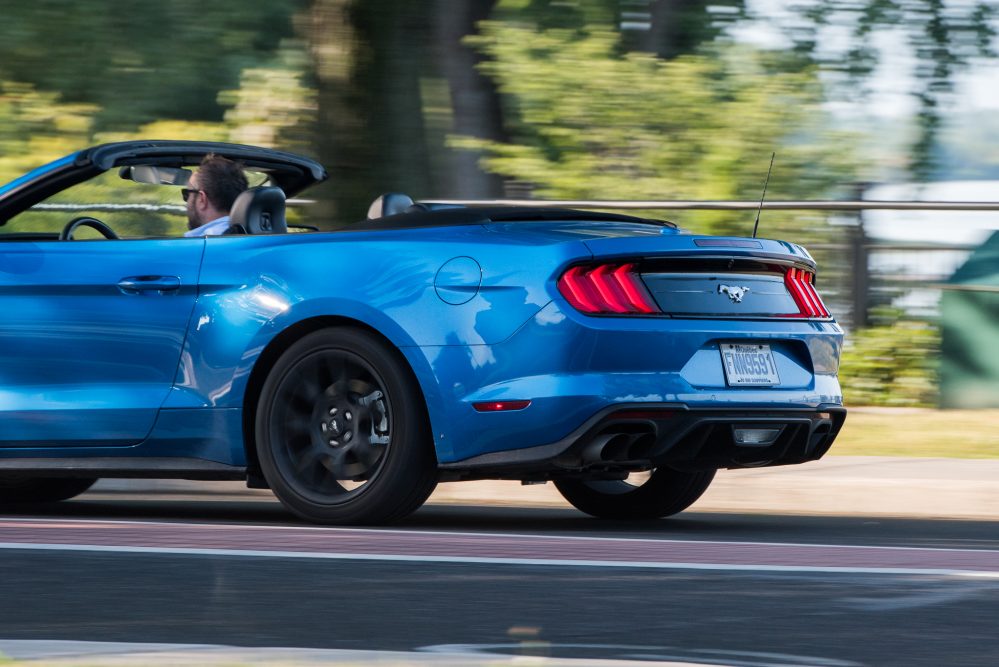 But if you do get a four-cylinder Mustang, I highly recommend you opt for the six-speed manual gearbox. While the ten-speed automatic doesn't hinder performance, I personally find it has difficulty managing smaller displacement engines. My theory – both in Ford and GM vehicles, given it's the same gearbox -, is that this transmission prefers larger torque numbers. In a Ford Raptor, a 400-horsepower Explorer ST or even a Lincoln Navigator, the box holds on to gears and downshifts smoothly only when it really needs to.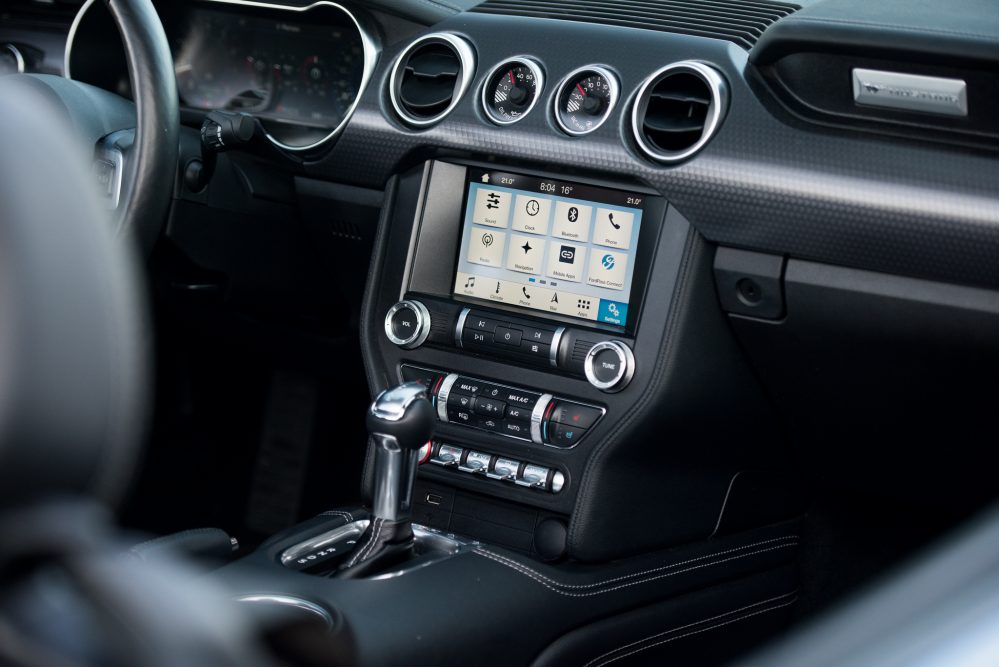 In here, it's constantly chasing the proper cog, furiously shuffling between gears at the slightest touch of the throttle. It's almost as if it never knows what it wants, which leads to a choppy driving experience.
As for the electrical bits, well Ford Sync 3 remains up there among the best infotainment systems in the business. While a tad more complex than Chevrolet's MyLink or FCA's UConnect, it remains quick to react and relatively easy to operate due to its large icons and user-friendly interface. Sure, it occasionally requires a few menus to access vital information, but the technology is there, with available Wi-Fi and standard Apple CarPlay and Android Auto compatibility.
Finally, that soft-roof retracts neatly behind the rear seats in a laid-back semi-quick fashion. All you need to do is turn a handle aft of the windshield and hold a button for the entire process to engage. However, there is a tiny procedure required that the car could do without. In order to improve air flow and improve fuel economy, Ford created a flush belt line around the car, which is good. The problem lies in the fact that to achieve this clean design, plastic covers had to be installed over the roof's mechanism. And the only way to get the roof to drop is to manually remove the caps.
While the car can operate without them, those caps could eventually loosen up, crack or worse still, get lost by their owner. Ford should consider rethinking the Mustang's roof mechanism for something more modern.
The 2019 Ford Mustang convertible is still the king of affordable, spacious and laid-back freedom cruising. Just be careful with Ford's optional packages as they can considerably increase this car's price tag. Personally, I don't find the EcoBoost Performance Package to be worth a shot on this model, I'd reserve it for a full-on V8 variant. If you stick to the entry level models, then yes, the Ford Mustang convertible with an EcoBoost engine is a fantastic deal for anyone seeking cheap wind-in-your hair motoring.
Clavey's Verdict
Review of the 2019 Ford Mustang EcoBoost Convertible by William Clavey
Sports Cars
Looks great, even without a roof
Great performance and fuel economy from four-cylinder engine
Comfortable and spacious interior
Fake engine sound quickly gets annoying
Ten-speed automatic gearbox
Can quickly get expensive
Clavey's Corner is located in Montreal, Quebec, Canada. Prices and trim levels discussed in this article reflect the Canadian car market.
Special thanks:  Ford Canada
Photography: Guillaume Fournier
Contact the author: [email protected]