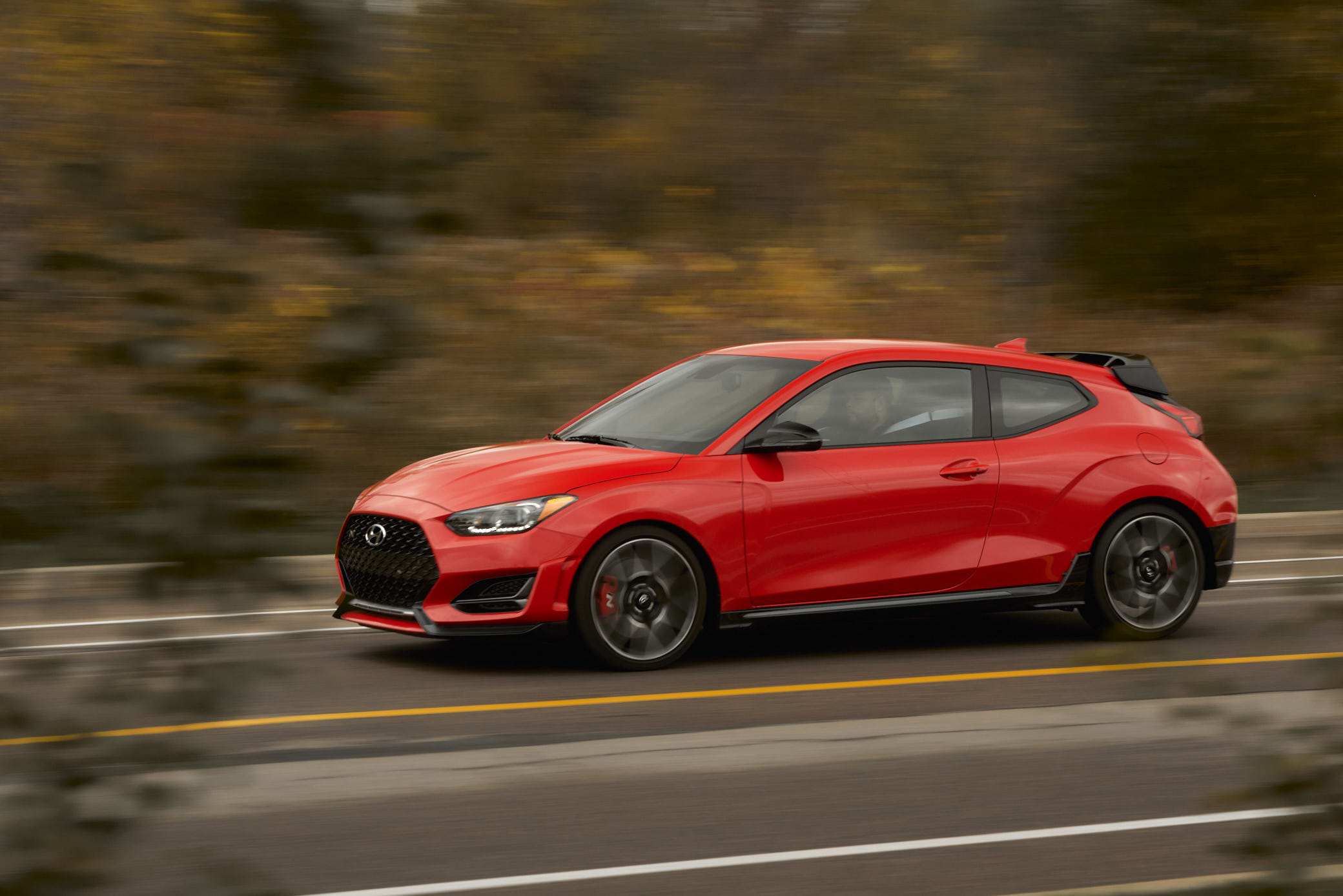 I was happy to drive the 2022 Hyundai Veloster N a second time. I  mean, it's a car I like very much. But when Hyundai told me it was fitted with an automatic gearbox, I was worried the car had lost some of its charm, so I kindly refused. Hyundai then responded by saying it was equipped with a feature called Grin Shift technology and that I had to try it. Curious to find out what the fuss was all about, I accepted and ended up borrowing the car for an entire week.
So Atypical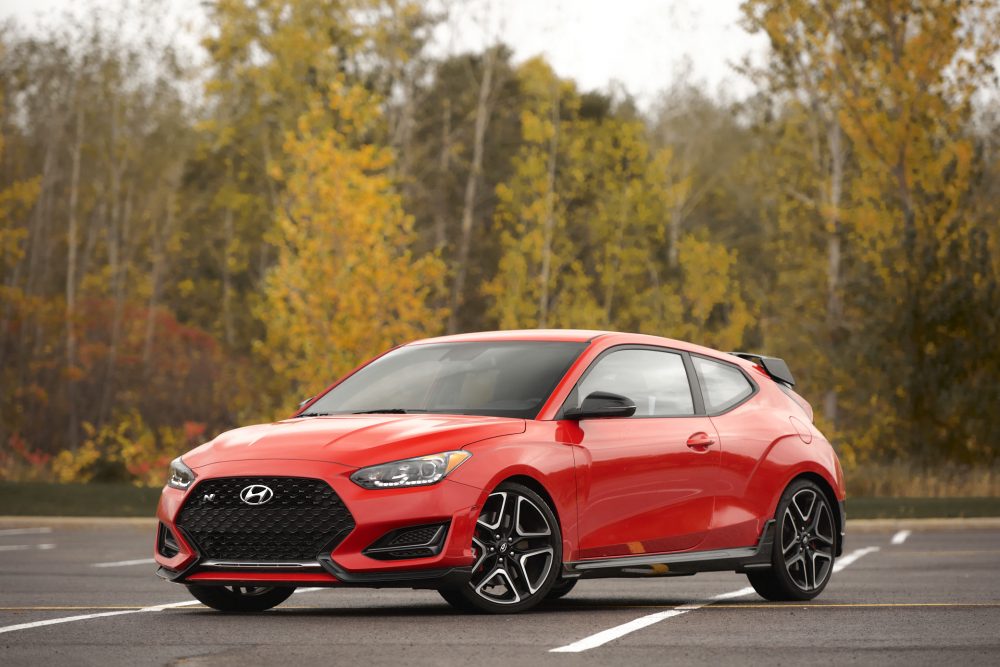 In a world where it's ok to accept all gender types, sexual orientations and skin tones, the 2022 Hyundai Veloster N makes a lot of sense. When you think about it, this car doesn't really fit in any specific category due to the its unusual four-door configuration with tiny passenger side door.
This quirkiness is also carried out in the way Hyundai has positioned the Veloster N in the sport compact car segment. It's neither a coupe nor a hatchback, but it's also not as extreme as a Honda Civic Type R, a Volkswagen Golf R or a Subaru STI, yet, it'll smoke the doors off a Golf GTI, a Civic Si and probably a Subaru WRX at the track. It's kind of alone on its rock.
Such athletic prowess comes courtesy of a long list of performance upgrades, beginning with the Veloster's chassis which was reinforced at key areas. Suspension and brakes were also retuned, with adaptive dampers, stiffer springs and larger discs and calipers. All Veloster N's are front-wheel drive, but also fitted with a limited-slip differential. Hyundai then took care of sending the car to the Nürburgring for some good old chassis and suspension calibration.
For the 2022 model year, not much has changed. Power still comes from a turbocharged 2.0-liter four-cylinder good for a healthy 275 horsepower and 260 lb-ft of torque. It can still be mated to a six-speed manual gearbox, or in this case, an eight-speed dual clutch automatic which was added to the lineup in 2021.
It's that transmission that gives the Veloster N the comically named Grin Shift gimmick, which, at the push of a button, yields 10 more horsepower for 20 seconds and allows the transmission to shift even faster. Since last year, all Velosters are all sold in N form, and two new models, the Elantra N and the equally weird Kona N will join the party next year.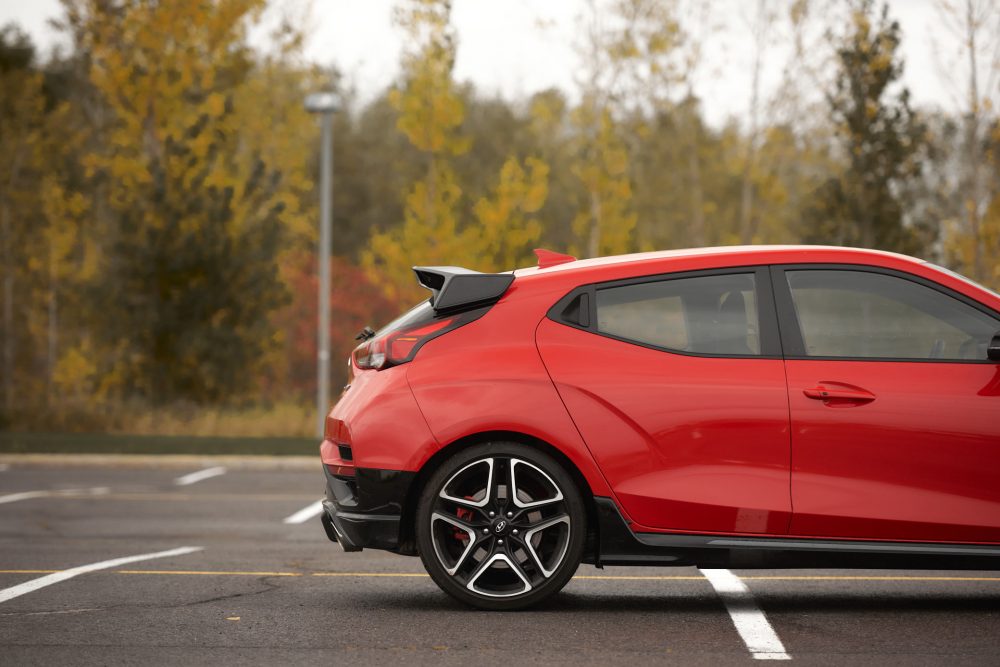 The Veloster's uniqueness continues in the way it's priced. Just like its performance, it sits somewhere between a well-equipped Golf GTI and a full-fledged Civic Type R, with a $37,799 base price. You need to add $1,600 for the automatic gearbox, and there's really any options except for additional colors.
Not As Engaging As The Manual, But…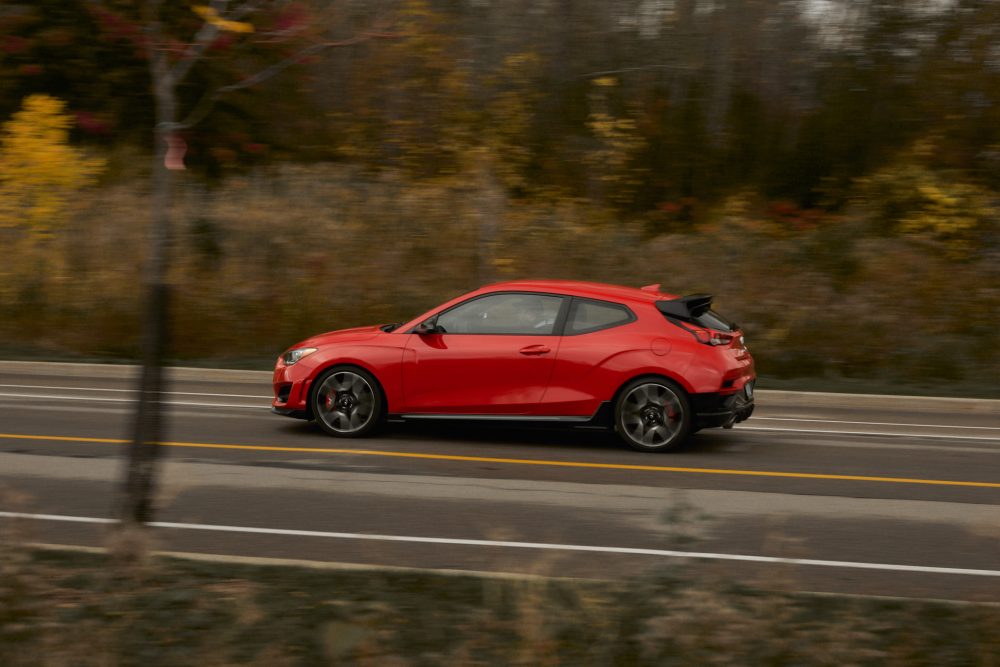 Look, I love the Veloster N before and I totally fell in love with it. It's one of those no compromise performance machines that goes out of its way to focus on driver involvement while smacking a big fat grin on its driver's face. So when I found out it now came with an automatic transmission, I was a little disappointed. I felt it had lost some of its soul.
But after spending a few days with it, I came to the conclusion that it remains a highly amusing machine, even if I personally would still opt for one with the manual. The thrills are just different with this setup, and the car is much more precise. You can focus more on the actual driving, rather than the shifting, which allows you to dig deeper into its fabulous chassis.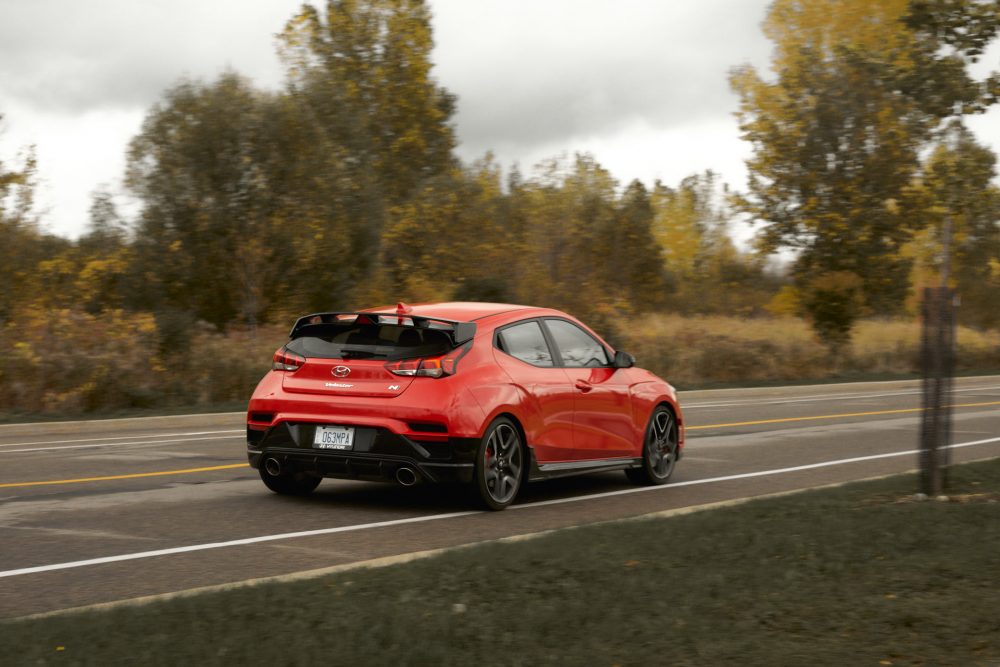 And what a chassis this is. Come at a corner at any speed, and the Veloster N simply gobbles it up in one bite. The grip that the front end generates is mind-blowing. Yet, if you dare lift off while cornering that apex, it'll punish you by kicking out its tiny rear end as if calling you a pussy for getting a little scared. Give it throttle again while aiming where you want it to go, and the little rascal will dart instantly to the commanded direction. It's the kind of precision you normally expect from a German badge, not a Hyundai.
Power from the forced-fed four-pot is relentless, with a huge surge of low-end torque and a willingness to rev out all the way to redline. All of it is accompanied by a glorious symphony of exhaust bangs and amusing off-throttle backfires, instantly making you feel like you're behind the wheel of a purpose-built rally machine. The Veloster N isn't just some super quick robotic compact like, say, a Civic Type R. It fuzzes all your senses to the point where you're intoxicated by the adrenaline rush it generates. Sport compact cars shouldn't be this charismatic, yet, Hyundai embraces the segment with the same attitude as Lamborghini embraces the art of supercar building.
How's the dual-clutch transmission? It's good! But never as great as what the Germans will sell you. It'll get that little engine up there in the red alright, and there aren't the usual low-speed roughness normally associated with the Hyundai group's more mainstream systems. The Grin Shift feature certainly is fun too, and there's actually overboosting being felt when hitting it, something you'd normally find in a Porsche Macan GTS. But there are some unwanted delays when downshifting at times, and if you want my honest to goodness opinion: just get the stick, it's much more fun.
As for the Veloster N's interior, it is starting to show some age due to hard plastics and an analog instrument cluster that seems to come from a Hyundai product of another generation.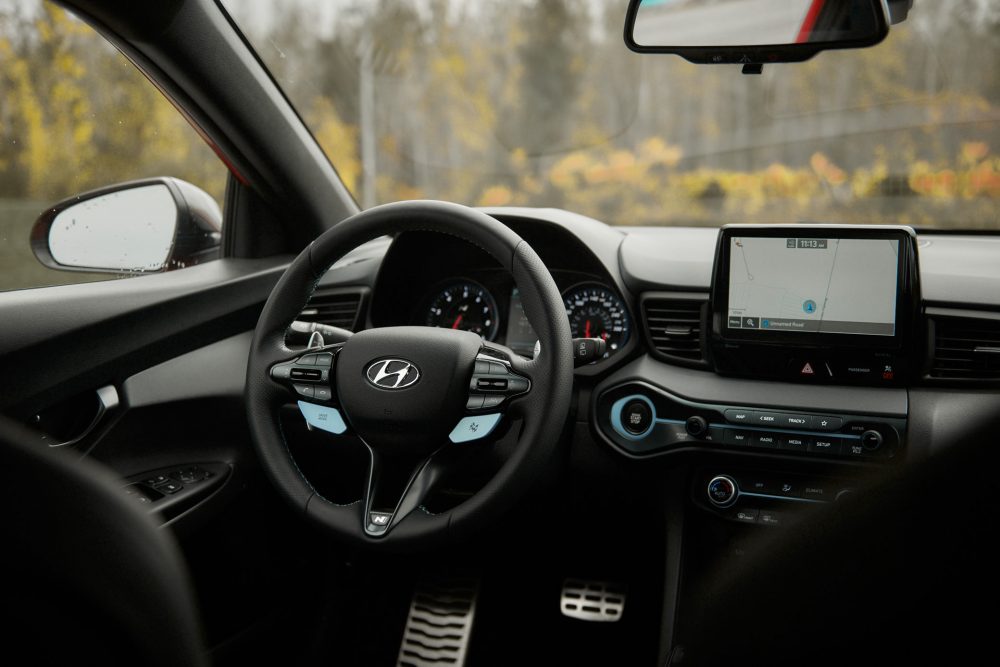 The infotainment system is also nowhere near as modern as what Hyundai will sell you these days. But all the switchgear is easy to grasp and the displayed information isn't hard to comprehend at all. It's all well laid out with ergonomic common sense. And I totally dig the sport bucket seats with the illuminated N logo in the headrest. They're supportive, but also look rather dashing.
Baby blue seatbelts and N customizable steering buttons – that act in the same way as BMW's tiny red M buttons in its M cars– also add to the sense of occasion. One can also fiddle with the car's settings in the N menu inside the infotainment system, and even record a lap time.
Look, it's no secret the 2022 Hyundai Veloster N is a highly fun pocket rocket to throw around on a winding road, no matter the transmission that's bolted onto it. However, what amazes me the most about this fire-breathing south-Korean firecracker isn't the speed nor the fun it generates. It's how much Hyundai takes performance seriously and how committed it is to delivering precisely what automotive enthusiasts want.
Clavey's Verdict
Review of the 2022 Hyundai Veloster N DCT by William Clavey
Sport Compact Cars
Solid performance for the price
Badass exhaust note
Grin Shift technology is actually fun
Some bargain basement cabin materials
Dated infotainment system
Questionable practicality
Clavey's Corner is located in Montreal, Quebec, Canada. Prices and trim levels discussed in this article reflect the Canadian car market.
Special thanks: Hyundai Canada
Contact the author: [email protected]