The 2020 Subaru WRX is one of those cars you simply can't go wrong with if you're an enthusiast. I mean, how can you argue against a rumbling turbo Boxer engine, all-wheel-drive and a manual transmission as standard? And in all honesty, I could end this review right here by telling you it rocks and you should get one, but guiding consumers into buying the right product is a little more complex than that.
The Old Kid
While SUVs and trucks are currently taking up all the place in auto land, sport compact cars are somehow still pulling strong. We've seen a resurgence of these things in the last few years with cars like the Honda Civic Si and Type R, Hyundai Veloster N and Volkswagen Golf GTI / Golf R. There are even some warmer alternatives that are just as fun, things like the Kia Forte GT, and Mazda is currently cooking up a turbocharged Mazda3.
Yet, even with all this competition, the 2020 Subaru WRX's classic formula of stuffing a lot of power into an Impreza still works.
Not much has changed for the WRX in the last decade or so. Although the Subaru faithful are able to pinpoint the incremental changes that have been applied to its drivetrain and chassis over the years, the fact of the matter is that it comes through as the old kid swimming in a sea of fresh-faced influencers.
An all-new WRX is coming to change that though, but we don't exactly know when or in what form. If I were to base myself on what Subaru is currently doing, the next WRX should ride on the brand's Global Architecture and powered by the same 2.4-liter turbocharged four that powers the Outback, Legacy and Ascent.
For now, at least, the 'Rex still rides on an old, but heavily modified last-generation Impreza platform. Power comes courtesy of the same turbocharged 2.0-liter Boxer four good for a healthy 268 horsepower and 258 lb-ft of torque.
All-wheel-drive is of course the only way to get the power down, and a manual six-speed gearbox is the way you should get this car. There is an optional CVT, but seriously, man, why on Earth would you get that?
Pricing kicks off at a still competitive $31,958. The model you see here is the full-fat and new-for-2020 Sport-tech RS trim package, which adds some interesting mods; things like Recaro seats, Brembo brakes and darkened wheels for a grand total of $41,658.
However, I wouldn't recommend opting for that one as it sits just $1,000 below the WRX STI, a more powerful and more focused machine all around. I say stick with the WRX's base models if you want to make a good deal.
Quick Enough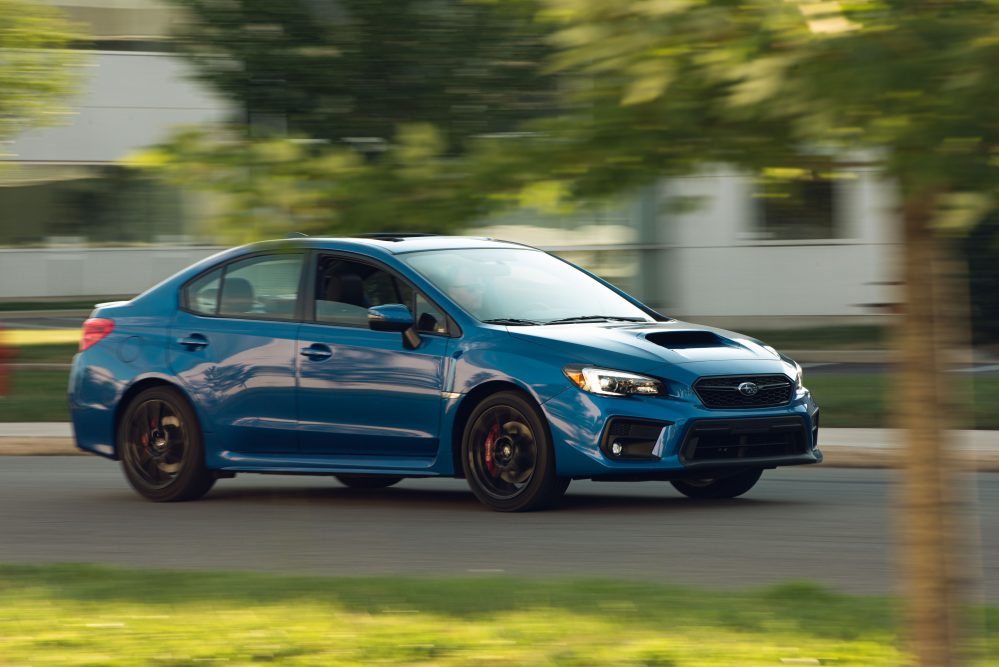 Yes, it's true that we live in a world where a Toyota Camry makes 300 horsepower, but that doesn't make the WRX slow. If anything, the amount of power that comes out of its turbocharged H4 makes is enough to have good old fashion fun behind the wheel.
Obviously, a Subaru is better appreciated during the winter months, when a fresh batch of white fluff has just hit the road, allowing you to fully take advantage of its still superb symmetrical all-wheel-drive system. But I gotta say, the way this thing grips on dry pavement is equally impressive and fun.
Power is ample and peaky, especially once the turbocharger steams up the experience. But the WRX's tour de force really is its impeccable chassis dynamics and ability to turn the most humble of drivers into an amateur WRC hooligan. I've driven many fancy European machines in my career, all of them sold at astronomical prices, but it's still fascinating how this blue-collar Subaru can still take some of them on at a racetrack.
Brakes bite hard, steering is impeccably precise and the suspension is firm; ingredients that help keep the driver alert. It's the same story for the enjoyable manual gearbox which makes you realize how lazy dual-clutch setups have made us. The 2020 Subaru WRX always reminds you of its intentions through its modified exhaust system that rumbles obnoxious Boxer sounds through the cabin. Sure, it's a bit immature, but someone out there has to be. The WRX wears that hat with pride.
So yes, you're still getting a fantastic performance for your dollar when buying 2020 Subaru WRX, but you also need to cope with some of the drawbacks. For instance, while I adore the manual gearbox's precision, I was somewhat disappointed with the clutch's bite point. It's high, and forces you to let it slip if you don't want it to choke on takeoffs.
It takes some getting used to, nowhere near as smooth and refined as a Honda or BMW setup. Essentially, this clutch only works well when you're beating the shit out of the car. During casual driving, it gets annoying fast. I also have issues with this engine's weird powerband. Just like in the naturally aspirated Subaru BRZ, there's a noticeable dead zone in the powerband where power suddenly drops, and comes back again as revs climb. It's just weird.
Then there's the overall lack of refinement of the thing which can't be ignored. I get it, enthusiasts don't really give a crap about that stuff, but at $30,000 plus, it would be nice to sit in a car with nice plastics and overall improved sound deadening.
The Japanese-style digital gauges are cute, but don't actually do much, and while Subaru has heavily overhauled the look and feel of this pocket rocket's cabin, it still feels cheap in there, with a loud highway drone. Just don't expect something as vault-like as a Golf.
Fake Excuses
If you've read this far you're probably asking yourself: "why is Clavey bashing a WRX? It should be his favorite car?" Ok, fine. These excuses – the flimsy interior, the loud road noise and douchebag exhaust sound – don't, in any way  or form, detract from the car's performance promise.
In a world where everything is becoming censored and automated, kudos to Subaru for remaining true to the classic sport compact car formula with this 2020 Subaru WRX. It's a fun, quick and relatively cheap car. Consider yourselves lucky Subaru is still selling the damn thing.
But I would still consider shopping around before buying one. Consider the fact that a WRX can be an expensive car to insure, and that its reliability record isn't as solid as other Japanese offerings.
If all-wheel-drive isn't on your list of priorities, you could settle for a Golf GTI, a more refined, expensive-feeling hot hatchback that's both more practical and better built. There's also that Veloster N. While yes, it wears a Hyundai badge, one that doesn't yet compares against Subaru's racing heritage, the amount of performance is hard to ignore for the price.
Clavey's Verdict
Review of the 2020 Subaru WRX  by William Clavey
Sport Compact Cars
Great performance for the price
Standard all-wheel-drive
Surprisingly practical car
Annoying clutch
Weird torque curve
Getting old
Clavey's Corner is located in Montreal, Quebec, Canada. Prices and trim levels discussed in this article reflect the Canadian car market.
Special thanks: Subaru Canada
Photography: Guillaume Fournier
Contact the author: [email protected]