For me, the 2021 Kia Niro EV is a special vehicle as it allowed me to drive up to the Manic 5 hydroelectric dam in winter, a feat that had never been done before, and that also got me the runner-up position for AJAC's Journalist of the year award. So, when Kia Canada offered me to test drive the updated version, I couldn't resist. I still consider this thing to be one of the most capable EVs that isn't a Tesla.
Teeny Little Refresh
Yes, the 2021 Kia Niro EV is essentially the same car as the Kia Soul EV I drove this summer, but the Niro leans more towards the compact wagon categorie than an actual crossover. It also shares a platform and batteries with a Hyundai Kona EV.
The update was applied for the 2020 model year, which means that for 2021, things will remain unchanged. And the changes are subtle, but substantial. The front fascia was slightly massaged with a new lower grille design and redesigned headlights for a more coherent look overall, while the rear gets new taillights. New wheel options are also part of the facelift. The most noteworthy changes, however, appear inside the car where new ambient lighting and color combinations spice up the cabin.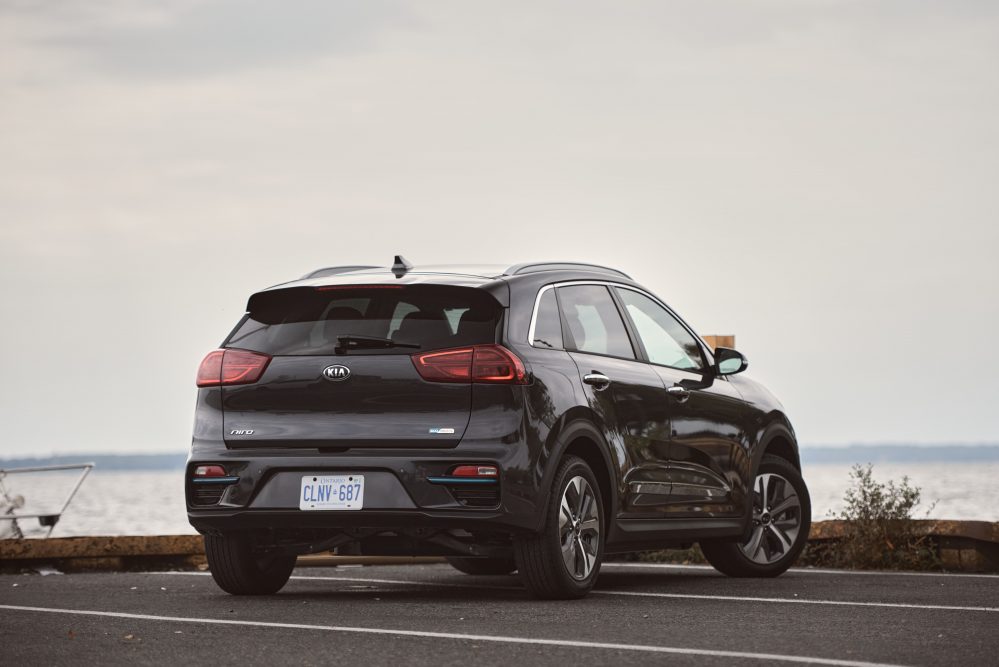 The car also gets a slightly redesigned dashboard layout, covered with piano black plastic, for better or for worst. It looks more upscale, but also attracts glare and fingerprints. The new design was mostly applied to incorporate the new 10.3-inch infotainment screen and system, which I'll get back to in a bit. HVAC and redundant physical controls were also repositioned for improved ergonomics.
Nothing changes mechanically, which means the 2021 Kia Niro EV is still powered by a 64 kWh battery. This gives it 201 horsepower and 291 lb-ft of torque, allowing the little wagon to launch to 100 km/h from a standstill is a decent 6.2 seconds. Total range, in ideal conditions, is EPA-rated at 385 km. The only area where the Niro EV disappoints, is the fact that it the lack all-wheel drive.
Pricing for a Kia Niro EV is high, especially if you don't live in a heavily subsidized area. A base EX model kicks off at 46 905 $. The frustrating part is that at that price point, you don't even get a sunroof or a heated steering wheel and seats. And since these options aren't standalone, the only way to get them is by opting for the top-shelf SX Touring trim, like the one you see here. It sells for a ridiculous $56,405. Luckily, here in Quebec, the Niro EV is eligible to up to $13,000 in rebates, which helps. But it's still expensive as hell.
Just A Damn Good Car
At this point, you're probably wondering why I'm so enthusiastic about a puny little egg-shaped electric car after driving stuff like an AMG GT R, an Aston Martin DB11 or a Lamborghini Huracan. The truth of the matter is that as far as daily drivers go, this little Kia presses all the right buttons, but also convinces you that there's no problem with driving an EV year round, even if you live in a frozen place like Canada.
The 2021 Kia Niro EV boasts everything that's good about recent Korean products. Build quality is excellent, ergonomics are spot on and the driving dynamics are superb, even if the Niro was never originally intended for performance driving.
I mean, sure, it's not as focused nor athletic as the MINI Cooper SE, but there's an overall sense of solidity in the way the Niro EV drives, making it feel like a quality item. To nobody's surprise, acceleration is spirited due to the instant torque of the electric motor, but there's also a wonderfully balanced weight distribution thanks to the car's batteries nestled underneath its floor. In other words, the Niro is fun to drive, and a blast to throw hard into a corner.
My time with it came with enjoyable warm fall weather, which meant the Niro was at the top of its game in terms of range. When I'd unplug it in the morning, the onboard computer would read 430 km, a number that wasn't only higher than its OEM claims, but one I had no difficulty attaining out there in the open world.
For those who haven't been keeping track, EPA stands for Environmental Protection Agency. Located in the U.S., the association is in charge of establishing what an EV can or cannot do according to the kind of climate we get here in North America. That number – 385 km – is actually an average based on temperature variations and changing climate. This means that it can do more (which I proved). However, during worst case scenarios, like when I drove it through the Canadian white north last year, the Niro wouldn't exceed 265 km.
On top of driving great and being as quick off the line as some hot hatchbacks, the 2021 Kia Niro EV has a fantastically useful interior. Sure, material quality is only fair given the price Kia is asking for it, but everything is well placed and brilliantly presented. I personally love the enormous center console that allows you to throw your junk in. And I adore the level of simplicity to all the controls.
The new infotainment system houses a quicker and more modern interface that's even easier to use than the last one. Among the changes are a new User Profile setting which allows you to tailor the car to the user's preferences. It's also now possible to display two things at once on the home screen, and there's a new Climate setting which allows the car to automatically turn on the defroster when it's being turned on from a distance. Kia also added an option to increase the time at which the backup camera stays on after removing the car from reverse.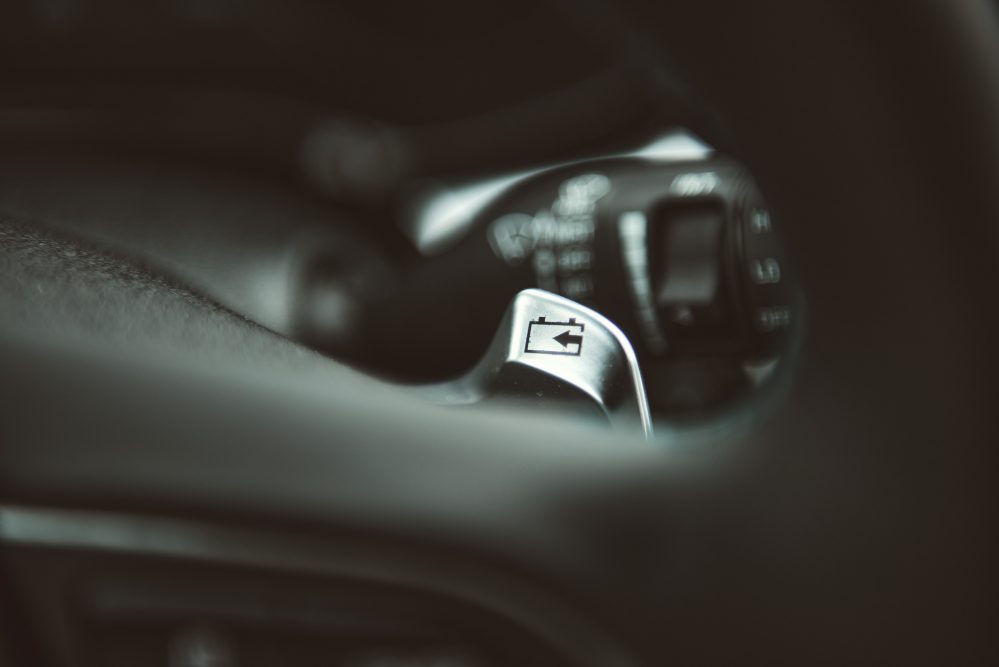 There's more clever engineering too, like the three-mode regenerative braking system that allows you to modulate its resistance by way of steering-mounted paddle shifters. Hold the left paddle, and the system will instantly engage its most aggressive setting, similar to a Chevrolet Bolt EV.
The coolest setting is by far the Auto one. It automatically modulates the regenerative braking system according to your driving behavior. It's also quite handy when cruise control is turned on, as it goes about doing its own thing. The Niro EV is also one of the only electric cars on sale that actually changes its driving dynamics when alternating from one drive mode to the next.
Seat comfort is ok in a Niro EV, but rear passenger space is more than ample. It's the same story for cargo space which gives way to 1,541 liters of room once the rear seat is folded flat. This puts the Niro ahead of a Nissan LEAF (849 liters) and a Hyundai Kona (1,296 liters), but still a tad behind a Bolt (1,602 liters) and a Soul EV (1,758 liters).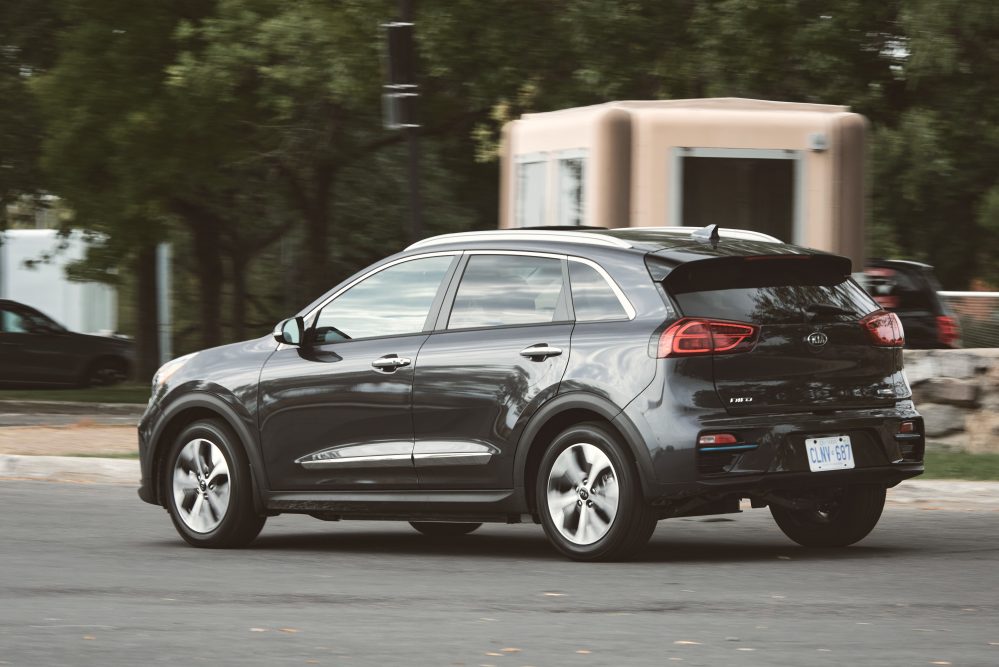 The 2021 Kia Niro EV is expensive. At over 50k before incentives, it's a hard sale when you can go out and buy a more plush and better performing gasoline powered BMW 3-Series. But in the EV space, it's still at the top of its game. It proves that range anxiety is indeed a thing of the past. It also clearly shows how good the Koreans have gotten at building cars.
Clavey's Verdict
Review of the 2021 Kia Niro EV by William Clavey
Electric Cars
High range
Impeccable build quality
Solid cold-weaher performance
Base model lacks important features
No all-wheel drive
Expensive, even after incentives
Clavey's Corner is located in Montreal, Quebec, Canada. Prices and trim levels discussed in this article reflect the Canadian car market.
Special thanks: Kia Canada
Photography: Guillaume Fournier
Contact the author: [email protected]