The 2022 Kia K5 GT is a good example of badge engineering done right. Then again, this has been the case with all recent Kia/Hyundai products. Take the Kia Telluride, for instance. From a mechanical standpoint, it's the exact same thing as a Hyundai Palisade, yet, both vehicles look, feel and drive completely different. I happen to prefer the Telluride over the Palisade. No idea why. It just speaks to me more. And it's exactly the same story with this K5 GT. Yes, this is nothing more than a Hyundai Sonata N-Line clone, yet, it somehow works a little better. At least, to my eye it does.
The Convenant Face
This is the second time I drive the 2022 Kia K5. I drove it last winter in its more mainstream GT-Line trim. I had adored it for being so unique and having such a well-apponted interior and potent drivetrain. In GT form, it simply pushes these qualities a step further. It's also very much a front-wheel drive hotrod like its corporate cousin, but I'll get back to that in a bit.
I prefer the K5 to the Sonata simply because it looks better. While that Hyundai looks like some kind of pissed off fish, the K5 has a properly mean face, one that comically reminds me of the Covenant characters in the Halo video game. There's an usual, alien-like feel to the way this car was designed. It really allows it to pop out in the midsize sedan space. If this is how sedans are going to die, I'm fine with it? I also totally dig how the K5's rear tapers down into a clean, yet modern stance that has an uncomfortable resemblance to a much more expensive Audi.
The good news is that, in the GT's case, such good looks actually mean serious business. From a performance standpoint, this is arguably one of the most potent mainstream midsize sedans currently on sale, quicker even than the already badshit crazy Toyota Camry TRD.
Power comes from the same turbocharged 2.5-liter four-cylinder as in the Sonata N-Line, with the same 290 horsepower and 311 lb-ft of torque on tap. That would be fantastic if the K5 was all-wheel drive like its – ahem – cheaper versions, but it's not. All that furious might is sent straight to the front wheels via an eight-speed dual clutch transmission, and no limited-slip differential. Fun! If you do manage to put the power down, this Kia will hit 100 km/h in about 5.2 seconds. That number, by the way, is 0.3 seconds lower than a BMW 330i's.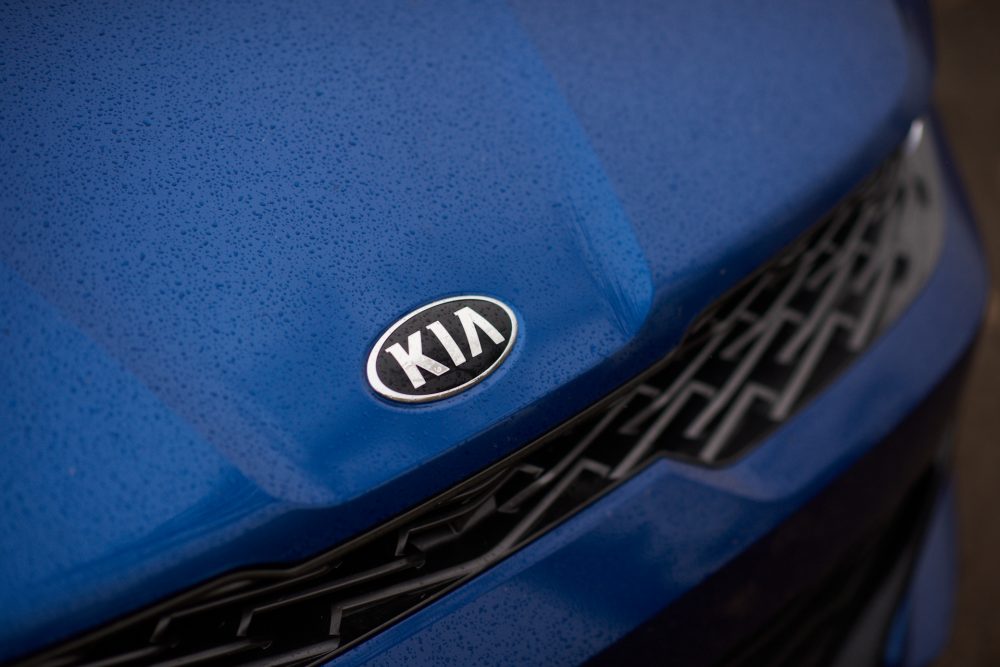 To nobody's surprise, the K5 GT sits at the top of the K5's pricing hierarchy, with one fixed price of $42,340 and no real options to add on. It's actually quite the bargain considering it comes fully loaded with the kind of creature comforts you'd typically expect from a luxury sedan, things like a full panoramic roof, leather seats, a full battalion of semi-autonomous driving aids and an entire digital dashboard that spans from the gauge pod to the infotainment system, like what you find in a Mercedes-Benz.
Hot-Rod Performance
It boggles my mind to see a carmaker as enormous and powerful as Hyundai bring to market a near 300-horsepower front-wheel drive sedan with an open differential. It's too bad, really, because if Kia and Hyundai had taken the time to properly tune this thing, they'd have in their hands a proper threat to a Honda Civic Type R.
Did Kia do this on purpose to give the K5 GT more character? Perhaps. If so, it certainly is a pleasant joke, as attempting to hook the GT's front tires on a wet surface is one hell of a challenge, but one that's also highly amusing. Stomp the throttle from a standstill with traction control turned off, and the front wheels immediately transform into enormous blue clouds. Burnouts become a casual exercise in this thing.
One of the reasons the K5 GT so easily lights up its front rubber is because of the engine's beastly nature. Max torque is generated at only 1,650 rpm. There's virtually no turbo lag thanks to the large displacement meaning you're getting all that available power the moment you stomp the throttle.
While the 2022 Kia K5 GT does offer launch control, and its wet-clutch type dual-clutch transmission shifts fast enough to get you out of the box in a jiffy, off-the-line acceleration isn't this car's tour the force. The K5 GT is more comfortable during rolling starts, while catapulting itself out of highway offramps, or overtaking cars on the highway. Once this thing is rolling, it deploys its power like a freight train storming straight out of hell. No midsize sedan needs to be this fast, but I'm not going to complain about this thing's existence. It's one hell of a fucking sleeper.
In the corners, the K5 exhibits a nice, neutral feel with quick turn in and refined suspension tuning that could very well be designed by the Germans. While corner exits could prove troublesome in Sport mode due to the overabundance of power, taking your time will reveal a well-tuned chassis and direct steering. Just make sure that steering is straight before getting back on the power.
Very much like its lesser siblings, the K5 GT harvests a classy, modern and well put together cabin, with good quality materials and a uniquely quirky design language. The red stitching on the seats and center console are a nice touch, but the theme sadly doesn't carry on in the rest of the cabin.
That's mostly what shines through with this interior, the fact that there isn't a consistent design direction. While everything is enjoyable to look at and touch, it's also a bit of a mess in there, with a mashup of textures, colors and materials that appear to have been taken out of the Kia/Hyundai/Genesis parts bin.
That all being said, the K5 remains a quiet and highly comfortable sedan, one that'll have no issue carrying five adults to their next destination with a few of their bags hiding in the trunk. And in typical Kia fashion, most of the car's controls are easily accessible and a breeze to grasp and operate.
There are handy hard-buttons for the climate control settings, as well as a good-old fashion T-shaped gear-lever and a physical mode selector. I also adore the white-faced digital gauges. They pop in the instrument panel and help give the K5 GT a sporty feel.
The infotainment system responds quickly, and it's loaded with the latest tech, including "sounds of nature". It also easily connected to my Android without the use of a wire. But it remains a cluttered system, one that has smallish icons and a gimmicky screen saver that does a better job of being in your way than actually saving the screen.
Very much like the Hyundai Sonata on which it's based, the 2022 Kia K5 GT is a stellar midsize sedan, one that comes out of left field with a bold design, a fantastic drivetrain and enough power to embarrass a Fox Body Mustang in a drag race. It's unclear if the K5's rambunctious character will prevent midsize sedans from dissolving into oblivion, but it sure as hell feels good to see a carmaker have a bit of fun with one before the entire segment gets replaced by crossovers and SUVs.
Clavey's Verdict
Review of the 2022 Kia K5 GT by William Clavey
Midsize Sedan
Sport sedan-rivaling performance
Striking looks
Solid value
Lacks traction
Interior is a mashup of colors, textures and materials
No all-wheel drive
Clavey's Corner is located in Montreal, Quebec, Canada. Prices and trim levels discussed in this article reflect the Canadian car market.
Special thanks: Kia Canada
Contact the author: [email protected]