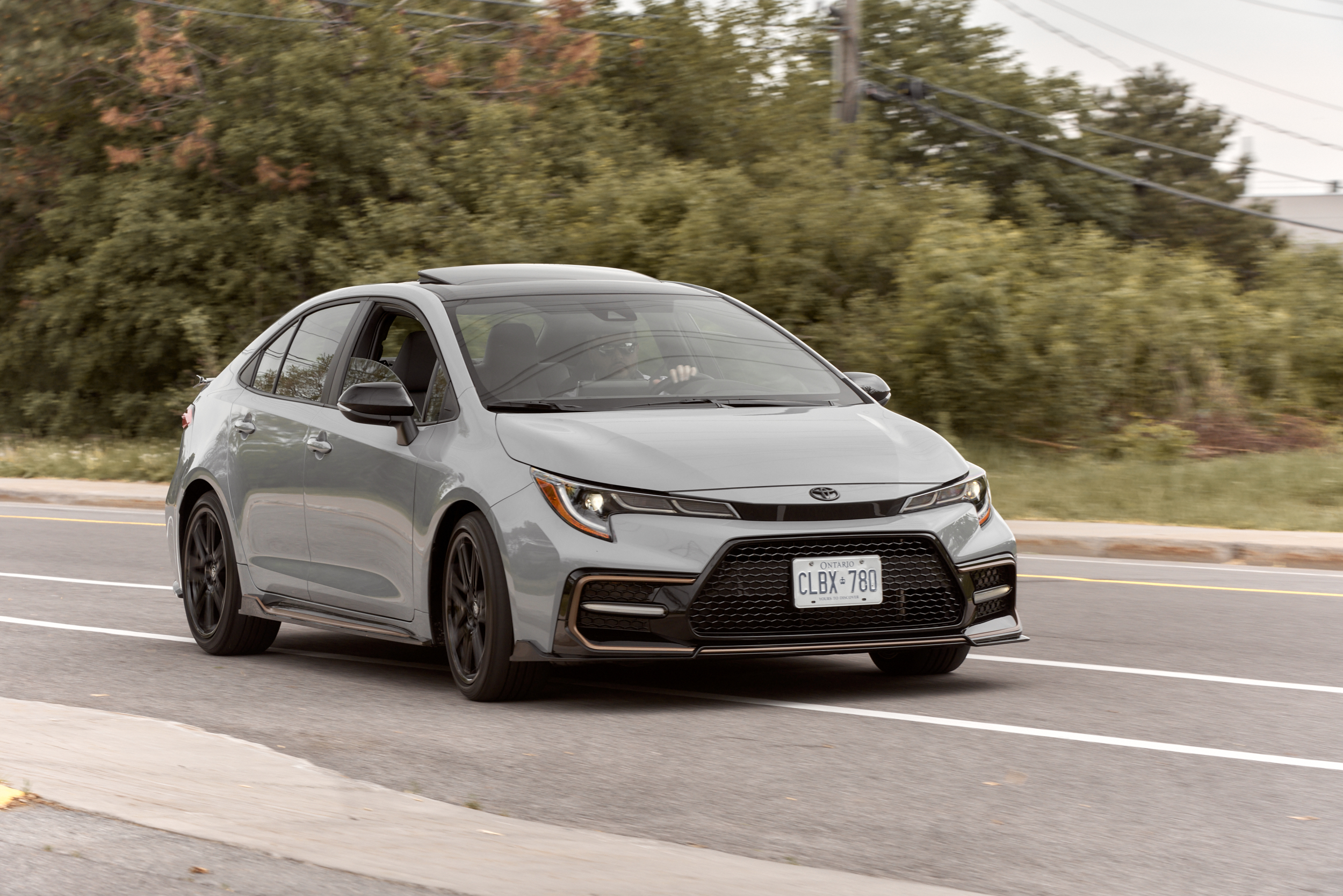 The 2021 Toyota Corolla Apex could have been a Honda Civic Si or Volkswagen Jetta GLI rival if it had more power. I don't get Toyota sometimes. I mean, this is a pretty gnarly looking Corolla, one fitted with body kits, a trick suspension and some track worthy goodies, yet, it's still powered by the same lukewarm engine. It have been as quick off the line as a Camry TRD, except, it's not.
Holy Big Mouth, Batman
Don't get me wrong, there's a lot to like about the Apex package. It gives the already wild-looking Corolla even more presence by way of a larger front air intake, a more aggressive bumper, side sills, upgraded wheels and tires, a massive rear diffuser with a larger exhaust tip protruding from the right hand side and a gimmicky but cool-looking decklid rear spoiler. The Apex also comes with a sunroof and a blacked-out roof.
The Apex name was inspired from the Corolla's history. During the 1980s, the hallowed rear-wheel-drive AE86 model from the 1980s—a drifting icon and main character in the Initial D manga series—could be had with an Apex package. Today's offering comes with stiffer springs that lower the car by 0.6 inches, larger anti-roll bars and retuned dampers. The 2021 Toyota Corolla Apex can also get grippier Dunlop Sport Maxx 050 rubber as a no-cost option.
Unfortunately that's where it all stops. The Apex doesn't get larger brakes nor a more powerful engine. What sits underneath its hood is the same 2.0-liter four-cylinder engine found in the Corolla SE. It's good for an ok 169 horsepower and 151 lb-ft of torque. This front-wheel-drive "racing" Corolla can be had with a six-speed manual transmission, like my tester, or a (really?) continuously variable transmission (CVT).
The Apex package is a $4,850 option that can be grafted onto a Corolla SE, which kicks off at $22,590. As it sits, my tester, which was painted in a very cool battleship grey paint job, which contrasted beautifully with the white on grey interior and bronze exterior accents, stickered for 29 240 $, or just about $5,000 less than a turbocharged Mazda3 with all-wheel drive and almost twice the power.
Carve Some Roads
Each time I'm handed the keys to a car that has "track-tested" performance, I go out of my way to find a curvy piece of tarmac to test out these claims. Toyota says the Corolla Apex was tested on a race circuit and that it's much more exhilarating when approaching – excuse the pun – an apex. I'm a guy who enjoys a good handling machine, even if it's underpowered. As the saying goes, it's a lot more fun to drive a slow car fast than a fast car fast, which is why I own an R50 MINI Cooper.
So off I went with the Corolla Apex, and as I was heading to my favorite driving road, I did appreciate car's stiffer suspension and manual transmission. It does have rev hang however, but nothing the Nissan Sentra SR manual doesn't also have. What I do appreciate is Toyota's iMT rev matching system. Normally I prefer doing all of this myself, but the Corolla's system is rather neat, effective and mitigates rev hang. The shifter, while plagued with long throws, is also fun to row around.
At this point I believe it's time to underline the fact that Toyota's TNGA modular architecture on which the Corolla rides is brilliant. Even in its most basic forms, hell, even in hybrid trim, the Corolla has a sweet buttoned down feel on the road thanks to a lower center of gravity. Because of this, I was curious to try this improved Apex model.
Out there on the open road, the chassis proved remarkable as I was able to push this little Toyota to the limits of its tires. Sadly, Toyota's highly intrusive traction control system kept ruining the fun. The Apex also retains the Corolla's open diff, which means it has a lot of difficulty putting the power down upon corner exits. Finally, the brakes are downright awful, to the point where they quickly began fading after a few quick mountain passes. For the record, my 2006 MINI Cooper, which isn't an S model, doesn't fade on that same road.
The power provided from the four-cylinder engine is good, but never fantastic. It just never feels as eager to rev as what you'd get in a Sentra SR, let's say. The clutch is also absent from any kind of feedback and the steering feel is vague at best.
I did however enjoy the Apex's white on grey interior as it gave this Corolla a funky, upscale look and feel. I also got quite a lot of stares driving this spiced up Corolla. One delivery boy who brought me a pizza even told me it was the coolest Corolla he's ever seen. And I tend to agree, this is one badass looking little ride.
Usual Corolla ergonomic issues remain, however. While seating position, visibility and build quality are all above average, the Corolla's infotainment system remains a dumb-witted one in the sense that it's cluttered in information. Doing simple tasks like connecting your phone can prove tedious. I do appreciate that the Corolla finds your phone instead of the other way around, however, and the level of equipment found in the Apex package is more than ample.
So, what to think about the 2021 Toyota Corolla Apex? If you think this is going to be a rival to a Honda Civic Si or a Volkswagen Jetta GLI, you might be disappointed. But with the packaged added on, the car itself isn't too expensive, at least, and you will be getting good handling dynamics and a somewhat fun to drive experience. It isn't a sport compact, far from it, but the Apex model is definitely a rare version of the already excellent Corolla. If you keep it in good shape, maintain it, you can be damn sure it'll run for decades. It might even be worth a healthy sum on the second-hand market for being so rare.
Clavey's Verdict
Review of the 2021 Toyota Corolla Apex by William Clavey
Compact Cars
Unique package
Good handling
Fun to row manual transmission
Not exactly sport compact car sharp
Needs more power to go with the handling
Disappointing braking performance
Clavey's Corner is located in Montreal, Quebec, Canada. Prices and trim levels discussed in this article reflect the Canadian car market.
Special thanks: Toyota Canada
Photography: Guillaume Fournier
Contact the author: [email protected]