The 2019 Volvo S60 is a car I was really looking forward to drive. As you all know, I've been a huge fan of modern Volvo products ever since the XC90 appeared four years ago. And while the last-generation S60 was great, both in Cross Country and Polestar form, I couldn't wait to see Volvo's new corporate face glued onto its compact luxury sports sedan. Well it's here, and it's a car that makes you feel like a million bucks behind the wheel.
That Scandinavian Swag
You have to give it to the Swedes, they're aces at building beautiful things. From IKEA furniture to the now defunct Saab car brand, all things Swedish are typically injected with clean, uncluttered and highly fashionable designs. And the 2019 Volvo S60 is no exception. This is a very good looking car.
Come to think of it, it looks kind of like a shrunken down S90, not that there's anything wrong with that, especially with its tighter proportions, shorter wheel overhangs and the Fusion Red Metallic paint job my tester was painted in. The 2019 Volvo S60 has a hard job to do. It has to steal a chunk of the highly congested compact luxury sedan segment. In a world where sedans are dying in favor of SUVs, it's actually quite fascinating how many competitors the S60 has. Think BMW 3-Series, Audi A4, Mercedes-Benz C-Class, Alfa Romeo Giulia, Jaguar XE, Lexus IS, Infiniti Q50, Acura TLX, Genesis G70 and the upcoming Cadillac CT5. So yeah, this cute little Volvo has a steep hill to climb.
But then, it's not like the last one had difficulty selling. Even when the car was loosing momentum during its last production year, facing more modern German rivals, Volvo shipped nearly 13,000 of them in the US and Canada. It's not a huge number, but considering the car was getting old, it's not bad either.
So with this one, all-new for the 2019, Volvo hopes to regain the traction it once had in that segment. The car rides on essentially the same SPA (Scalable Product Architecture) platform which also underpins the XC90, the XC60 and the S90/V90 sedans and wagons. Yes, a wagon version of this car exists, called the V60. And just like its big sisters, the 2019 Volvo S60 is powered by a choice of three engines – T5, T6 and T8 -, all based on the same turbocharged 2.0-liter four cylinder.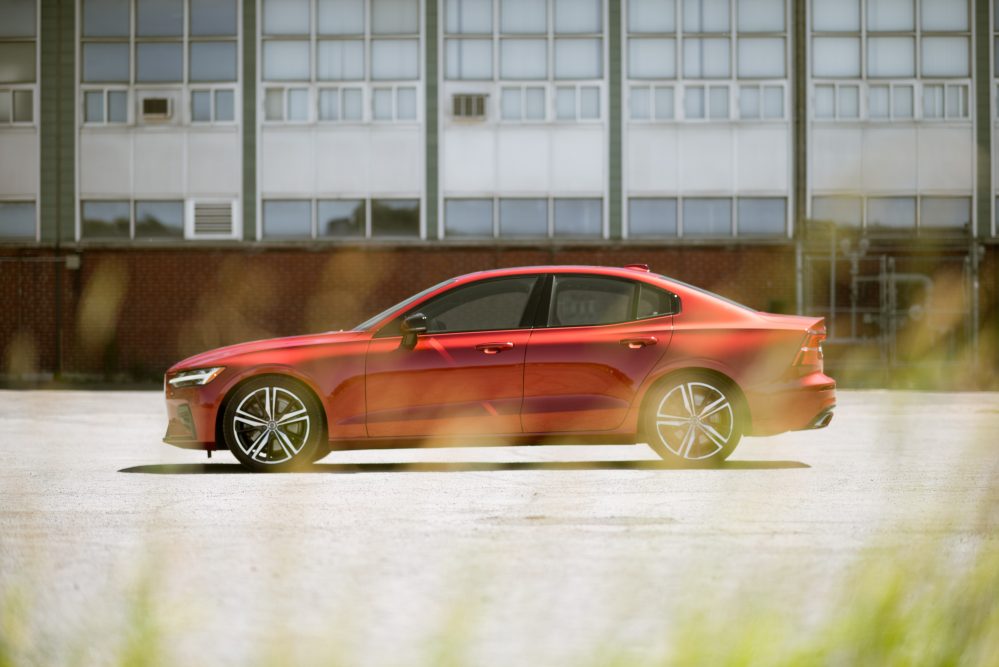 That said, we'll have to wait a few more months until the hybrid T8 model comes our way. As I write this, Canadian consumers can either opt for a front-wheel drive T5 S60 with 250 horsepower, or this all-wheel-drive T6, which adds a supercharger to the turbo for a total of 316 horsepower and 295 lb-ft of torque. All Volvo S60's come standard with an eight-speed automatic gearbox.
The R Design you see here is mostly aesthetic, adding 18-inch wheels and a sportier grille. My tester had the optional 19-inch wheel package, which looks absolutely gorgeous. All in all my S60 stickered for a pleasingly decent $58,115.
An Old Friend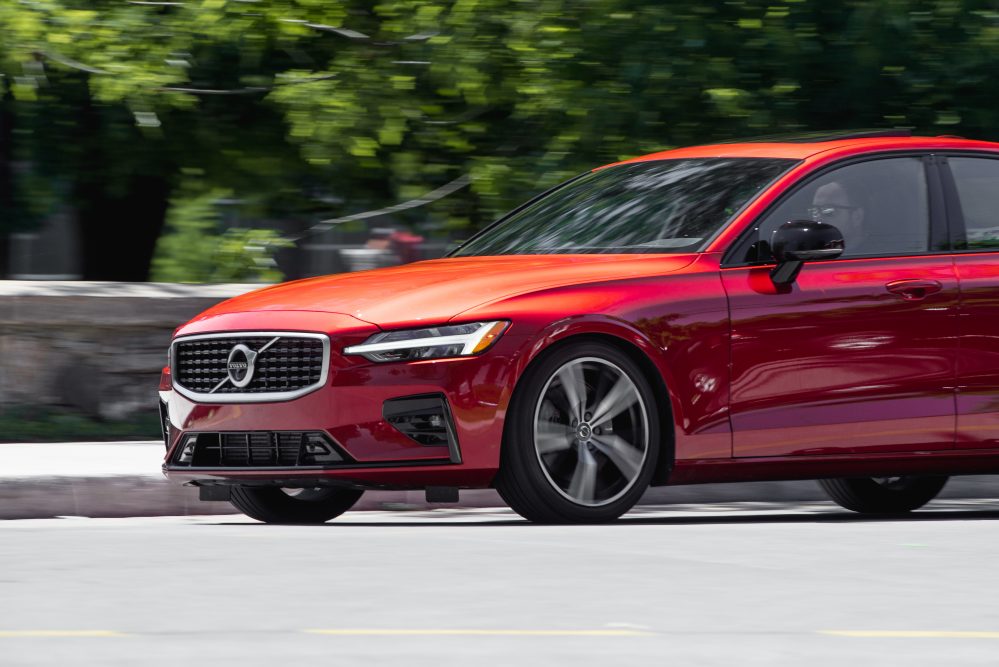 It's not the first time I drive the 2019 Volvo S60. I was actually at the car's launch event last fall in California. Back then, the moment I sat behind the wheel of this sedan I felt right at home. After all, Volvo's are all essentially the same car since they all share the same platform and drivetrain packages. And the S60's dashboard is nearly identical to the larger S90, except for a slight downgrade in material quality to keep costs low.
But it remains a magnificent cabin, even if its design has been around the block. Volvos have always set themselves apart by the immense comfort of their seats and their impeccable ergonomics, qualities which are instantly felt in the S60. And I remain a huge fan of the subtle Swedish Easter eggs scattered all over the car's interior, such as the tiny Swedish flag on the passenger seat, or the centre-mounted starter, a reference to Saab.
Sadly, I'm still conflicted about its Sensus infotainment system. To Volvo's credit, it remains an elegant and functional design, one that's easy to comprehend, and connects to the latest toys like Android Auto and Apple CarPlay. But even if Volvo claims it has improved its reaction speeds, it's a slow system to react, especially when starting up the car. And since virtually everything is controlled via the screen, you'll quickly be cursing at your car for wasting your time.
On the road, it's the same buttoned down and rock-solid feel you expect from all Volvos, with a suspension that remains a tad too stiff for Quebec roads, and handling that sits right smack on the fence between sporty and laid back luxury. Don't expect to set lap times with the S60, it's not a super handling car, but there's enough playfulness in its chassis, enough feedback in the electric power steering, to have a bit of fun on a winding road. It's never unpleasant to drive, but never hair-rising either.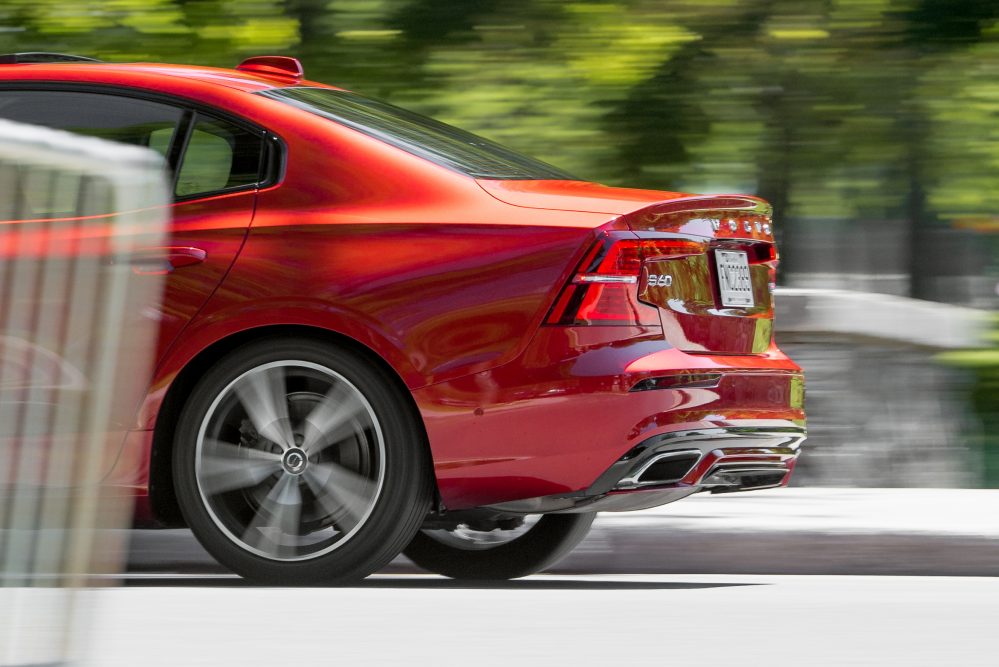 I continue to have mixed feelings about Volvo's twin-charged drivetrain, but I do believe the T6 remains the best engine for this car. The problem is that there's all sorts of lag, which either comes from the poor little four-cylinder waiting to receive boost, or the automatic gearbox that hesitates before handing you a lower gear. There's a Dynamic mode, it kind of helps, but not enough to mute these flaws. Once everything gets going, however, the S60 is respectfully quick, with a 0 to 100 km/h time rated at a clean six seconds flat.
Just don't expect to hunt down a BMW 340i with your Volvo, because you'll just get humiliated. Instead, sit back, relax, and enjoy the comfort of its obsessively well bolstered seats. That's actually the number one feeling that comes out of this fresh new Volvo; the way it makes you feel behind the wheel, like it's rewarding for making a smart purchase. While this is a segment that puts the emphasis on performance and driving enjoyment, the 2019 Volvo S60 carves its way between its German rivals with supermodel good looks, well priced packages and a unique and likable character.
Clavey's Verdict
Review of the 2019 Volvo S60 T6 R Design by William Clavey
Compact Luxury Sport Sedans
Stunning looks
Well priced
Comfortable and well put together
Could be a little sportier
Laggy drivetrain
Infotainment system takes a while to wake up
Clavey's Corner is located in Montreal, Quebec, Canada. Prices and trim levels discussed in this article reflect the Canadian car market.
Special thanks: Volvo Canada
Photography: Guillaume Fournier
Contact the author: [email protected]