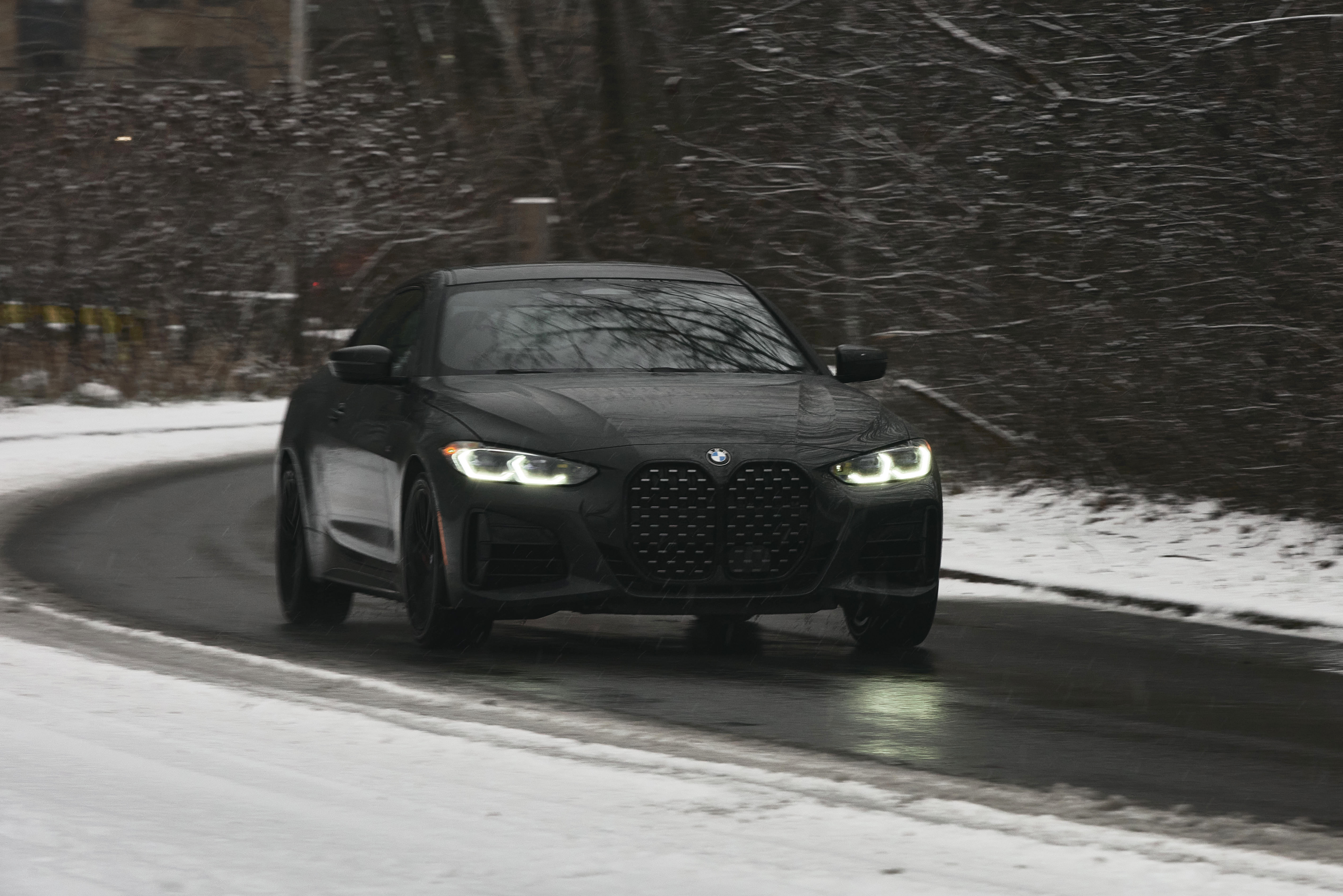 The 2021 BMW M440i, along with the entire 4-Series lineup, was probably one of the most talked about automobiles of 2020 due to its grotesquely large kidney grille. I admit having been among the ones who hated it when it was first unveiled, only to find it looked much better in person. But whatever you think about that schnoz is irrelevant because this new 4-Series drives very much like a BMW. Except, it also brings the model somewhere else.
Deal With It
Yes, that face is intense, but it sure lets attracted a lot of eyeballs when I had the car in my possession. What I also realized is that it works rather well with 4-Series' new shape. Taking a lot of inspiration from the 8-Series, but not appearing as much like an overpriced Ford Mustang as that car, this new 4 is longer, wider and lower than its predecessor, appearing a lot more like a mini grand tourer. It also further distances itself from the 3-Series on which it's based.
So, yes, this car also rides on BMW's excellent CLAR platform, the same one that also underpins the Toyota Supra, as well as BMW's X5 and X7 SUVs. While the 430i gets the same 2.0-liter turbo four as the 330i, this M440i, which is the most powerful 4-Series available before entering M4 territory, gets the Supra's turbocharged 3.0-liter inline six. Except this time around, it's coupled to a 48-volt mild hybrid system for improved efficiency.
Power is rated at a stoute 382 horsepower, with torque cranked up to a healthy 364 lb-ft. That hybrid setup is mated to the same excellent ZF-sourced 8-speed automatic transmission as in all modern BMWs, while the xDrive all-wheel drive system comes standard on all cars sold in Canada.
All of this hardware allows the 2021 BMW M440i to be one hell of a rocket in a straight line. Acceleration from 0 to 100 km/h is achieved in a breathtaking 3.8 seconds, while the standing quarter mile is completed in a blistering 12.3 seconds. In case you don't know what this means, it means this BMW is fast as fuck.
Pricing for the new M440i is, in typical BMW fashion, not cheap. An entry level 430i kicks already off at somewhat high $53,645, while the M440i cranks things up to $64,950. Of course, the car I was driving was fully loaded with optional packages. The final sticker for the vadered out "skull face" coupe you see here was $75,795.
Woah, The Steering?
So, when I say the M440i drives like a BMW, I mean it feels rock solid, reacts quickly to your commands, will humiliate a Ford Mustang GT in a drag race and will envelop you in immense comfort and German craftsmanship. And to be fair, if you haven't driven another BMW before this one, you'll probably think that, indeed, this is the ultimate driving machine. But in reality, it's missing something the M340i has: great steering.
I'm not sure if it's because BMW really wanted this car to feel like a grand tourer, but there's an annoying rubbery feel in the way that steering wheel operates when you turn it off-center. It just feels like it's not really connected to anything. The rack's rather quick ratio only amplifies this artificial sensation. Add to that a ride that's more compliant than sporty, and the entire car is downright softer than an M340i, which annoyingly leads to quick understeer when entering a corner hard.
Now, does this prevent the 2021 BMW M440i to be enjoyable to drive? Not at all. And with all due respect, this is still one of the quickest ways to plow through the countryside while enjoying your favorite tunes. But the car is never as engaging as its four-door counterpart. In other words, you'll be going fast in an M440i, but you won't be having as much fun as you should. And that's a bit of a letdown.
What the 440i excels at, however, is in its ability to wrap its driver in utmost class and refinement. The 4-Series' cabin is vault-quiet, while build quality is class-leading. It's never as flamboyant as a Mercedes-Benz interior, but this BMW's spartan cabin harvests some of the best ergonomics in the business. And I must say, my tester's Tacora Red Vernasca leather seats contrasted beautifully well with the car's entirely black appearance.
Like all modern BMWs, the M440i gets the brand's latest fully digital gauge pod, except it now incorporates a hybrid boost meter which lets you know when the electric motor is filling in until the turbo spool up. From behind the wheel, the experience is seamless. As a matter of fact, it almost fools you into believing the car is powered by a naturally aspirated engine.
Meanwhile, BMW's iDrive multimedia interface remains clean, quick to react and intuitive. I continue to believe that this is up there among one of the best systems currently on sale due to its ability to actually minimize distractions while driving. Everything is located at the right place, the console-mounted knob-dial is a peach to use, and the system will even allow you to pair your phone while driving, a rare feature in this day and age. BMW also still masters drive modes, where each setting considerably alters the car's characteristics.
In other words, the 2021 BMW M440i has a weird looking front end but still driveslike a BMW. So, all is fine, right? Well that depends. Because if you expect this new 4-Series to simply be a two-door version of a 3-Series like in the past, you might be disappointed.
Instead, BMW went through great lengths to make this feel like a different car. And it succeeded. But it has also taken away some of the 4-Series' reflexes along the way, and that kind of sucks. Maybe the upcoming M4 will fix that. One thing's for certain, this is no longer a sports coupe. It's officially BMW's compact grand tourer, weather you like it or not.
Clavey's Verdict
Review of the 2021 BMW M440i by William Clavey
Luxury Sports Coupes
Blistering performance
Smooth hybrid powerplant
Classy and well-thought out interior
Weird steering
Not as sharp as M340i
Pricey options
Clavey's Corner is located in Montreal, Quebec, Canada. Prices and trim levels discussed in this article reflect the Canadian car market.
Special thanks: BMW Canada
Photography: Guillaume Fournier
Contact the author: [email protected]