Yes, another year done. Which presumably means you've got at least one extra grey hair on your body. For me, the new year means another twelve exciting months travelling the world, driving the cars.
Now, I realize I haven't been super active around here, but trust me, I have been busy. 2018 really was a fantastic one for me. I drove pretty much everything, from a mid-nineties Mazda RX-7 on the day of my birthday, all the way to a 500-horsepower Aston Martin Vantage. I even went back on Jalopnik where I drove a very fun and appropriately weird French sports car. Without further ado, here's my Best of Everything 2018.
Best Subcompact – Hyundai Accent

The moment you get behind the wheel of the all-new, 2018 Hyundai Accent, you instantly realize how much the industry has changed. While sitting at the very bottom end of the automotive spectrum, the Accent is everything but a shitbox. It's comfortable, impeccably well put together, spacious and, fun to drive?
It's reliable too. In case you haven't been keeping up, Hyundai is currently among the top most reliable car brands . The only thing going against the Accent is the fact that consumers aren't buying subcompact cars anymore, they much prefer their silly little SUV's instead. Also, many will argue that at $18, 799, you could get a base Elantra, which is a larger car. But hey, at least, this thing isn't a penalty box. As a matter of fact, driving an Accent, whether it be the sedan or the hatch, makes you feel great about yourself. What's not to like about driving a cheap car that feels just as good as the overpriced European stuff on the road?
Best Compact – Volkswagen Golf

Surprised? If you haven't been following me, you should know that I adore the current MK7 Volkswagen Golf. No matter which one you choose – whether it be a Comfortline with the 1.4-litre turbo, a SportWagen, an Alltrack, a GTI, an R, or even the adorable all-electric e-Golf – it's great.
The Golf's number one quality is its immense diversity. Then there's the way it's built. It feels expensive and rock-solid over any road surface. It also drives incredibly well. Add to that a timeless design, an infotainment system that simply works, and cargo space for days, and many would argue that the Golf is currently the perfect car.
I'll get my Golf R in TNT Orange, please.
Best Midsize Sedan – Honda Accord
The Honda Accord is a sort of enigma because it sits in a segment where pretty much all of its rivals are excellent. Sure, consumers may not be buying sedans anymore, but that doesn't stop these four-door machines from being good cars. The Mazda6, the Chevrolet Malibu, the Volkswagen Passat, or even the Toyota Camry. All great automobiles. But then, you drive the Accord, and somehow, it pulverizes everything.
Part of its success is its legendary reliability record and resale value, but more importantly is that the new model – introduced earlier this year – comes with a pair of superb turbocharged engines. One of them, the 2.0-liter turbo, actually comes from the Civic Type R. And guess what? Both engines are available with a six-speed manual gearbox!
But even if that's not your thing, even the base, CVT-equipped, 1.5-litre Accord is fun to drive. Everything about this sedan is great, even its trunk, its rear seat, and yes, its infotainment system, which now has not one, but two physical knobs to operate it.
Best Full-Size Sedan – Toyota Avalon
Believe it or not, the new Toyota Avalon XSE is one of the cars I enjoyed driving the most this year. If this is the large sedan's last hurrah, it's a hell of a good way to go.
The XSE is by far the most intriguing of the Avalons. One, because it's marketed as a sports sedan, something its target buyers don't really look for. Two, it's actually good at being sporty. Its 301-horsepower V6 engine pulls strong, all while emitting a very satisfying intake snarl. Its chassis is well composed, low to the ground and surprisingly nimble. And its cabin isn't only enormous, its immensely comfortable front and rear. Add to that an indestructible reputation, and the Avalon suddenly becomes the best sedan Lexus – I mean, Toyota has ever built.
Best Luxury Sedan – Mercedes-Benz S Class
I know what you're thinking, that a Bentley or a Rolls-Royce, or even a Porsche Panamera is more luxurious than this stale Mercedes. Fine, this Benz has less swag, but it has other tricks up its sleeve. Diversity. Whether you opt for the "base" 108,000-dollar S450, or the fire-breathing S65 Cabriolet which stickers for a staggering $280,000 (before options!), the S Class is all luxury car for all rich people.
But above the fact that the Maybach model comes with a fridge for your wine bottles, the Mercedes-Benz S Class is, without question, the ultimate expression of what a modern land yacht should be. It's sophisticated, fanatically well put together, and looks dashing without screaming "look at me!" It also performs superbly well, both in a straight line and in the twisties, all while not burning all that much fuel in the process. The damn thing will even drive itself. If a Rolls-Royce is for the newly rich kid who wants everyone to know about it, the S Class is for the millionaire who's still hard at work, and doesn't want to be noticed.
Best Subcompact SUV – Hyundai Kona
Yes, the Kona is a another one of those stupid tiny "SUV"s that aren't practical nor capable off road. They're essentially tiny cars with lifted suspensions. But the Kona is actually good at being just that. It looks not bad. It's surprisingly quiet inside, well equipped too, and rather fun to drive.
But my favorite of them all is the Kona Electric. At $45,000 before incentives, and 410 km of range, it's currently the best bang for the buck as far as electric vehicles go. It also chirps its tires the moment you gun the throttle, even while it's already moving. That's because its electric motor generates 300 lb-ft of torque. Not too long ago, even a Mustang didn't generate this much twist. But even if you opt for a base, gasoline-fed Kona, you've made the right choice. It's just so well executed, it makes all the other Japanese stuff look weak.
Best Compact SUV – Mazda CX-5
The more I plunge into the fascinating world of the modern automobile, the more respect I have for Japanese carmaker Mazda. Little do people know, Mazda is no longer part of Ford, which means it's now a tiny company that must take on industry giants Toyota, GM, Honda, Nissan and Hyundai on its own.
But that gives it an advantage over the others. Mazda can be the underdog, do things its own way, and come out with ingenious methods of stealing sales from the big boys. If the Mazda MX-5 is the conscious of the automotive industry, then the CX-5 is its spiritual brother. It's not the most spacious nor the most quiet SUV out there. But it looks very good. It's put together like a little Audi in there, and the entire thing handles like a mini Porsche Macan.
What Mazda is basically telling you with this thing is if you're going to conform yourself to the boredom of SUV driving, you might as well have a little fun along the way.
Best Mid-size SUV – Honda Pilot
This year I drove quite a few midsize SUV's. New ones too. There's the Subaru Ascent, the Volkswagen Atlas and the upcoming Hyundai Palisade, which, I must say, is rather great. But as I'm writing this, I'm driving a 2019 Pilot, a press unit Honda lent me for the holidays. And just like the Accord, there's something about the Pilot that allows it to rise above the others.
Maybe it's the fact that its cargo hold is the largest in the segment, or that its naturally aspirated 3.5-liter V6 sounds like an Integra Type R as it hits VTEC. Or maybe it's the built-in microphone that allows me to yell at my kids (I don't have kids so I yell at other people's kids instead) through the built-in headphones as they drool over a Cars movie on the integrated entertainment system.
The Pilot simply shines, and excels at everything it was meant to do. It can even tow 5,000 pounds and return a 10L/100 km fuel consumption average on a good day. Did I mention how bulletproof these things are?
Best Pocket Rocket – Volkswagen Golf GTI
Of course, if the Golf is my favorite compact, than, undoubtedly, the GTI is my favorite sports compact. But it took me a while to reflect on this one, because Honda does make a damn good Civic Si, and Hyundai just dished out a pretty gnarly Veloster N – which I still haven't driven, but I hear is very good.
However, the GTI is a hatch, a very spacious one at that, which makes it quite a bit more practical than its rivals. I'd know, because I took one out for a 4,000 km road trip up to Cape Breton, in Nova Scotia, where I used the thing for camping, hiking, kayaking and – ahem – hooning on the Cabot Trail. See the bugs on the bumper up there? That's the sign of a car that has seen things. Many things.
The GTI isn't a car. It's a companion. A little buddy that's always eager to follow you in your crazy adventures, never afraid to get a little dirty, always looking forward for a little hustling. And boy oh boy does it know how to take on a carving mountain road.
Best Hot Hatch – Honda Civic Type R
Pie in face. Fist in mouth. That's what the Civic Type R does to you. It just pulverizes all your prejudice. When people were saying the car was fast, I wasn't surprised. I mean, anything with a 306-horsepower turbocharged and VTEC engine is quick, especially when it's dropped in a Civic.
But when I found out that the (very ugly) Type R had lapped the Nürburgring in 7 minutes, 42 seconds – making it the fastest front-wheel drive production car in the world – I just had to drive one.
I actually drove this car twice. The first time was last year when it came out, a white one. Of course, I loved it. Then, I went along and drove Aston Martins, Jaguars, BMW M5's and Cadillac CTS-V's. I then got back behind the wheel of the very red car you see up there, and I was even more baffled by the extreme machine Honda has given birth to.
This is a car you need to taste first, and then let simmer so you can better appreciate it. The levels of grip are so immense, that you must rewire your brain as to what you're capable of doing in an automobile. And the fact that there's no launch control, or no fancy automatic gearbox, means you need to grab it by the scruff of the neck and give it a proper thrashing. It also happens to be a fantastic Civic; roomy, comfortable, quiet and cheap to run.
Best Sports Car – BMW M2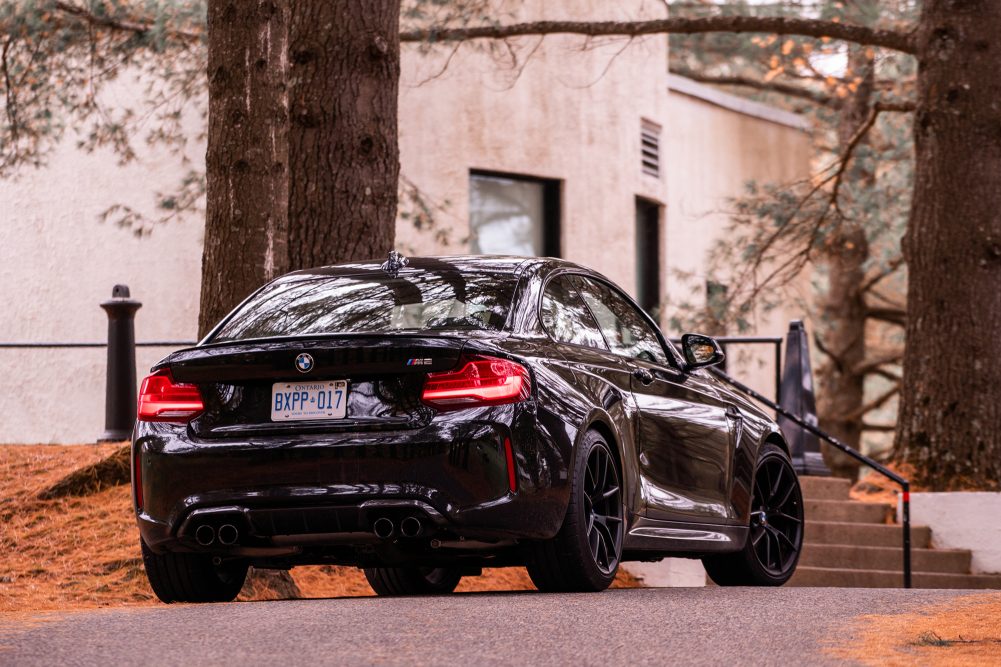 In my review of the 2018 BMW M2, I had said that it's the best performance tool currently out there. What I meant by that is if your goal is simply to drive and feel things behind the wheel of a machine on wheels, things can't quite get better than this.
Many will argue that the M2 is a little rough around the edges, that its economy car roots – the BMW 2 Series – make it feel flimsy, and that its short wheelbase makes it unstable, bobbing and weaving under heavy loads.
I say that's precisely why the M2 is so incredible. It's not trying to be a perfect German car whose main goal is to lap racetracks at blistering speeds. It's simply trying to make you smile, just like the old, tiny BMW's of the late eighties, i.e., the E30 M3. The M2 is alive, constantly telling you what it's doing, and always reminding you that it has fangs. Its 3.0-liter, twin turbo straight six pulls strong at any RPM, and sounds like God's belching along the way. Add to that a proper wide stance, bulging wheel arches and just the right length, and you end up with what is undoubtedly one of the best M cars the Bavarians have ever put together.
Best Supercar – Lamborghini Huracan Performante
My time with the Huracán Performante was very, very brief, I just barely took the thing out for a few minutes. But the moment I strapped myself in the confined cockpit of this Italian thoroughbred, I was sold.
The Performante checks off all the boxes of what a supercar should be. First, it's Italian. Then, there's the way it looks, especially with that huge carbon fibre wing out the back with the letters ALA written on the side. That stands for Aerodinamica Lamborghini Attiva, and it's Lamborghini's way of telling you the car has active aerodynamics to make it handle better. Because of course, the regular Huracán wasn't enough.
Then, there's the way the naturally aspirated, 5.2-liter V10 sounds as it spits out 631 raging horsepowers behind your head. It sounds like Zeus yelling things while on a very bad hangover. As you sit there, all hairs risen on your body, you instantly tell yourself that if the world were to crumble tomorrow morning, this is the machine you'd use to escape from it all.
Best Roadster – Mazda MX-5
The Mazda MX-5 gives you a break from all the technology, the toys, the lies, and the complex engines the current automotive industry tries to shove down our throats. For 2018, it got a little more power, which is obviously a good thing. But while I did have a blast revving the snot out of the 181-horsepower naturally aspirated 2.0-liter, the Miata still doesn't feel particularly fast.
But that doesn't matter, because the MX-5 is light, simple, well balanced, and commands you to drive it far. I drove one up Mount Washington with my significant other last summer. That was fun. Then, at an other occasion, I drove one on my favorite winding road, which I repeated until the car ran out of gas. And the refill only cost me 40 bucks.
If, for some reason, the automobile were to disappear one day, and we had to dig up old examples to understand what these machines were, then the Mazda MX-5 would be the artifact we'd benchmark our knowledge around. This a car done right. A roadster done great. And a sports car done to perfection.
Best Sports Sedan – BMW M5
Yes, I know, there are a lot of sports sedans out there. But the grand-daddy of them all remains the BMW M5. One, because it was the first real powerful four-door car the world had ever seen. Two, because this new one is now powered by a 600-horsepower, twin-turbo V8. It'll sprint from 0-100 km/h in only 2.8 seconds.
That's not only as fast as the fastest supercars currently out there, it's faster than its three main rivals : the Mercedes-AMG E63S, the Audi RS7 and the Cadillac CTS-V. And don't think the M5 is all about out-of-the-hole acceleration, because it's not. The damn thing will hit the quarter mile in 11.3  seconds, that's faster than a Dodge Challenger Hellcat. It's a good thing a 305-km speed limiter was installed, because this Autobahn express train will keep going even faster!
The M5 represents everything that we love about sports sedans. It looks like any other BMW 5 Series. It's comfortable, roomy, and immensely luxurious. Yet, if a douchebag pulls up next to you at a stoplight in a modified Chevrolet Corvette, you'll pulverize him in a jiffy. And don't think it's only good as a summer car, because the M5 now comes with all-wheel drive, which you can engage to your liking. This thing is basically Clark Kent, sitting at a coffee shop, waiting for the next villain.
Best Electric Car – Jaguar I-Pace
You'd think my favorite EV of 2018 would be the Tesla Model 3 Performance, but you'd be wrong. While I was rather pleased with Elon Musk's latest, and, a little over the top contraption, the Jaguar I-Pace did a much bigger ripple for me. Out of all the car brands out there, who would have thought Jaguar would be the first real Tesla fighter?
Like a Tesla, the I-Pace is powered by two electric motors, one at the front, and one at the rear, which makes it all-wheel drive. Total power output is rated at 394 horsepower and an Earth-crushing 512 lb-ft of torque. It'll bounce to 100 km/h from a standstill in just under five seconds, and once its batteries are fully charged, they'll provide juice for up to 386 km of total range.
Granted, there are some faster Tesla's out there, and some with more range. But the I-Pace actually looks and feels like a $100,000 car. It's also immensely attractive, both inside and out, appearing like some sort of concept car for the road. But above all, the I-Pace proves that the future of the automobile will be cooler and more exciting than we can possibly imagine. Everything about this ride is cool, even its off-road capability. I'd know, because I drove one for three days all across Portugal. I climbed mountains on rough terrain, and even pushed one to its limit on one of the toughest racetracks in the world, The Algarve Internation Circuit. And the I-Pace simply shined.
Best Luxury SUV – Mercedes-Benz GLE

I came really close to putting the Volvo XC90 here, but then I remembered I drove the new Mercedes-Benz GLE, which is actually scheduled to come out next summer. I know, it's not a 2018 model, but it's so good that there's essentially no reason to buy anything else in this segment.
Like the Mercedes-Benz S Class, the GLE doesn't impress by its immediate bling or performance numbers, but by the sheer level of sophistication that was injected into it. Its infotainment system is arguably the most innovative one on the market thanks to augmented reality – an industry first – and A.I.-based voice recognition commands that respond to the "Hey Mercedes" prompt. Its semi-autonomous technology will basically allow it to drive itself, and there's even a trick air suspension that not only allows the vehicle to lower or rise to your liking, but also bounce to get itself out of rough terrain.
I could keep wasting internet ink rambling about the immensely comfortable seats designed in partnership with a physiotherapist, or the all digital gauge cluster which can be tailored to your liking, but I think you get the picture. When the 2020 Mercedes-Benz GLE hits showrooms next year, it'll give a serious black eye to the Porsche Cayenne and the BMW X5.
Best Compact Pickup – Toyota Tacoma

Small trucks are back! And that feels good doesn't it? Next year there will be a new Ford Ranger on the road, and Jeep has one on the way as well, it'll be called the Gladiator. Hyundai is apparently preparing one too. But while all of these new rigs are a welcome addition to the segment, they'll have a hell of a hard time stealing the Tacoma's legendary status.
Toyota's small truck isn't refined or particularly sophisticated. Its 3.5-liter V6 engine is dated and drinks gas like a hog. And the seating position in there is awkward, making you feel like you're sitting in a hobbit car. But none of that matters, because as long as Instagram will be filled with #offroading hashtags associated to posts of old Toyota's braving the desert, mud, or any form of rugged terrain, these things will continue to sell. Even the old ones with odometers reading 300,000 km, and their bodies rusted to shit are worth a lofty sum. The Tacoma may be the least logical purchase within the compact truck segment. But it's the most truckish one of the bunch.
Best Pickup – GMC Sierra
If there's something my job at The Car Guide has thought me, is to better understand the full-size truck market. After all, this is one of the most lucrative segments of the entire industry. It's ironic, don't you think, that in 2019, a time when the planet has never been so warm, that the cars that sell the best are enormous V8-powered rigs?
Anyway, trucks are hard to review, because you need to factor in a whole bunch of important metrics, such as payload capacity, towing capacity, acceleration without and with load, as well as fuel consumption while towing, or not.
But once you've observed the titans of the segment under a magnifying glass; the Ford F-150, the Ram 1500, the Chevrolet Silverado and the GMC Sierra, you quickly realize that they're all great machines, each capable of towing heavy things all while returning respectable fuel economy in a well-equipped package. This is why my choice stops at the Sierra, because it goes one extra step further. For starters, it looks incredibly bad ass, I'm a huge fan of the AT4 model you see up there. Then there's the available 6.2-liter V8 engine, which isn't only as smooth as a baby's but, but also allows this big guy to move quite quickly.
But it's the little details, like the available carbon fibre bed, highly luxurious Denali trim, and innovative Pro Tailgate that mutates into a variety of different configurations that had me sold. If there's something GM knows how to do well, it's trucks, and the Sierra is the best example of that.
Best Offroader – Jeep Wrangler
Up until later this year, I couldn't care less for the Jeep Wrangler. That's because I didn't understand it. There's also the fact that the ones I kept seeing were always super shiny and typically driven around mall parking lots.
But then, I drove one on the iconic Rubicon Trail, in California, and my entire perception of these things changed. Rubicon also happens to be where Jeep "trail rates" its machines. It's one of the most demanding off-road courses on the planet. I spent two days in there trying to make my way across in a 2018 Jeep Wrangler Rubicon equipped with the Pentastar V6 and the eight-speed automatic gearbox.
Not only do I understand off-roading much better now thanks to the keen and very patient Jeep instructors that were on site, I now have massive respect for the Wrangler in general. On the Rubicon trail, you meet heavy machinery. Lifted trucks with enormous tires as well as purpose-built contraptions. But our Jeeps – all stock, with absolutely no modifications – survived the adventure. Sure, they had a few dings and scratches at the exit of the trail, but when you think about it, no other vehicle in this price range could come straight out of a showroom and survive such an endeavor. When it comes to rock climbing, the Wrangler is the king of the hill.
Best Minivan – Chrysler Pacifica
Daniel Labre, from FCA Canada, once told me "the Pacifica is best car we build". He's right, this minivan is proof that when Detroit decides to get its shit together, it can come up with some of the most ingenious cars on the planet.
There are so many things to like about the Pacifica. First, it's a minivan that actually looks good, especially when fitted with the S package which darkens everything, from wheels, mirrors to front grille. Then, there's the immensely comfortable, spacious and surprisingly premium cabin which also happens to be filled with cool toys that should keep your kids busy during long rids. The rear seats fold into the floor in a beautiful origami fashion. Its naturally aspirated V6 pulls hard all while emitting a satisfying sound. And there's even a plug-in hybrid model that'll get you up to 53 km of full electric thrust. None of its competitors can do that.
Essentially, if FCA uses the same intelligence as it did with this minivan, then we shouldn't fear much for the future of the American auto industry. All it needs is a little kick in the butt to get its act together.
Photography : William Clavey, Caleb Gingras, Myle Appearance