If you've been following me up close, you're aware of how busy I've been driving the cars in 2017. From Jalopnik Reviews, to The Truth About Cars, and now, a kick-ass full-time gig at The Car Guide. It's been a solid year, which prevented me from being very active on here. Don't worry, I kept the best for Clavey's Corner. Sure, I may not be an entire team of Motor Trend experts to carry on telemetry tests, or do I carry with me the budget of The Grand Tour to do solid reviews, but over the course of the last year, I've driven close to 100 cars.  And since many have asked which car I preferred, a question that's impossible to answer, I decided instead to make a little list of what stood out for me this year. Here's the best of everything I tried in 2017.
Best Subcompact: Honda Fit Sport
Here's how I see the Honda Fit: if you're going to drive a subcompact shitbox in order to save fuel and reduce your carbon footprint, you might as well drive the one that's the most fun behind the wheel. Powered by a measly 130-horsepower 1,5-litre four, the Fit isn't fast. But that little mill loves to rev, the way old Hondas did. It will also most likely never let you down. Because it's a Honda.
Add to that a nimble and playful chassis, a slick-shifting six-speed manual gearbox and cargo space for days thanks to a clever rear seat, and the Honda Fit simply pulverizes its competitors. I would recommend wearing a pair of earplugs when driving it on the highway, however. Because this thing is loud as hell.
Best Compact: Mazda3

Between the Mazda3, Volkswagen Golf, Hyundai Elantra and Honda Civic,I had a hard time choosing this category. They're all solid. But the Mazda won, because one, it's the prettiest of the bunch, two, it's the most fun to fling around a winding road, and three, it's quite cheap. Mazda brags about injecting driver enjoyment in all of its cars, and the Mazda3, along with the MX-5, are the poster children of this ethos.
The Mazda3 is light on its feet, agile, nimble, and its four-cylinder engines, either the 2.0, or 2.5-litre SkyActiv mills, love to rev all while delivering solid fuel economy. Like Hondas, Mazdas last forever. Let's just hope this one won't self immolate with rust.
Best Sport Compact Car: Honda Civic Si

If you expect the current Honda Civic Si to be a watered-down version of the almighty Civic Type R, you'll be disappointed.  See it more as a sportified version of a normal Civic. And in that respect, Honda has never been so close to the car's roots than with this generation car. You see, Si has always stood for "Sport Injected". Now that we have the Type R on our roads to quench to thirst of hardcore Honda fanboys and girls, the Si can finally become what it was always meant to be.
The current generation Civic Si is fun to drive, quick enough thanks to its 205-horsepower 1.5-litre turbo, comes with an adjustable suspension; something normally seen on high-end luxury cars and supercars, and the only available gearbox is one of the best six-speed manuals this side of a Porsche 911. With an affordable price tag that undercuts GTI, Focus ST and Jetta GLI, the Civic Si, in both coupe or sedan form, makes for one hell of a fun-per dollar argument.
Best Hot Hatch: Volkswagen Golf GTI

When people ask me which car I would buy, right now, no budget considered, I tend to answer Golf GTI. There's just something about this car's undeniable balance of performance, practicality and straight out common sense that makes it so great. Sure, there are more powerful hatchbacks out there, hell, even VW will sell you a more potent all-wheel-drive Golf R. But the Golf GTI is proof that horsepower doesn't make a car.
Its 220-horsepower 2.0-litre turbo packs the right amount punch. It's one of the only cars I'd actually consider ordering with an automatic (but get the manual), it looks like a million bucks, and when you factor in the fact that the chief engineer in charge of its suspension tuning also tuned the Porsche 911 GT3, you end up with bragging rights no other compact car can even come close to. The Golf GTI is quick, fun, well put together, and above all, offers almost as much passenger and cargo space as some compact SUV's. It's therefore the perfect car.
Best Hyper Hatch: Honda Civic Type R
There are two types of reviewers of the Honda Civic Type R out there: the ones who get it, and the ones who don't. The problem with several Civic Type R reviews, is that "experts" review it as an economy hatchback with performance upgrades. That's what a Golf R is. That's what a Focus RS is. The Civic Type R, well it's a race car for the road. And that's how you should perceive it.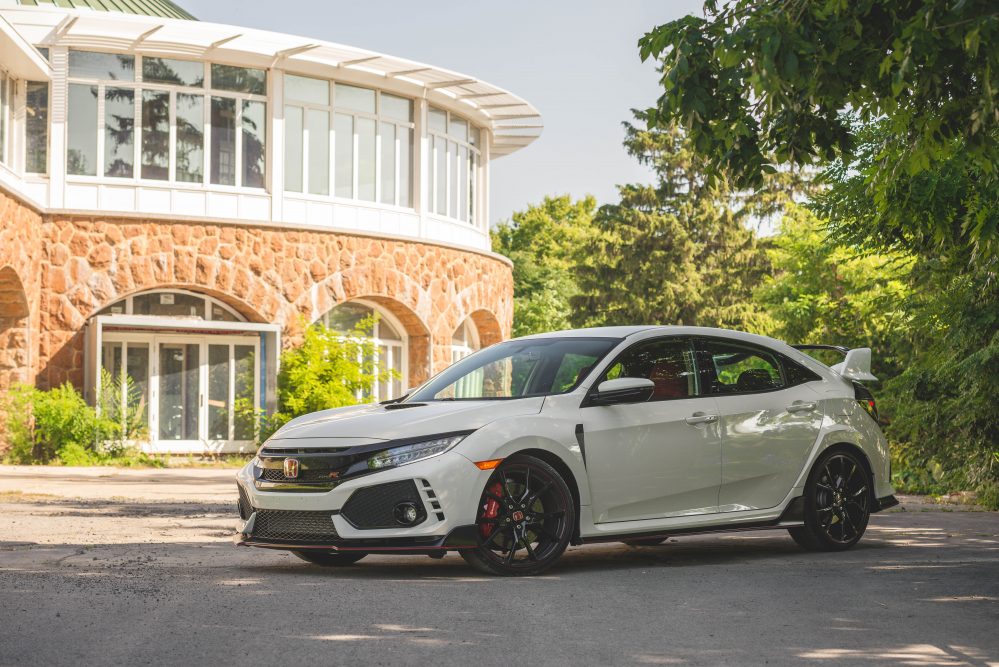 I agree, it looks … interesting. And even if Honda claims every single air vent, wing and crease that was glued onto it have actual purpose, which is true, I'm sure they could have found a way to make it look good. They didn't. Anyway, to understand the Type R is to throw it hard, and I mean hard into a corner and realize there's absolutely no understeer. To fully appreciate its genius is to gun the throttle in a straight line with traction control off, and notice absolutely no torque steer as 306 raging horsepowers channel their way through the front wheels.
But the ultimate test as to why this car is different than all the hyper hatchbacks out there, is to have a passenger sit in the rear seat and explain to you what they hear as you hoon it. They'll tell you something in the likes of: "it sounds like I'm in a tunnel going hyper speed, I hear wind, and turbulence". That's the sound of a venturi effect. And it's caused by downforce, something the Civic Type R actually has, like a race car. And that's precisely why it stands above as the most hardcore hyper hatch currently available.
Best Midsize Sedan: Honda Accord
I know this sounds kind of cliché and a carbon copy of what all the other automotive outlets have been ranting about lately. But it's true: the 2018 Honda Accord really is the best midsize sedan. At my dayjob, at The Car Guide, we one day decided to pit the Accord against a 2018 Toyota Camry, Hyundai Sonata, and a Mazda 6. Walking out of each car and into the Accord was a revelation. On every single point, the Accord was superior than its rivals. It's more comfortable, spacious, well put together, offers more cargo space, is better equipped, and drives smoother than some BMW's. 
I later even drove a Chevrolet Malibu, another sedan I personally love, just to make sure. And nope. The Accord still feels more accomplished. Then, factor in a choice of two excellent and efficient turbo engines (1.5 and 2.0 litre), which either come with A) one of the best operating CVT's in the business and B) a brand-new in house ten-speed automatic, and the Accord simply shines above the rest. There's even a cherry on the cake: you can get an Accord with a slick-shifting six-speed manual. On both engines! One of those engines, the 2.0-litre turbo, is the same one found in the Civic Type R. How cool is that?
Best Fullsize Sedan: Buick LaCrosse

If you're going to ride around in a large, opulent sedan, you might as well do it in the grand-daddy of them all: a Buick. Except for a name that makes people laugh in the province of Québec, there aren't many things the LaCrosse does bad. First, it looks absolutely gorgeous with its low-slung, wide-stance, and curvacous demeanor. Under that long, sculpted hood sits a 310-horsepower, naturally aspirated, 3.6-litre V6 that not only loves to rev, but also makes cool noises along the way. 
Available with either all-wheel-drive, or front-wheel-drive, and a possibility of fitting it with adaptive dampers, the LaCrosse is surprisingly competent for its size. The car offers miles of rear leg and head room. The automatic transmission, albeit operated by a weird-looking, and frankly complicated sex toy, shifts in unparalleled smoothness. The cabin is elegant in immensely quiet, and the car has one of the best infotainment systems in the business. There's even Wi-Fi! As far as large American sedans go, you can't really get much better than this.
Best Subcompact SUV: Honda HR-V
The subcompact crossover segment is possibly the most popular and lucrative one at the moment, and frankly, it's a bit dumb. Unless it's done right. Here's the thing: many available offerings claim to be cool, young, hip and sporty, when in fact, they do nothing really well. The Mazda CX-3 and the Toyota CH-R come to mind. Both of them look sort of cool, but can't really do utility or all-weather capability all that well.
That's why I love the Honda HR-V. It's not trying to be something it's not, but rather excels at doing what it was meant to be: a cheap, reliable and spacious little all-wheel-drive utility vehicle. Its engine, while rather anemic at 141 horsepower, is a 1.8-litre, naturally aspirated four cylinder from the last generation Civic. Which means it will never die.  It comes with all-wheel-drive, the same system as the CR-V. But more importantly, it's actually spacious. Thanks to the same clever seating arrangement as the Fit, the HR-V is the most spacious in its class. It also kind of looks like a mini Acura MDX, and that's cool.
Best Compact SUV: Honda CR-V
Unlike the HR-V, the Honda CR-V is not a good looking utility vehicle. But that doesn't matter, because if you're going to commit yourself to the sad, boring life of owning a compact SUV, you might as well get the one that leads the pack in every category. The CR-V really is a a vehicle put out there to kill its competition. It's the most spacious. Offers the most rear leg room. And it's fitted with one clever, efficient drivetrain: the same 1.5-litre turbo four as in, well, pretty much everything at Honda these days. 
Power is rated at a humble 190 horsepower and 179 lb-ft of torque. That engine actually packs quite a punch when the turbo kicks in. The CVT, is, excellent? And the damn thing isn't even a penalty box to drive. In some ways, it's even fun to drive. Factor in impeccable fit and finish and a quiet cabin, and the CR-V, which has also proven itself as a reliable machine in the past, is simply the best compact SUV your money can buy.
However, the Mazda CX-5 came damn close. As a matter of fact, at The Car Guide, we named it best buy in the segment. While I didn't get to vote for these results, I totally agree with my colleagues.
Best Affordable Fullsize SUV: Honda Pilot
I apologize for all the Hondas, but you have to give it to the Japanese carmaker, Honda's been killing it this year, especially with its utility vehicles. To be fair, I had a bit of trouble choosing between the Pilot and the Mazda CX-9. Or even the GMC Acadia. I personally prefer the way the Mazda looks and how the Acadia behaves in the snow. But the Pilot wins as a total package. First, there's the engine: Honda's naturally aspirated 3.5-litre V6 is not only unkillable, and rather energetic with its 280 horsepower, it sounds absolutely solid, making cool little VTEC induction noises like an Acura Integra from the nineties. 
Then, there's the cargo space: at 81 cubic feet of total capacity, the Pilot is only beaten by the Ford Explorer. It's also immensely comfortable, roomy inside (unlike the Ford) and everything is intelligently placed to make your life easier behind the wheel. Sure, it looks kind of like a pregnant dinosaur, and that nine-speed automatic, which will soon be replaced anyway, is an absolute mess. But if you're going to carry your kids in something large and boring, you might as well do it in the most spacious, most reliable possible family shuttle. The Pilot's VTEC engine will even bring back cool memories each time you'll gun the throttle.
Best Luxury Fullsize SUV: Volvo XC90

The Volvo XC90 kind of came out of nowhere. One day we had stale, boring Volvos on the road. The next, we had this: an Scandinavian sculpture of utmost magnificence. And a rather clever one as well. Under the sexy sheetmetal packs a few surprises. All XC90's come with one engine: a 2.0-litre turbocharged four cylinder, yes, a four cylinder. But Volvo calls it the T5. Want more power? Just add a supercharger to that engine, and call it a T6. Still not happy with the idea of a turbocharged and supercharged engine in your luxury SUV? Why not make it hybrid as well? That's the T8. Now your little four cylinder, which is being molested from all angles, pumps out 400 horsepower. Not only that, your Norse hybrid SUV will even drive on full electric power for up to 30 km. 
But the XC90 is much more than a rolling laboratory of technology. Its interior is impeccable. Attention to detail, from a cool little Swedish flag on the seats, to a glass-covered shifter is unique. And when equipped with R-Design running shoes, it's by far the coolest-looking family shuttle money can buy. Suddenly, Volvos are worth their price, and suddenly, everything is ok with the world again.
Best Performance SUV: Jaguar F-Pace

There are so many carmakers that claim their SUV is a true sports car underneath, when in fact, it's all kind of a lie. But some carmakers get it right, and Jaguar is one of them. The F-Pace, which looks absolutely stunning from every angle, is actually based on a sports car. Underneath that large hatchback body drawn to Ian Callum's liking lies the same drivetrain as what you'll find in the British carmaker's compact sport sedan, the XE. This means the F-Pace has a longitudinally positioned engine that first and foremost sends its power to the rear wheels, just like a sports car. 
Then, there's the way the damn thing handles and sounds. It sounds totally gnarly, actually similar to the roar of a tiger. You can even decide to make its exhaust louder at the push of a button. Hit a corner hard with it, and there's just no fuss, the F-Pace simply soaks it up, as if its high centre of gravity didn't even exist. Basically, if you love driving and need to haul kids, a dog and everything in between, the F-Pace works. Its interior is also just as attractive as its exterior. Except for a dumb-witted ZF-sourced gearbox, the F-Pace does everything it was meant to do extremely well. It makes driving a sport utility vehicle actually exciting. And for that, it deserves all my respect.
Best Minivan: Chrysler Pacifica

Back in the 1980's, a man named Lee Iacocca saved Chrysler from total annihilation. How? By coming up with the genius idea of grafting a box on top of a compact car. That box would be called a minivan, and Chrysler sold quite a lot of them. So much so, that the Dodge Caravan/Plymouth Voyager/Chrysler Town & Country still holds the title for the most sold minivan, ever.
But then, the Japanese carmakers tried to take a stab at the segment, and they did rather well. The Toyota Sienna and Honda Odyssey not only proved more reliable and better put together than the lamentable Chrysler, they also proved to be better overall minivans. Until now. Meet Chrysler's redemption: the Pacifica. It's here to dropkick the crossover in the gut, and looks and feels like a premium minivan should. The Pacifica is cleverly built, has a cockpit that resembles William Shatner's throne, and even comes with cool little kids' games that can only be accessed via a pair of touchscreens. It's also rather pleasant to drive and quite quick off the line as well. The American minivan is back baby, and for the the first time since its creation, it doesn't suck.
Best Muscle Car: Dodge Challenger T/A 392
Here's the rule of thumb for a muscle car: it has to be simple, loud, unrefined and totally badass. With the Ford Mustang and Chevrolet Camaro now evolved into full fledged sports cars, we're only left with one true muscle car: the Dodge Challenger. And Dodge hasn't given up on the thing. With electric cars taking more and more space in our automotive landscape, and carmakers downsizing their engines for better efficiency, Detroit is remaining faithful to what is possibly the most useless machine known to man, the muscle car.
But as useless as it may seem, the black, menacing coupe you see here is the car that attracted the most amount of positive attention my way this year. Why did I favor the T/A 392 over the Hellcat? Not because it's the fastest, but because it's the one that stays true to the muscle car promise. First, it's naturally aspirated, so it's simple. Second, it's loud (the 6.4L is louder than the 6.2). But most importantly, the one I had was fitted with a six-speed manual. You simply can't get more muscle car than this. Out of all the machines I've driven this year, the Dodge Challenger T/A 392 is by far the one that made me feel the baddest. It made me want to do mean, unlawful things. And there aren't many cars that manage to do this, especially not in this day and age.
Best Sports Sedan : Alfa Romeo Giulia
For the longest time, the Germans held the torch for the most focused sports sedan. BMW held it for quite some time, with the 3-Series dominating a segment otherwise filled with excellent contenders. And not just from Germany, from Japan and America as well. But lately, the Germans, especially BMW, have gotten a little soft, heavy and complicated, missing out on the core promise that these little sedans were originally built for: generating positive emotion behind the wheel.
Well the Italians have had a stab at it, with this: the Alfa Romeo Giulia. And it's absolutely perfect, as long as it runs. Weird electrical and mechanical issues aside, and yes, this new Alfa has been plagued with a lot of them since its launch, the Giulia brings driver involvement back in the sports sedan. It also looks properly Italian and really cool. The steering wheel seems to have been ripped right out of a BMW E46 M3. The chassis seems to have been tuned by Enzo Ferrari himself. And in Quadrifoglio trim, the engine sounds and pulls as if it was just baptized by the Pope. The Alfa Romeo Giulia is the BMW M3 that we lost. Except now, it has an Italian face and name, which makes it even more desirable.
Best Sports Coupe: Subaru BRZ/Toyota 86
The older I get, the less I'm impressed with powerful cars. The sport machines that truly impress me are the ones that are rewarding to drive. The ones that are simple, straight forward. The ones I can just get in and hoon, without fear of dying or getting into trouble with the police. The Toyobaru twins are such cars. Many complain they need more power, but most of those same people have not even driven the car. Ask anyone who's driven the Subaru BRZ or Toyota 86, and ask them if it needs a bump in horsepower, and they'll all tell you no.
Because what's there, a 2.0-litre flat four, which pumps out a proud 205 horsepower, is tuned to utmost perfection. The engine loves to rev, sounds totally cool as it does so, and the entire car is as light as a sheet of paper. Hell, there isn't even a decent infotainment system in this car, but you won't need one. The Toyobaru twins are cars you can beat on day in and day out, everywhere, and you'll always be fine. It's as much fun in town at 50 km/h as it is on a racetrack all out. I'd know, because I did just that with one. Simply put, if for you driving (and drifting) is a priority over anything else in your life, then please, go out and buy a Toyota 86/Subaru BRZ. The future of the automobile depends on it.
Best Roadster: Mazda MX-5 RF
If you're going to buy a roadster, you might as well buy the best one. And the one with a hardtop. The MX-5 RF does both in an origami of absolute engineering brilliance. What hasn't been said about this car yet? It's lightweight, it's impeccably sorted out, super fun to drive, incredibly tactile and somehow, still modern, including all the latest creature comforts we take for granted in today's automobiles. Very much like the Toyobaru twins, the MX-5's main focus has always been about driving the actual car. Except, unlike the Toyota/Subaru, it's actually well put together, and refined.
In RF trim, which stands for "Retractile Fastback", the MX-5 looks a lot better than in its dinky, baby-boomer-grade soft top configuration. It's also a lot more practical if you desire driving the thing all year long, which you should. That little roof is light too, adding only 51 kg to the car. It stows neatly between the seats and the trunk, whose cargo space remains intact, top up or top down. The MX-5 isn't only fun as hell, it's clever, and now, in hardtop form, it finally looks good.
Best EV: Volkswagen e-Golf
The Volkswagen e-Golf is a Golf, arguably one of the best compact cars currently available, with an electric motor under its hood. How does that not make it the best possible EV available today? Alright, yes, a Tesla Model S is a better EV in the sense that it's faster and offers a hell of a lot more range. But those damn things cost nearly 100 grand. And their build quality ain't all that excellent. If anything, the Golf has a better put together interior than a Tesla. No joke.
Oh, sure, you could get a Nissan LEAF for about the same price as this e-Golf, which would get you about 20 km more range. But the LEAF looks like an electric shaver on wheels, and drives like one of those weird pod-like autonomous cars from the movie Demolish Man. Remember when Sly Stallone gets stuck in one that suddenly inflates into foam? The e-Golf on the other hand is stylish, looks and feels like any normal car, but more importantly, is fun to drive, just like a Golf. If you're going to get an all electric city car, there's no reason to get anything else. Period.
Best Plug-in Hybrid: BMW i8
Plug-in hybrids aren't particularly exciting to drive, nor quick. Their main purpose is to save fuel, the environment and your wallet. But the BMW i8 redefines your perception of such cars. It's everything but boring. It's immensely fun to drive. And everything but slow. Oh, and it will still accomplish its mission of protecting the environment and saving fuel. Actually, it does it better than many plug-in hybrids currently available.
The i8 is obviously expensive, and not particularly practical, being a mid-engine supercar and all. But once its batteries are charged full blast, it'll get you about 25 km of full electric juice, enough to get you to work without burning a drop of gas. Once it runs out, it's a hybrid, like a Prius. But the coolest thing about the i8, is that when Sport mode is engaged, and all four motors are spinning full swing, including the tiny three-cylinder turbo, it actually recharges its batteries. More importantly though, the i8 doesn't feel digitized. It feels analog, responsive, and every bit as fun as the best gasoline-powered sports cars out there. For me, the i8 completely changed my perception of plug-in hybrids, and for that, it deserves a spot on this list.
Best Grand Tourer: Aston Martin DB11
By definition, a grand tourer isn't built to go fast around a racetrack. That's what sports cars are for. The purpose of a grand tourer is to carry two or four people comfortably across the countryside for a long ride in utmost comfort with a large powerful engine up front providing enormous amounts of smooth power and torque. If there's a carmaker that understands how to build these sort of cars, it's Aston Martin. And their latest creation, the V12-powered DB11 is, without argument, the best possible interpretation of a modern GT car.
Thanks to a partnership with AMG, the DB11 is finally, a well put together Aston Martin. It's interior is filled with fresh cow hides, precision stitching and elegant design. Its heart, a twin-turbo, 5.2-litre V12, develops a grand-tourer appropriate 600 horsepower and 516 lb-ft of torque. All of it is sent to the rear wheels. And the entire car has been styled to look like a long, low-slung and properly stanced modern battleship. There are even trick air intakes that focus on channeling air through the car for added downforce. As far as GT cars go, it doesn't get better than this. It's also the best machine to hunt down Québec's best poutine in.
Best Wagon: Volvo V60 Polestar
You know what makes the V60 Polestar so cool, except for the fact that it's a baby blue all-wheel-drive turbo wagon from Sweden? It was put together by a bunch of enthusiasts who actually love racing. Also, Volvo does on purpose to not build a lot of it, because even it considers the car to be a unicorn. Finally, Polestar has now completely changed, and will, from now on, only build electric or hybrid machines. The Polestar V60 then, isn't only rare, it's probably the most unique Volvo ever built. 
Being the brainchild of a group of engineers means this isn't the most refined Volvo out there, I mean, it's still riding on an old Ford platform. At least the ageing V60 still looks solid, and will soon also undergo the same supermodel facelift as the rest of the Volvo lineup. But what's not to like about a lowered, stanced, touring car inspired Volvo wagon that has a turbocharged and supercharged engine under its hood? This car is fast, handles super well, drifts in the snow, and looks totally wicked.
Best Truck: Toyota Tacoma TRD Pro
Maybe it's because I'm a kid of the eighties that watched Back to the Future too many times, but I don't know, if I were to get a pickup truck, I'd get a Toyota Tacoma TRD Pro. Not you? Look, truck guys, I get it, the Ford F150, RAM 1500, and Chevrolet Silverado are "real" trucks with "real" towing capacities and "real life scenario" payload capabilities. But from my perspective, each time I see one of them large American rigs on the road, they're polished to shit, and driven from the mall to the local restaurant. If you don't own a business or do actual work, why get such a big truck?
The Tacoma, on the other hand, is just the right size. In TRD Pro trim, it's fitted with all the right gear to take part in some serious offroading. If you're into dirt biking or motocrossing, just throw your machine in the box, and bring them wherever you want. You can't get stuck with a Tacoma, it's fitted with high-tech Crawl Control system. But further than that, Tacomas simply never die. And even if yours is old, high mileage and rusted to shit, you can still ask a lofty sum for it. As far as trucks go, the Tacoma isn't the strongest, largest or most powerful, but it's by far the coolest.
Best Luxury Sedan: Volvo S90

Yes, I'm well aware the Mercedes-Benz S-Class, the BMW 7-Series and the Audi A8 exist. And sure, there are Bentleys out there that do a much better job at being big and fancy. But none of them come close to the desirability of the Volvo S90. Like the XC90, this one kind of came out of left field. We never saw, or expected it from happening. And you know what's even cooler about the S90? It's the exact same car as the XC90. No joke. Same platform, same engine, same transmission.
So yes, in T8 form, it too, churns out 400 horsepower. And it too can run on full electricity alone. For 2018, Volvo made the car even longer, for added rear legroom. It works, this is a massive sedan. And like its big brother, its interior envelops you in sumptuous Viking thrones made out of true leather, accompanied with fancy materials like wood, brushed aluminium and glass. The Volvo S90 is best fullsize luxury sedan not because it does luxury and comfort better than its competitors. Because it does luxury and comfort in a manner only the Swedish can, which therefore makes it unique. It even comes as a wagon.
Best Luxury Coupe: BMW 440i
The BMW 3-Series may have lost its title as the best driving sports sedan, but it doesn't make it a bad car nevertheless. If anything, it's grown up in maturity to a point that it's not really a compact car anymore. In coupe form, or as BMW so frustratingly wants to call it, 4-Series, BMW's compact/midsize two door makes for one hell of a competent grand-tourer, almost like a mini Aston Martin.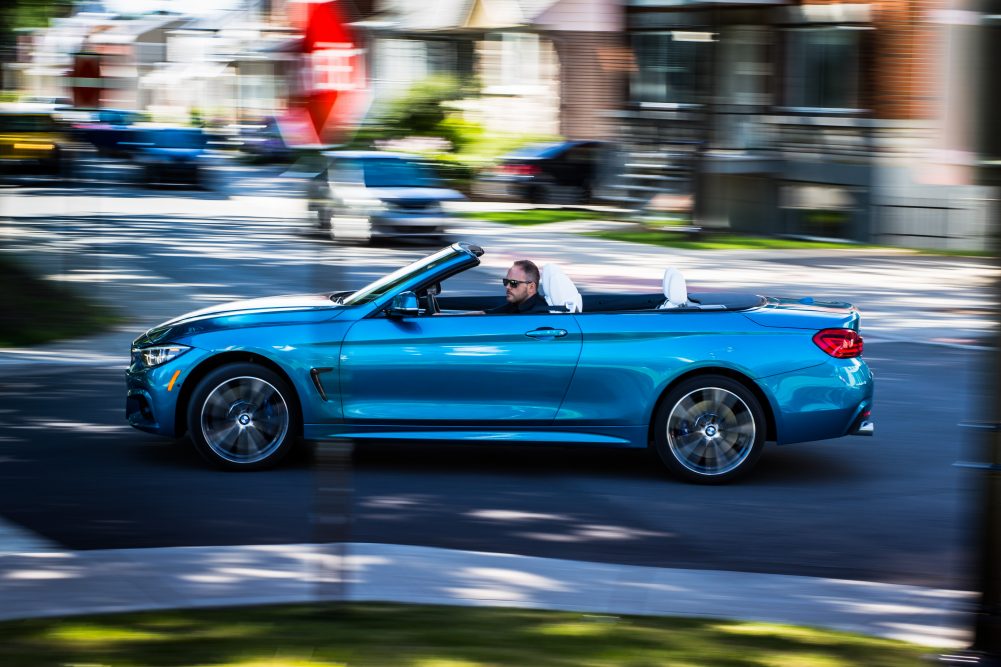 Although I continue to consider these cars to be way too complex for what they are, there's a lot to like here. When powered by BMW's velvety smooth 3.0-litre turbo six, the 440i is properly quick, faster even than any generation M3 that came before it. Its eight-speed automatic is by far the best unit ZF has ever produced. And when equipped with the M Performance exhaust, the car is very loud.
What I particularly enjoyed the most with this car, was not its utmost superior fit and finish, comfort and sophistication. It was how its drive modes drastically alter the car's personality. It's quiet, smooth and frugal when you need it to be, and fast, fun and loud when you want it to be. BMW's compact coupe is no longer compact, nor light. But it's still very competent, and every bit a driver's machine. It also looks rather cool in aqua green and without a roof.
So there you have it everyone. Hope you enjoyed this list. Thank you very much for following me in my adventures. I wish you all a happy new year filled with your own crazy adventures, health, wealth and success. But most importantly, please, drive safe, and whatever you do, don't stop driving!
Clavey's Corner is located in Montreal, Quebec, Canada. Prices and trim levels discussed in this article reflect the Canadian car market.
Photography: Appearance / Guillaume Fournier-Viau
Join the Tribe
Contact the author: [email protected]