That's right folks, we're already at the end of 2016. Crazy right? It has definitely been a great year for Myle and I, one filled with crazy adventures, including driving lots of cars, getting a big-ass speeding ticket, unlocking a racetrack, and earning a solid gig over at Jalopnik.
From the bottom of our hearts, we thank you for reading, liking, and sharing our work. You have no idea how much it means to us.
Of course, I can't end the year without underlining the cars and trucks that really made an impression on me. As you know, Clavey's Corner is still a young endeavour, which means I haven't yet gotten the opportunity to get my hands on the truly spectacular cars of 2016: the Ford Focus RS, VW Golf R, Ford Mustang Shelby GT500, BMW M2, or anything powered by a Hellcat. Don't worry though, I'm working on changing that for 2017.
Meanwhile, Audi Canada are still being total asshats for literally telling me "f*** off with your car blog". Whatever, it's their loss really. Clavey's Corner has featured 40 cars this year. So without further notice, here are the 10 vehicles that made an impression on me in 2016.
Jeep Renegade
What I wrote in my original review:
"With its cheerful and rugged looks, affordability, fuel economy, and surprisingly competent off-road capabilities, the Renegade may be just what the Jeep brand needs to remain competitive in the growing subcompact crossover segment without losing its soul."
The Jeep Renegade is a vehicle that has several flaws. The main one being its ZF-sourced 9-speed automatic transmission that not only refuses to shift into 9th gear on the highway, but infuriates its driver with a laggy response time, and a tendency to never know in what gear it should be. It also emitted worrying clunking sounds during the time I had it.
But it's the Renegade's cheerful looks, affordable price, and surprisingly capable off-road credentials that made it a lovable little breadbox. Its interior is roomy, well appointed, and filled with witty Easter eggs that are a blast to find. Trim levels are brilliantly packaged, and although Myle and I managed to get it stuck in over 4-feet of snow, the Renegade is capable enough to get average commuters out of trouble during the winter months. It's even available with AWD and a manual transmission!
Simply put, the Renegade is cheap, fun, and cool. Just sell it once the warranty is over.
Acura MDX
What I wrote in my original review:
"It may not be as refined, sophisticated, or revolutionary as the Volvo XC90, but Acura has given their big guy enough goodies to make it a compelling proposition in the segment. Above all, it's the MDX's fundamentally spirited handling, ample power, and fun-to-drive character that are definitely, Like Wow!"
There's a reason the Acura MDX is the most sold luxury 7-passenger SUV of all time. It simply presses all the right buttons. Luxury? You got it, and with Acura-sumptuous leather seats and a ride quality that could compete against a cloud, it puts anything with a BMW logo to shame.
But it's the MDX's generous packaging that really sets it apart from its rivals. All rear seats are easy to access and stow. Outward visibility is near perfect. It comes fully loaded for thousands of dollars less than anything European. And the darn thing feels just as nimble as a Honda Fit behind the wheel. It's also powered by a bulletproof, naturally aspirated, Honda V6 that barks to the melody of classic 90's VTEC glory. As far as mallfinders go, this one actually still has soul.
Chrysler 300S
What I wrote in my original review:
"The Chrysler 300S is the guy that arrives at a fancy suit-and-tie party with his sleeves rolled up, hair slicked back, and a tattoo on his forearm. It doesn't care if you're offended by him – because that's exactly the kind of reaction he's expecting from you."
So apparently we need to start driving greener cars because our planet is melting. Poppycock! Says FCA, poppycock! What better way to support this alarming reality than by marketing a full-size sedan powered by a 5.7L HEMI V8? Truth is, there's nothing rational about the Chrysler 300S. Actually, it's not even that good of a car. But man does it have character, and it's so freakin' badass. It may still ride on a defunct 20-year-old Mercedes-Benz platform, but this big boy sedan still knows how to boogey through a sinewy road. And it won't be ashamed to do a big fat burnout in front of a group of tree huggers.
Available with a V6 and all-wheel drive, or my favourite, a V8 with rear-wheel drive, the Chrysler 300S is proof that character and soul prevail over innovation and technology. Did I mention how stunning this car looks in red? If you're looking to make an impression wherever you drive, this car is an absolute home run.
Porsche Macan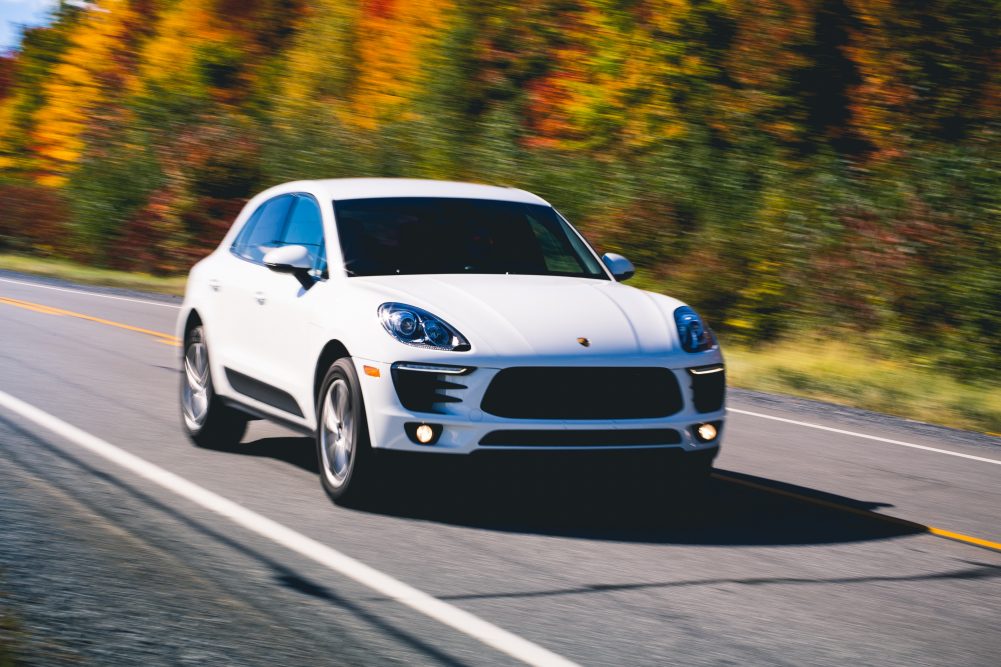 What I wrote in my original review:
"Porsche calls this a crossover, but its performance abilities resemble more those of Porsche's own sports cars than other "sport-oriented" utility vehicles. Call it what you will, it's a vehicle only Porsche could have built."
We've all heard the "sports car of SUVs" tagline before haven't we? It's become so overused that we don't even know what a sports car is supposed to be anymore. But when that tagline is associated to one of the most iconic sports car manufacturers of all time, Porsche, you suddenly drop whatever you're doing and take notice. Even in its most basic form – the 2.0T, the Macan's driving dynamics are nothing short of extraordinary. And not just for a crossover. For a sports car, period. Feeling more like a hot hatch on stilts rather than a children transportation shuttle, the Macan is very much a Porsche in every respect.
A base model Macan isn't cheap. At just under $60 000, it doesn't even get a sunroof. But its PDK transmission was developed by the same people that build Porsche's race cars. Its all-wheel drive system was taken straight out of the $100 000 Panamera. And that clamshell hood sucks in more air than a Dyson vacuum cleaner.
Yes, this may be another crossover, but look at it this way: if Porsche would build yoga pants, they would still sell like hotcakes.
Honda Civic
What I wrote in my original review:
"Truth be told, the 2016 Honda Civic isn't just a fantastic Civic, it's the new benchmark for the entire compact car segment, and raises the bar for what we should expect from a $25 000 car."
Whether you opt for the sedan, coupe, or hatchback, there's literally a Civic for everyone. After spending the last five years looking for its mojo, Honda is back with a solid punch. Mind you, even if Honda admits they totally screwed things up with their last generation Civic, it didn't stop it from being the best-selling car in Canada. Actually, the Civic's sales have simply been dominating Canada's compact car segment for the last 20 years.
This is why Honda believes its customers deserve what it calls, the best Civic yet. This means fitting the cars with an all-new efficient and rather punchy turbocharged engine, a CVT transmission that's actually fun to operate, a slick-shifting manual transmission across the entire lineup, ride and handling that leans towards Audi territory, and enough standard tech to humiliate cars costing twice as much. Simply put, the Honda Civic is redefining the entire compact car segment. And these are just the normal Civics. Wait until the Si and Type R versions hit the streets next year.
Hyundai Tuscon 1.6T
What I wrote in my original review:
"Hyundai, you've certainly proved to the entire world that you can in fact be the benchmark in a particular segment. Your 2016 Tucson 1.6T is so good that it may well be the perfect compact crossover."
If there's one thing I learned this year, it's that it's really easy to lose your driver's licence. Yes, remember that big fat speeding ticket I mentioned in the intro? I got it driving this: a Hyundai Tucson. You think that's funny? Laugh all you will, but this little crossover is a lot quicker, and more enjoyable to drive than one would imagine. Because of my immature behaviour, Hyundai Canada won't lend me press cars anymore. Hopefully, this will change next year. But thank God I got to drive this thing before losing my privilege, because what a revelation!
The Tucson feels solid on the road – like Volkswagen solid. That's in part due to Hyundai's new superstructure chassis development. The smaller engine, the 1.6T, is ironically the most powerful one. And thanks to a quick shifting 7-speed dual-clutch transmission, this orange pumpkin will swiftly get off the line without hesitation. Its handling characteristics also mimic those of an overweight Golf GTI, and its fit and finish is on par with the best Japan has to offer. But it's the Tucson's price advantage and tremendous value that really set it apart in the segment.
"It's a good thing you were driving a Hyundai" said the police officer as he handed me my ticket. He was right; the Tucson is the first crossover to have given me a spanking, and for that, it earned my respect.
 Honda Accord
What I wrote in my original review:
"The Accord not only accomplishes its duty of being a well put-together mid-size sedan for the masses, it also offers its drivers a list of pleasant surprises that allow it to punch way above its weight"
The Honda Accord may look like your average 4-door family sedan, but it's actually a sports car wearing a uniform. Like a pornstar disguised as a periodontist, you just don't see this car coming. It will out-handle most performance-oriented vehicles in the bends, either one of its high-revving 4-cylinder or V6 engines (in the coupe) can be coupled to a slick-shifting manual transmission, and the entire car feels more balanced than a 15th century mechanical clock.
Where the Accord truly shines, however, is in its ability to completely disappear underneath its driver. It feels light, smooth, and agile. And its entire cabin is airy, comfortable, and spacious; with perfect visibility all around. Whether you're doing the school run, carrying some coworkers out for lunch, or attacking a corner on the racetrack over the weekend, the Honda Accord is the perfect wingman for all situations.
Tesla Model S
What I wrote in my original review:
"Like the Ford Model T, which went down in history as the first automobile available to the masses, the Tesla Model S will be remembered as the pioneer of sustainable transportation, probably the most generous of Elon Musk's gifts to humanity."
The thing with the Tesla Model S isn't that it's an incredible electric car; it's an incredible car period. And the sad reality is, the moment you squeeze its throttle, you instantly realize how obsolete gasoline-powered cars are.
The Model S isn't cheap. Kissing at the door of the $100 000 mark for a well-equipped one, there are definitely better built and more luxurious luxury sedans in this price range. But the Model S feels like it's from an entire different century. And thanks to Tesla's supercharger network, its batteries get juiced up in a Jiffy. The 400 km range achieved from these batteries is equally impressive.
Carbon-free propulsion aside, the Tesla Model S is an elegant, spacious, practical, and seriously quick sedan. Driving it simply demolishes any prejudice you may have about electric cars, and proves that the future of the automobile looks up to be much more exciting than we could have possibly envisioned.
Volvo XC90
What I wrote in my original review:
"At the end of the day though, what truly sets the Volvo XC90 apart is the feeling that it was designed by humans, for humans. It's a vehicle that puts the priority on your family's comfort and safety before anything else"
The best way to carve your way through anything in life is by staying true to your core values. No other vehicle expresses this ethos better than the Volvo XC90. Ever since the Swedish carmaker was dumped by Ford, and then brought back to life by Chinese money, Volvo has been on a mission to reinvent itself from the ground up. Where should I begin? The mesmerizing Hammer of Thor LED headlights? The sexy, yet familiar exterior styling? Or the stunning and madly comfortable interior? Everything about this square-jawed Swede is cool, modern, and refined.
My favorite XC90 is the T6 R-design – simply because its exterior styling attracts more attention than an Italian supercar. But it's the T8 Twin Engine hybrid model that impresses the most with its 400 combined horsepower and zero-emission EV capabilities.
Looking to buy a new Range Rover? The Swedes have the perfect one for sale. To all other luxury carmakers, you're simply not trying hard enough.
Subaru BRZ (Toyota GT86)
What I wrote in my original review:
"You will never understand the Subaru BRZ until you sit behind the wheel. The only way you can understand its potential is by hard-wiring your soul to it – through its set of three pedals, its physical shifter, and steering wheel."
You're probably wondering what a 2-door Japanese coupe that can barely fit a full-size human in its rear seats is doing on the top of this list. Here goes: of all the cars I drove this year, the Subaru BRZ (or Toyota GT86) was the only one that actually allowed me to drive it the way I wanted to. There's nothing preventing you from having fun in this car. It's always on maximum thrill mode – even at 50 km/h. No electronic nannies to ruin the party. No complicated semi-autonomous tech. Heck, there isn't even an infotainment system. Except for a cheap Garmin-styled navigation interface, and a dashboard harder than a kitchen cutting board, this is as straight forward as a car can get.
And that's precisely why I'm absolutely in love with it. In a world filled with complexity and heft, the BRZ is light, simple, affordable, and mind-bogglingly fun! Yes, its Boxer engine rumbles to the tune of broken valves, and its torque curve is abnormally deformed. It's not even all that powerful. But it's the BRZ's ability to make you feel like a hero all the time that makes it this year's winner. The Toyobaru is proof that you don't need big power or a whatever-speed dual-clutch transmission to have fun. All you need is a well-balanced chassis, a high-revving naturally aspirated engine, rear-wheel drive, and a good old-fashioned manual transmission with three pedals. Oh, did I mention you can have all this Porsche Cayman level of fun for under $30 000? Yeah.
Is the BRZ the perfect car? Far from it. Is it practical? Not at all. But it's alive, filled with character, and most importantly, a big fat slap in the face of the entire automotive industry.
Looking to make a living from your passion like I do? Go check out Jooble, where you'll find a ton of automotive-related jobs, ranging from auto mechanic positions to even driving vehicles for the government!
---
Clavey's Corner is located in Montreal, Quebec, Canada. Prices and trim levels discussed in this article reflect the Canadian car market.
Photography: Appearance
Join the Tribe
Contact the author: [email protected]