The 2021 MINI John Cooper Works GP is the third generation of the GP nameplate, essentially the fastest, most powerful, wildest Cooper to date. And since I personally own a 2006 MINI Cooper R50, I felt blessed to get some drive time with this thing. As far as ticking off all the right hot hatchback essentials go, it doesn't get much better than this. But while it's a hoot to drive, this GP is also plagued with some rather perplexing decisions.
Big On Character
MINI has never been a brand that settled on normality. Ever since BMW rebooted the nameplate in the early 2000s, it's been busy dishing out quirky little cars that look the part while putting the emphasis on cool and fun. The 2021 MINI John Cooper Works GP takes that ethos and cranks it up to 11.
For every generation of the modern Cooper, there has been a limited production GP variant, essentially representing the most track-worthy model, a top dog hot hatch, if you will, that sits over the John Cooper Works trim level. For this third iteration, only 3,000 of them will be built. The car I was driving was number 874, as it was comically inscribed on the car's exaggerated-looking carbon fiber fin-like fender flares, which come from leftover BMW i3 and i8 parts. Cool. As. Fu**.
But don't let the cartoonish styling fool you, as a lot of it has actual purpose, while some of it ironically doesn't. Those flares help accommodate the car's widened track, similar to a BMW M2. They also improve air flow and reduce drag. Other performance-enhancing bits include a mechanical limited-slip front differential, increased camber, lightweight forged alloy wheels, a rear seat delete – for more weight reduction -, as well as beefed up tires, brakes and suspension components.
Power is also significantly increased versus a standard MINI Cooper. The turbocharged 2.0-liter B48 engine is taken straight out of the updated JCW Countryman and Clubman. It's good for a solid 301 horsepower and a staggering 332 lb-ft of torque, all sent straight to the front wheels via an eight-speed automatic gearbox. Sadly, this car doesn't get a manual transmission; one of the weird decisions I mentioned earlier.
Other questionable features include a front air intake that's fake and does nothing, which is a bit frustrating considering the first-generation supercharged R53 had a functional scoop. Then again, it makes sense since a turbocharger isn't positioned on the top of the engine like a blower. And see that enormous red torsion bar behind the front seats? It doesn't actually do anything to the car's stiffness. The GP does have structural enhancing components, but that bar isn't one of them.
As for the rest, it's standard hot hatchback stuff. There's the must-have enormous rear wing, which, I'm not sure creates much downforce due to the embarrassing rubber gurney flap that was tacked onto it. There are bright red styling cues here and there, a properly loud center-mounted dual exhaust, body kits, decals, red seatbelts and a downright pissed off road presence.
All GPs come in only one color: this Black Jack Anthracite paint. And if you're a numbers geek like me, you should know the GP lapped the 'Ring in 7:56.69. That's BMW M2 territory.
I personally adore the way this MINI looks. In traffic, its go-fast components give it a near supercar presence, even if most of it has no real purpose. The GP is also stripped from creature comforts or driving aids, basically giving you only what you need to go fast. Why doesn't this come with a manual again?
There's only one fixed price for a GP: $51,990 CAN. You can't build the car on MINI's website, and most dealerships won't have one in stock. The only way to get yours is by calling MINI Canada or by heading straight to your local MINI dealer. But hurry up, because only 59 of them have been shipped to the Great White North.
A Handful
My time with the 2021 MINI John Cooper Works GP was brief as I only had the car for a day, and it was raining, which made controlling 301 raging horsepower to the front wheels quite an event. Contrary to a Honda Civic Type R, or even a Hyundai Veloster N, the performance isn't easily accessible. The GP instantly lets you know it's a serious driving machine and commands you to remain alert when pushing it through its paces.
What I mean is the car heavily tramlines over uneven pavement, and the front tires instantly light up the moment you dare gun the throttle with traction control off. There's torque steer and wheel tug, but the experience isn't unpleasant. On the contrary, it's filled with life and character, making this one of the more untamable pocket rockets currently on sale. Although it's hard to discern if all of it was done on purpose or simply by accident.
At least, the performance is there, and the GP is fast once it manages to find grip on a slippery surface, capable of launching from a standstill to 100 km/h in 5.1 seconds. The turbocharged four-pot feels larger than it is thanks to a thick torque curve that kicks in way low in the rev range and keeps boiling all the way to redline. This is a smooth, rev-happy little engine, with ample power at all revs. Although I do wish the exhaust popped a little louder on throttle liftoff.
In typical BMW fashion, the automatic gearbox works well, but I would have preferred a dual clutch unit, as it doesn't snap through the gears as quickly as it should. Although I absolutely adore the carefully machined aluminum paddle shifters, they just don't respond as quickly as a Volkswagen Golf R's.
But the car has a wonderful damping setup, with an ideal camber for carving through winding roads. There's a sense of jitteriness in the chassis' calibration that at times can be irritating, but it nevertheless gives the car personality, making it one of the more entertaining drives I've experienced this year. And as you know, I drove some rad machines in 2020.
It's the sheer attention to detail that truly blew my mind away. Everywhere you look in a Cooper GP, you know you're driving something special, because at the end of the day, that's precisely what a hot hatchback should do. This thing attracted more eyeballs than a Lamborghini.
The sport bucket seats are fantastic, MINI's new digital display gauge pod is simple and well-laid out, and the iDrive-inspired infotainment system remains up there among the most intuitive systems currently on sale due to its downright common sense. Although I still don't get why MINIs won't connect to Android Auto.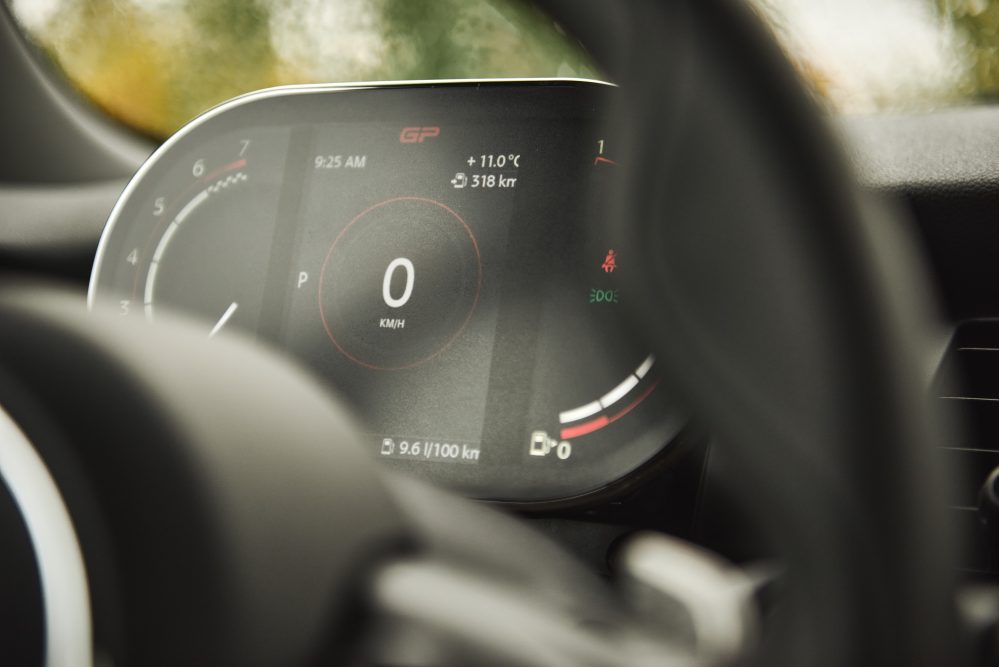 And contrary to say, a Subaru WRX STI, which still feels like a bargain basement Impreza sold at a near $50,000 price tag, the 2021 MINI John Cooper Works GP feels like a premium product. Material quality is above average, fit and finish is fantastic and the entire car is as sturdy as a rock when driven over bumps and holes. In many ways, it reminds me of the Mercedes-AMG CLA 45.
Expensive, but feeling special and unique enough to justify the high premium, this GP3 is a hell of a charming little rascal that's worth your hard-earned dollar. Anyway, as the GP1 and GP2 have proven, this MINI's value will undoubtedly appreciate in value over time, so your money is well invested. Now if you'll excuse me, I'm off to selling one of my kidneys so I can order my own example.
Clavey's Verdict
Review of the 2021 MINI John Cooper Works GP by William Clavey
Hot Hatchbacks
Proper hot hatch road presence
Fast and engaging to drive
Impeccable build quality
No manual gearbox
Jittery handling
Not cheap
Clavey's Corner is located in Montreal, Quebec, Canada. Prices and trim levels discussed in this article reflect the Canadian car market.
Special thanks: MINI Brossard
Photography: Guillaume Fournier
Contact the author: [email protected]