The 2022 Jaguar F-Pace remains a highly beautiful and engagement luxury SUV. That's perhaps what's preventing it from disappearing into oblivion. Because here's the cold hard truth: while Jag was among one of the first premium brands to offer a utility vehicle that actually looked and drove like a sports car, the entire automotive industry has quickly caught up to it. And, well, some of them have gotten seriously good. Curious to find out if this pretty cat still has what it takes to take on a fresh batch of new competitors, I took it out for a quick spin.
It's Been A While, Old Friend
The last time I drove a Jaguar F-Pace was back in 2017, which already feels like an eternity. Back then, this utterly beautiful British SUV had just won the coveted World Car of the Year award, and World Design of the year. Things were going well for Jaguar back then as well. The company had recently been acquired by Tata Motors over in India, the F-Type sports coupe had just been released, and the carmaker was in the process of releasing an all-new compact sport sedan called the XE.
Unfortunately, Jaguar isn't doing that well anymore. Much of its sales have dropped drastically, and while it was among one of the first carmakers to release a true Tesla electric rival with the absolutely epic I-Pace, the sad truth is that Jaguar isn't exactly at the forefront of electrification at the moment. I mean, it never trickled the I-Pace's technology down to other models, which I still don't understand.
To put things into perspective, even if the F-Pace is the company's best-selling vehicle, Jaguar barely sold 12,000 of them in the US and Canada last year. Meanwhile, BMW shipped 65,000 X3s. It's a good thing its sister company, Land Rover, is back there doing all the heavy lifting, or Jaguar would be dead.
It's all a shame though, because the 2022 Jaguar F-Pace remains a highly likeable product. For starters, it continues to look absolutely gorgeous even five years down the road. Jaguar gave it a few styling tweaks in 2021 which further emphasize its sleek design. There's a revised grille, a reworked hood, and updated exterior lighting elements, as well as new available colors and wheel designs, giving it a fresh, yet still refined demeanor.
There was a new engine thrown in the mix as well, a turbocharged 3.0-liter straight six with an electric supercharger and a 48-volt mild hybrid system good for combined outputs of either 335 or 395 horsepower. My tester, the P250 S, had the base turbocharged four-cylinder engine, a 2.0-liter unit that carries over unchaged this year. It's good for 247 horsepower and 269 lb-ft of torque. Both engines are mated to an eight-speed automatic transmission. All-wheel drive is standard here in Canada.
Pricing for an F-Pace kicks off at $61,600, and climbs all the way to $98,400 for a fire-breathing SVR model (which I'll review in a few weeks). My tester obviously came with a few options packages, which inflated the final sticker price to $72,076.
A Damn Good Drive
I drove the 2022 Jaguar F-Pace from Montreal to Toronto and back again, and I was flabbergasted by how smooth and enjoyable it is to drive, even with the baby engine. It's not fast, but it's still spirited off the line, and boy does it know how to properly carve its way around a corner. One of the main reasons why it's so good at mimicking a sports car's handling has to do with the drivetrain. It's positioned longitudinally, meaning it first and foremost sends the power to the rear wheels. That's rule number one for making a vehicle handle well.
The other reason is the four-cylinder engine itself. While low on power and torque, it's a lot smaller and lighter than a six-cylinder unit. This allowed Jaguar's engineers to position it lower in the engine bay, but also move it back, close to the firewall. Such engine manipulations lead to significant gains in weight distribution. The end result is a vehicle whose front end is as light as feather, meaning you can really throw the F-Pace hard into a corner without fear of understeering into the ditch.
I'm also pleased to report that all the transmission shenanigans I experienced in the original F-Pace are now gone. Jaguar, among others, has figured out how to properly program the ZF 8HP unit. This is a fantastic gearbox, so good in fact, that it's now fitted to a full array of vehicles, ranging from a BMW M5, all the way to a Dodge Charger Hellcat.
Power delivery from the four-cylinder engine is smooth, with a good surge of low-end torque and an ability to freely rev up to redline. In this configuration, the F-Pace feels light on its feet, but also oh-so-smooth quiet and refined. You quickly forget it's sporty pretentions and set it back to Comfort mode so you can indulge in its supremely comfortable cabin.
Speaking of interior, it too got its share of updates during last year's facelift. The dashboard design is cleaner, some materials were changed to appear more upscale, with softer surfaces here and there. There's also a bitchin' new steering wheel design. Jaguar heavily overhauled the infotainment system as well, which was one of the original model's biggest flaws.
That system is now running on the most recent version of Jaguar's Pivi Pro software, which is now encapsulated inside 11.4-inch curved-glass center screen that looks absolutely majestic. And just like the Land Rover Defender, there's a simplicity in the icon and menu design that further eases the system's operation.
Apparently, that new screen is 48 percent larger and three times brighter than in the 2020 model. Pivi also has the ability of receiving over-the-air software updates and connecting wirelessly to Android Auto and Apple CarPlay.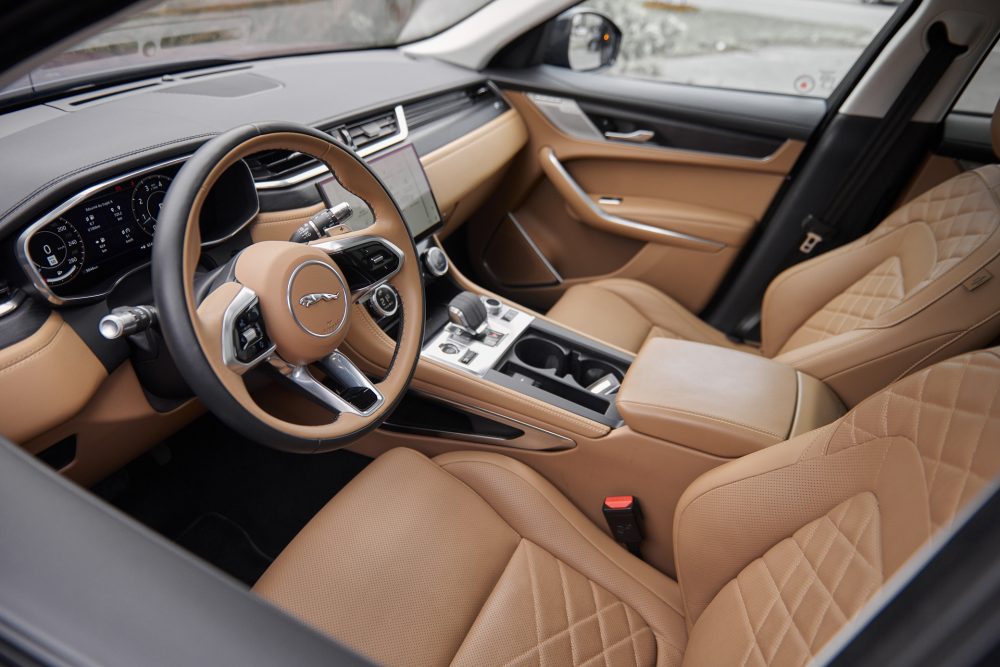 Cargo space continues to be an F-Pace stronghold. Fold down the rear seatbacks, and you'll end up with 2,010 liters of available space. This gobbles up both a Porsche Macan (1,472 liters) and a BMW X3 (1,775 liters).
On paper then, the 2022 Jaguar F-Pace has everything to win over its main competitors. Sadly, a shady reliability record still haunts the brand. Jaguar vehicles currently sit at the bottom of the pack in terms of overall consumer satisfaction, and resale value is tremendously bad. Such pitfalls explain why consumers in this segment still prefer buying German. It's too bad, really, because if Jaguar had taken these issues seriously, the F-Pace would most definitely be among the bestsellers of the segment.
Clavey's Verdict
Review of the 2021 Jaguar F-Pace P250 S by William Clavey
Luxury Compact SUVs
Beautiful design
Eager driving dynamics
Well put together and spacious cabin
Not necessarily cheaper than main rivals
Reliability remains an issue
Low resale value
Clavey's Corner is located in Montreal, Quebec, Canada. Prices and trim levels discussed in this article reflect the Canadian car market.
Special thanks: Jaguar Canada
Contact the author: [email protected]